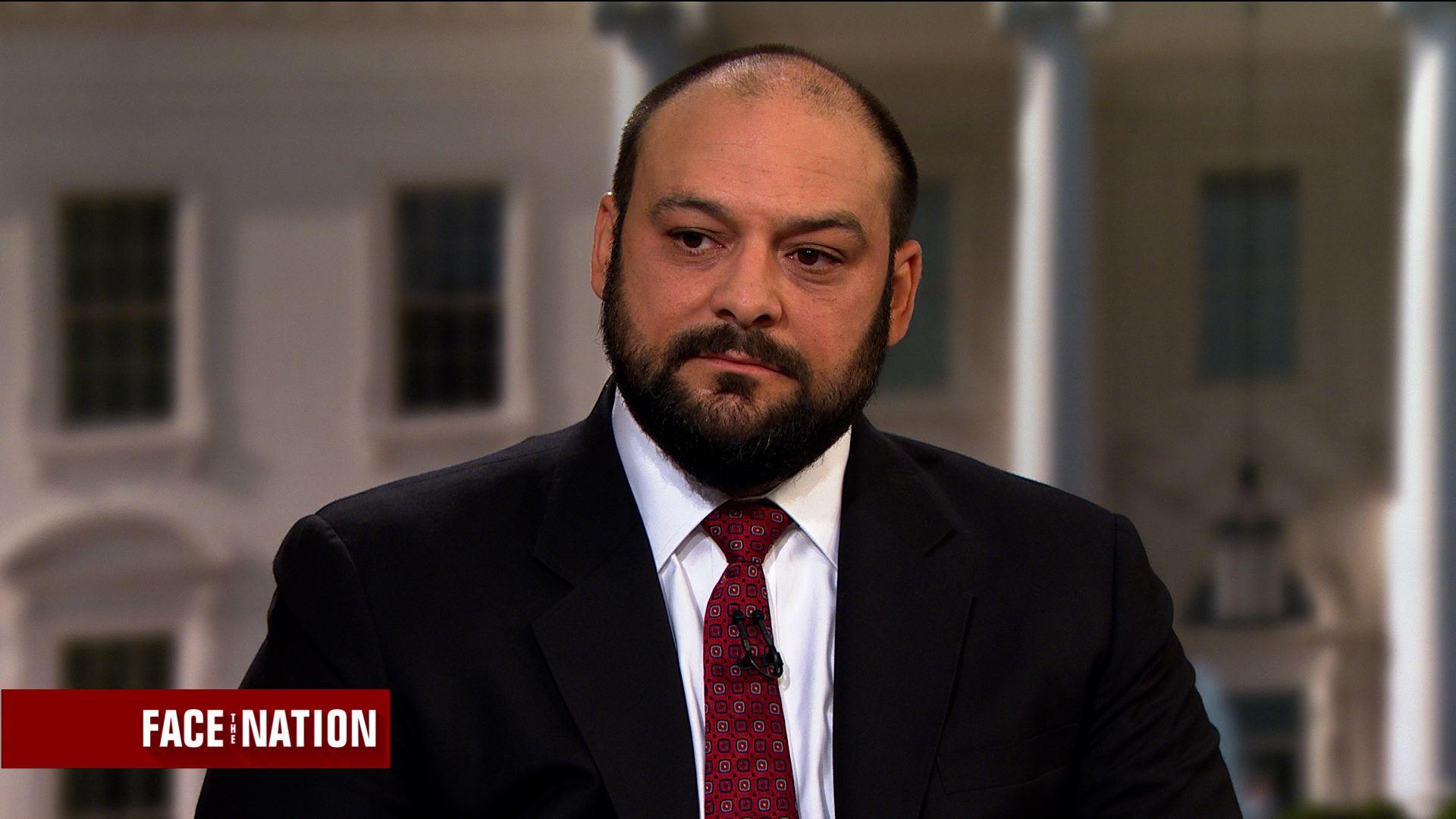 Life After Hate co-founder says grant rescinded by Trump administration
Former skinhead and Life After Hate co-founder Christian Picciolini says that an Obama-era federal grant his organization received to help combat "far-right" extremism was rescinded under the Trump administration shortly after President Donald Trump took office.
"Under President Obama, my organization, Life After Hate, was awarded a $400,000 grant to help combat far-right extremism. And when President Trump took office, immediately that grant was rescinded," Picciolini told CBS News' John Dickerson on "Face the Nation" Sunday.
"We were the only organization of the pool of grantees that was focused on white supremacist, extremists and disengaging people from that movement," he said.
Homeland security said the award had been rescinded following a normal review process, and not as a result of ideology, The New York Times reported. The Times also reports that a former government official with knowledge of the grant said it was revoked in response to Twitter posts critical of Mr. Trump by Picciolini himself.
DHS spokesman David Lapan told CBS News, however, that Picciolini's assessment that the grant was "immediately" rescinded by the administration is "inaccurate."
"The grants initially announced in January were reviewed upon direction -- and with new guidance from then-Secretary [John] Kelly, and awardees were announced in late June," Lapan said in a statement.
Lapan added, "As Acting Secretary Duke said on Saturday, August 12, 'DHS will continue to work closely with our state and local partners across the country to counter violent extremism in all forms.'
The fight against hatred and extremism is a personal one for Picciolini. He was first recruited into the white supremacist movement in 1987 at just 14 years old, and later joined America's first neo-Nazi skinhead group.
Picciolini said he joined after looking for a feeling of family belonging, as his parents worked long hours to get by.
"I went searching for that acceptance and that family elsewhere. And the recruiter was very savvy at identifying my vulnerability and promising me paradise. And that's a common theme among extremist groups is they bring you in, they feed your pride, and then they take that pride and they turn it so that that pride turns into hate of the enemy," said Picciolini.
Picciolini's group, created in 2011 by former members of the "American violent far-right extremist movement," helps provide education, counsel and advocacy on issues like the recent violent clashes in Charlottesville, Virginia, through the members' decades of experience inside hate groups.
Life After Hate also helps members of various extremist groups leave their organizations and educate others on "the causes of intolerance and racism" and "counter the seeds of hate we once planted."
"Everybody at Life After Hate is a former extremist, so we understand the [motivations] of why people join. But, more importantly, we understand what it takes to get out of these groups," said Picciolini.
When asked what the key motivations are for such extremism, Picciolini said that ideology is "not the driver for radicalization."
"It's a search for identity, community and purpose, a broken one, and if there's a brokenness underneath that person, they tend to search for those in really negative pathways."
While the most recent display of white supremacy has struck a chord across the political aisle, Picciolini says the reignited rhetoric is nothing new.
"There's been a rise over the last 30 decades. And what's happened, it was with concerted strategy to move away from the skinhead or the Klan look, to grow your hair out. Because even back when I was involved 30 years ago, there was a stigma to that even amongst racist white Americans."
He added, "So the idea was to blend in, to grow the hair out, trade in the boots for suits. And here we are now."
Thanks for reading CBS NEWS.
Create your free account or log in
for more features.