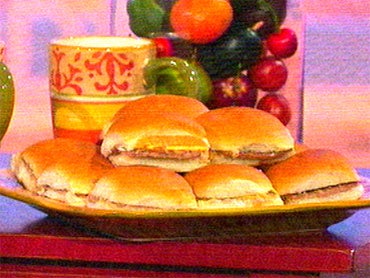 Let's Give a Hand to Sliders
Not your typical Thanksgiving dinner, but "sliders" as they're called are a satisfying meal to share all the same. For chef Bobby Flay the tiny burgers are a small miracle:

---

"We call 'em little bullets," said Rich Belfer. "And we just put 'em on the grill, smash 'em, the grill's hot enough so the bottom will stick."

Burger maestro Rich Belfer has always lived by one motto: "Good things come in small packages."

"So, why are you smashing it down?" Flay asked.

"Just so they'll fit on the roll," Belfer said.

"Okay. It's all about size," Flay said.

For 18 years, Rich has manned the grill here at the White Rose, his little diner in Linden, New Jersey. It even offers a big window so that you can see the griddle where Rich is cooking everything.

"Why are you showcasing the griddle?" Flay asked.

"Well, I like to show my handiwork," Belfer said. "And I want the people to see what they're eating."

And what they're eating are sliders - tiny two-ounce burgers that deliver heavyweight flavor in a featherweight package.

They're called sliders because they slide right off the grill . . . straight into your mouth.

"This is what your mother made you," Belfer said. "You know, it's not something you get frozen out of a box. Your mother made you fresh meat hamburgers, and this is what people want."

To prepare his sliders, Rich adheres to a rigid technique: Smash . . . smother . . . top . . . and cover.

The taste can't be beat - and neither can the price.

"The people who work and live around here are working people," Belfer said. "They work hard and they want a good meal. And there you go. There's a meal for $5. They can eat lunch, throw a soda in, at a decent price."

"Five bucks. This is the way to go," Flay said.

Still, restaurants like White Rose are an endangered species - relics of an era when lunch counters served hand-cooked meals to factory workers in-between shifts. Sliders sold for a nickel a piece.

In the 1920s, sliders were popularized by White Castle.
Starting in the Midwest, White Castle quickly grew into America's first national burger chain. The word "white" symbolized cleanliness and purity.

Today, White Castle and Krystal - a slider chain across the South - serve more than 800 million little burgers a year.

But for my money, nothing can compare to the charm of an old-fashioned slider joint like White Manna in Hackensack, N.J.

"These are not ingredients that are very compelling on their own," said Burger blogger Nick Solares. "But for some reason when you combine them, it's something that is just so ethereal, and it's so much greater than the sum of its parts.

"It is our national dish, and rightfully so."

Solares is the poet laureate of sliders. His guide to the slider grills of New Jersey is essential reading to the Internet's meat mavens.

"What you're tasting here when you eat the slider is you're tasting history," Solares told Flay. "You're tasting a process and a technique that hasn't changed in 50 or 60 years."

Nostalgia aside, sliders are finding new fans in restaurant kitchens across the country. There's no limit to the possibilities, whether it's ahi tuna sliders . . . Lobster salad sliders . . . or Asian pork-and-beef sliders.

Even at this temple to haute cuisine, L'Atelier de Joel Robuchon in New York's Four Seasons Hotel, sliders have landed on the menu. Just be prepared to swallow a hefty price tag: $38 for two.

Chef Xavier Boyer showed us one of his best sellers. He loads his sliders with the best money- can-buy: kobe beef, truffle oil, and (of course!) foie gras.

"So we have 20 percent fat here and we have about 100 percent fat here, right?" Flay asked.

"About 99!" Boyer laughed.

And yes, you do get fries with that!

"The bread, the meat, the garnish, everything is just incredibly first rate," Flay said. "It's like, it can't get any better than this."

Who would have thought the humble little slider could make it all the way to the big time?
It's a true American success story - well done!

For more info:
bobbyflay.com
White Castle
Krystal
Beef Aficionado (Blog by Nick Solares)
A Hamburger Today (Blog)
L'Atelier de Joel Robuchon
Fatty Crab
8th Street Wine Cellar
Five Napkin Burger
Check out the CBS News "Sunday Morning" Recipes Index for more tasty selections from our guests, contributors and Bon Appetit magazine!
Thanks for reading CBS NEWS.
Create your free account or log in
for more features.