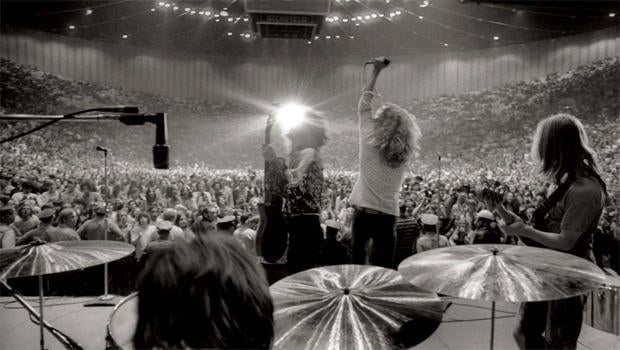 Led Zeppelin's Jimmy Page on the band's "life-changing" first rehearsal
Led Zeppelin elevated the rock band to a work of art. So, it seemed fitting that Jimmy Page (the band's guitarist, as well as creator and visionary) would use London's National Portrait Gallery as a backdrop for the launch of a book chronicling 50 years of the group's history.
"Led Zeppelin by Led Zeppelin" (Reel Art Press) features previously-unseen photos compiled by the three surviving members. It will be published on Tuesday.
Correspondent Charlie D'Agata asked Page, "Was there a moment when the four of you got together the first time, the first couple of times and thought, 'Wow!'?"
Page replied, "Well, the first rehearsal that we did was here in London, in a rehearsal room where we had maybe an hour or two hours, and we just got together, and we counted, '1, 2, 3, 4 ...' and were all playing, and we just kept extending the song and jamming on it.
"And by the end of it, I absolutely guarantee it was a life-changing experience for everyone from that point. Everyone knew that they'd never played with musical equals."
Musical equals without equal.
Robert Plant and drummer John Bohnam were just 20 years old. Bassist John Paul Jones, 22, and Page, 24, were already veteran musicians.
This is the first book about Led Zeppelin by Led Zeppelin – an extensive archive of previously-unseen photos handpicked by the surviving members of the band, even if they were seeing some of them for the first time.
"Because you're paying attention to the music or getting ready to perform," said D'Agata.
"That's right; the last thing in your mind really is stopping and posing for photographs – we want to get on with it," Page said.
Page was keen to have the group playing in front of an audience before they went into the studio. They would be an "album band," one classic at a time, from "Led Zeppelin I" through 1982's "Coda" – nine studio albums that sold more than 300 million copies around the world. It's one of the most successful catalogs of the rock age.
To watch Led Zeppelin perform "Rock and Roll" from "The Song Remains the Same" click on the video player below:
By the mid-'70s, Led Zeppelin had created every rock band stereotype. But back in 1968, Page's vision was unique. "I knew that the way to do it was to have four musicians that were just really locked in tight and everyone could be heard on the record, so it wasn't just about one person but the overall," he said.
But it meant they could never be Led Zeppelin without each other. So, when drummer John Bonham died in 1980, it meant the end of the band, too.
In recent years, Page has tried to keep the Zeppelin in the air, presiding over a series of archive releases.
But in 2007, with Bonham's son, Jason, on drums, Page, Plant and Jones re-grouped at London's O2 Arena for the "Celebration Day" concert. Twenty million fans applied for the 20,000 tickets.
D'Agata said, "I have learned not to ask about Led Zeppelin reforming; I've seen what happens when interviewers do that."
"You see the subject's face start to drop," Page replied.
But those fans might not be alone in missing the magic.
Would Page himself like to see it?
"Well, I'd like to look at that video of us 11 years ago at the O2," he said.
"You said that in the book, 'What a marvelous day it was.'"
"Well, I'm pretty consistent!" he laughed.
As consistent as he's been since 1968, when he created a band that would last little more than a decade, but which will rock and roll forever.
Thanks for reading CBS NEWS.
Create your free account or log in
for more features.