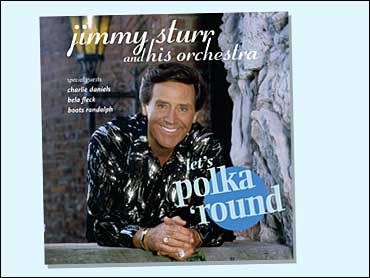 One Saturday night in Elizabeth, N.J., the king was in the house.
Jimmy Sturr is the king of polka.
At this year's ceremonies, Sturr will be up for a Grammy award -- just like Sting, Eminem and Beyonce.
He, however, already has more Grammys than all of them put together -- 13 in all, tying him with Michael Jackson and Paul McCartney.
But Sturr won't be performing on the Grammy telecast. The polka is one of those categories that is always presented earlier in the show.
Sturr has five gold records, which is amazing given his lack of radio airtime and shelf space in record stores. In the polka world he's a superstar, and has played at Carnegie Hall.
He's the pride of Florida, New York, the small town where he grew up. Sturr has the only star on the polka town walk of fame.
"When we were growing up, we had polka bands playing for high school dances," says Sturr. "Our local radio station played polkas every day. I loved it. Everybody else was listening to Elvis and they're rocking and rolling. Here I am listening to polka music."
It was the 1950s, and rock 'n' roll was the rule for many young Americans, but Sturr chose polka.
"I was 11 years old. That was when I started my band and my first job was for the local PTA," he says. "The president of the PTA, coincidentally, was my mother."
Had Sturr chosen rock 'n' roll, he might be living in a Graceland-style mansion. Instead, the king of polka still lives at home.
"The worst thing is I'm an only child and my mother has me spoiled," Sturr confirms. "She makes my bed."
Sturr's family is proud, as they make room for what they hope will be a 14th Grammy. His father thinks his son has "100 percent" chance of winning.
Sturr owns a travel agency in town that books some unusual trips other agencies don't, such as polka cruises.
"There's so many people that enjoy polka," says Sturr. "You never see it on national TV, never hear it on big radio stations. I've tried to Americanize the polka."
He spreads polka at Wurstfest in Texas, Polkapalooza at the Tropicana resort and casino in Atlantic City, on Barn Dance in Nashville and on a five-hour live television special in Germany.
"I played Poland several times. I played in Ireland, in Italy and of course Germany," says Sturr. He also played in Austria and Switzerland.
Moreover, he's broadening the polka sound. For those who associate the polka with Lawrence Welk, they will have to think again.
Sturr recorded with Willie Nelson and he'll be a guest performer on his 107th polka album. A little known fact: Willie Nelson started in a polka band.
The Oak Ridge Boys, Arlo Guthrie, Charlie Daniels and many others have also made guest appearances.
Sturr calls it progressive polka, which at times might sound country with the fiddle, Mariachi with the horns, Cajun with the accordion and big band with the whole orchestra.
He says collaborating with a rapper may be a good idea. Sturr explains he can "polkify" just about anything.
"We got booked into BB Kings Blues Club in Manhattan, I did a disco polka for television," he says.
Disco? "Saturday Night Fever" at the Bayway Polish home?
Couples feverishly spin and twirl, for hours on end, round and round they go, pausing only to knocking back beers and bags of snacks they brought from home. Some of the people at the polka party can do things John Travolta never dreamed of.
With each passing beer, some may find themselves drawn into the music, to the point where they might find themselves on the dance floor with Arlene, president of the Polka-Maniacs Club, and even auditioning for a guest appearance on the king's next album.
Jimmy Sturr is a Rounder recording artist. For more information go to Rounder.com
Thanks for reading CBS NEWS.
Create your free account or log in
for more features.