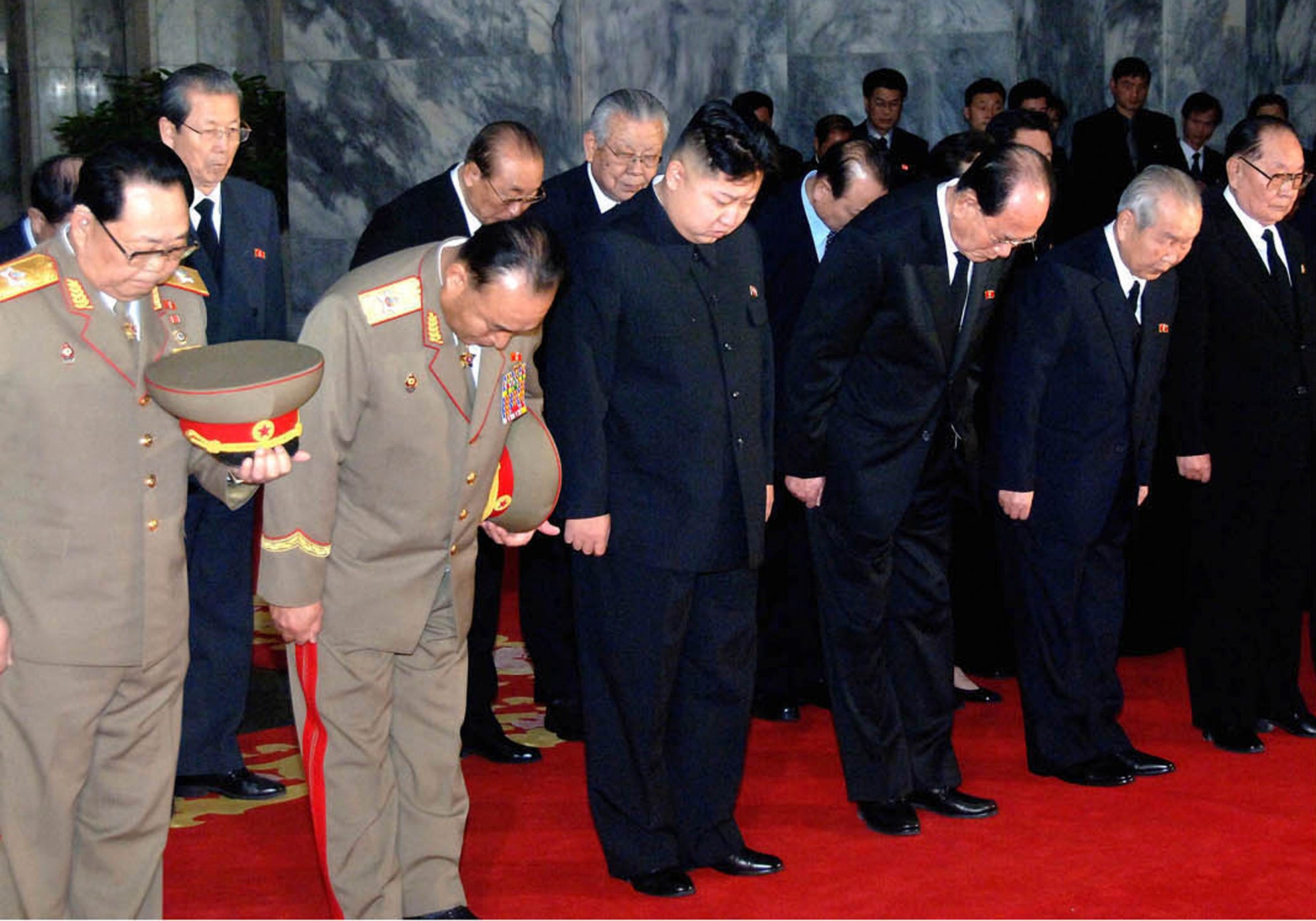 Kim heir wins backing, but may share power
Updated at 9:48 a.m. ET

PYONGYANG, North Korea - North Korea has tightened security in cities, put troops on alert and won loyalty pledges from top generals after leader Kim Jong Il's death as it consolidates power behind his anointed heir, South Korean intelligence indicated Wednesday.

Tensions around Northeast Asia have risen sharply as Kim's untested, twenty-something son, Kim Jong Un, rises to power in a country with a 1.2-million troop military, ballistic missiles and an advanced nuclear weapons development program.

According to an unconfirmed report by the Reuters news agency, citing one unidentified source claiming knowledge of North Korean affairs, the young Kim was to share his power with the nation's military commanders and an uncle, Jang Song-thaek.

Reuters reports that Jang, the 65 year old brother-in-law of Kim Jong Il, was appointed to the powerful National Defense Commission in 2009. The late Kim headed the Commission as leader of North Korea's military, but his son will have to share some of his powers with the current Commission heads, including Jang.

Kim's heir leads N. Korea in mourning
Will N. Korean military accept succession?
Kim's death leaves nuclear talks in limbo

It wasn't clear from the Reuters report how much power Kim would actually maintain under the shared-rule plan in the tightly controlled military state, or which duties he might have to cede, but the source said it was "very unlikely" he would be challenged by a military coup.

Seoul's National Intelligence Service predicts that Jang and his wife, a key Workers' Party official named Kim Kyong Hui, will play larger roles supporting the heir, South Korean parliament member Hwang Jin-ha told The Associated Press.

The NIS told lawmakers that an ad hoc committee is expected to handle key state affairs before Kim Jong Un formally becomes the country's leader, according to Hwang, who attended the closed-door briefing. Intelligence officials didn't describe how they got the information, he said.

The NIS believes the North is now focused on consolidating Kim Jong Un's power and has placed its troops on alert since Kim Jong Il's death, according to lawmaker Kwon Young-se.

Kwon said the NIS told the parliamentary intelligence committee that senior military officials have pledged allegiance to Kim Jong Un, and that more security officers have been deployed in major cities across the country. Intelligence officials declined to comment.

A South Korean Defense Ministry official handling North Korea affairs, however, said there is too little information to make a confident judgment about where North Korea's power transition is heading.

Initial indications out of North Korea suggest the power transition to the son has been moving forward, though it remains unclear when Kim Jong Un will formally take power.

Meanwhile, in a move likely to infuriate the North, South Korean activists and defectors launched giant balloons containing tens of thousands of propaganda leaflets, some of them opposing a hereditary transfer of power in North Korea.

Kim Jong Il ruled the country for 17 years after inheriting power from his father, national founder and eternal North Korean President Kim Il Sung, who died in 1994. Kim Jong Un only entered the public view last year and remains a mystery to most of the world.

As "CBS Evening News" anchor Scott Pelley reports, what's happening inside North Korea now, and what will happen in the coming days and weeks, remains largely a mystery.

In spite of the public rally around the young Kim Jong Un, his youth and lack of command experience relative to the senior military leadership in the country, mean even seasoned North Korea observers can't be sure who's in charge of the impoverished nuclear power with a history of unprovoked violence. (Watch the full report in the player above)

South Korean military officials, who spoke on condition of anonymity because of office policies that restrict comment on intelligence matters, confirmed that North Korea has ordered its troops to be vigilant but said that doesn't mean they're being moved.

North Korea announced Monday that Kim had died of a massive heart attack two days earlier at the age of 69 — although some accounts put his age at 70.
According to a Defense Ministry report submitted to parliament Tuesday and leaked to reporters by South Korean lawmakers, some North Korean units conducting winter drills returned to base following the news of Kim Jong Il's death. It also said official mourning events have begun in a number of front-line bases across the country. The report did not elaborate.
Unification Ministry spokesman Choi Bo-seon said in a briefing Wednesday that the government hasn't spotted particular troop movements in North Korea. Military officials said they also haven't noticed serious developments.
Initial indications coming out of North Korea suggest the transition to Kim Jong Un has been moving forward.
The young Kim led a procession of senior officials Tuesday in a viewing of Kim Jong Il's body, which is being displayed in a glass coffin near that of Kim Il Sung. Publicly presiding over the funeral proceedings was an important milestone for Kim's son, strengthening his image as the country's political face at home and abroad.
State media said Kim Jong Un also received mourners, including foreign envoys, as he stood near his father's body with a "guard of honor by the sides of the bier together with members of the National Funeral Committee." The report in the North's official Korean Central News Agency did not specify which foreign countries the envoys represented.
According to official media, more than five million North Koreans have gathered at monuments and memorials in the capital since the death of Kim Jong Il. Hundreds of thousands visited monuments around the city within hours of the official announcement that Kim had died.
The North has declared an 11-day period of mourning that will culminate in his state funeral and a national memorial service on Dec. 28-29.
In a dreamlike scene captured by Associated Press Television News, Kim's coffin appeared to float on a raft of "kimjongilia" — the flowers named after him — with his head and shoulders bathed in a spotlight as solemn music played. Various medals and honors were displayed at his feet.
The bier was located in a hall of the Kumsusan Memorial Palace, a mausoleum where the embalmed body of Kim Il Sung has been on view in a glass sarcophagus since his death in 1994. Kim Jong Un wore a black Mao-style suit, his hair cropped closely on the sides but longer on top, as he walked with much older officials in suits and military uniforms.
The propaganda leaflets sent into North Korea on Wednesday by South Korean activists are a sore point with the North, which sees them as propaganda warfare. North Korea has previously warned it would fire at South Korea in response to such actions. There were no immediate reports of retaliation, however. South Korean activists vowed to continue sending leaflets.
South Korea has put its military on alert and Japan has ordered extra vigilance from its coast guard. President Obama has been in close contact with his South Korean and Japanese counterparts, and has reassured them that Washington will stand by its allies.
Thanks for reading CBS NEWS.
Create your free account or log in
for more features.