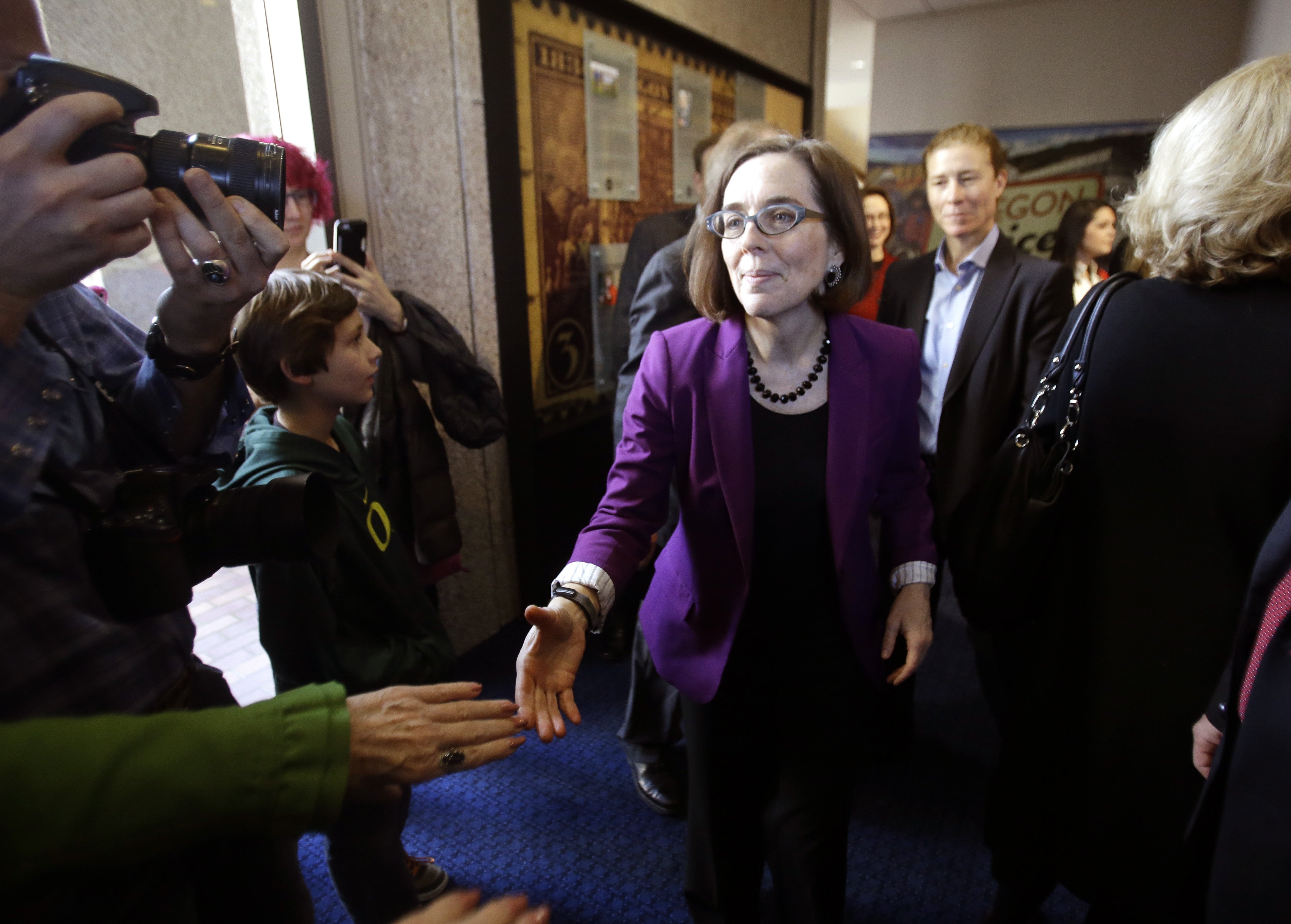 Who is Kate Brown, Oregon's new governor?
When Oregon Gov. John Kitzhaber, a Democrat, resigns Wednesday, Kate Brown will become America's first openly bisexual governor.
Brown, 54, has been married for 15 years to a man named Dan Little, although she has been open about her bisexual orientation throughout her entire career, according to the Christian Science Monitor. Some of her work during her 18 years in Oregon's state legislature was aimed at boosting LGBT rights, CNN writes.
Because Oregon does not have a lieutenant governor, Brown, who has served as Oregon's secretary of state since 2009, is next in line to take over. Kitzhaber announced Wednesday that he was stepping down amid allegations that his fiancée, Cylvia Hayes, used her relationship with the governor to solicit business for her green energy firm.
Brown will not serve the remainder of Kitzhaber's term, but will instead have to run for reelection to a full term in 2016. She had previously been mentioned as a potential candidate during the 2018 governor's election, although her path through Oregon politics hasn't always been smooth sailing.
She faced a stiff challenge from Republican Knute Buehler in 2012 during her re-election bid as secretary of state. She did not win the endorsement of The Oregonian, the state's daily newspaper, that year. The paper wrote that her first term as secretary of state had "led neither to memorable leadership as the state's top election officer, nor to immunity from high-profile blunders."
In particular, the paper cited her handling of the 2012 labor commissioner race, which was delayed by several months after the filing deadline. The delay was perceived to help the Democratic candidate. In a more recent article about Brown's tenure, the Oregonian writes that a 2014 hack into the secretary of state's website went unnoticed for two weeks. This past January, Brown drew criticism for submitting a letter in favor of Comcast's $45 billion acquisition of Time Warner Cable that had been ghost written by Comcast with only minimal rewrites by Brown herself. Comcast had contributed $9,500 to her campaigns from 2008 to 2012.
Her main focus in the job, she says on the secretary of state's website, is to remove barriers to voter registration and voting, reduce red tape for businesses and entrepreneurs and use audits to improve education in the state and provide better services for the most vulnerable residents.
Prior to becoming secretary of state, Brown served in the state legislature for 18 years. She was first appointed to the Oregon State House in 1991, describing herself as a bridge-builder seeking consensus. She won the seat outright in 1992 in a tough battle against its former occupant. In 1997, she was elected to the Oregon State Senate representing a part of Portland, and worked on updating the state's public campaign finance reporting system and highlighting the role that lobbyists play, according to the Oregonian. She became the Democratic caucus leader in 1998, and in 2004, became the first woman in the state to serve as senate majority leader.
"She handles tough situations with a smile on her face," Multnomah County Chairwoman Deborah Kafoury, who was the Democratic House minority leader when Brown was Senate majority leader in the mid-2000s, told the Oregonian. "She's strong, but she comes across as also being able to listen. And she's very personable."
Several other current and former Oregon government officials told the paper she is very hardworking.
Brown was born in Spain, but grew up in Minnesota. She attended University of Colorado at Boulder, getting a degree in environmental conservation, and then earned a law degree at Lewis and Clark Law School. She practiced family and juvenile law and taught at Portland State University.
"When she's not busy at the Capitol in Salem, you'll find her horseback riding, hiking or practicing yoga," the secretary of state website says.
Thanks for reading CBS NEWS.
Create your free account or log in
for more features.