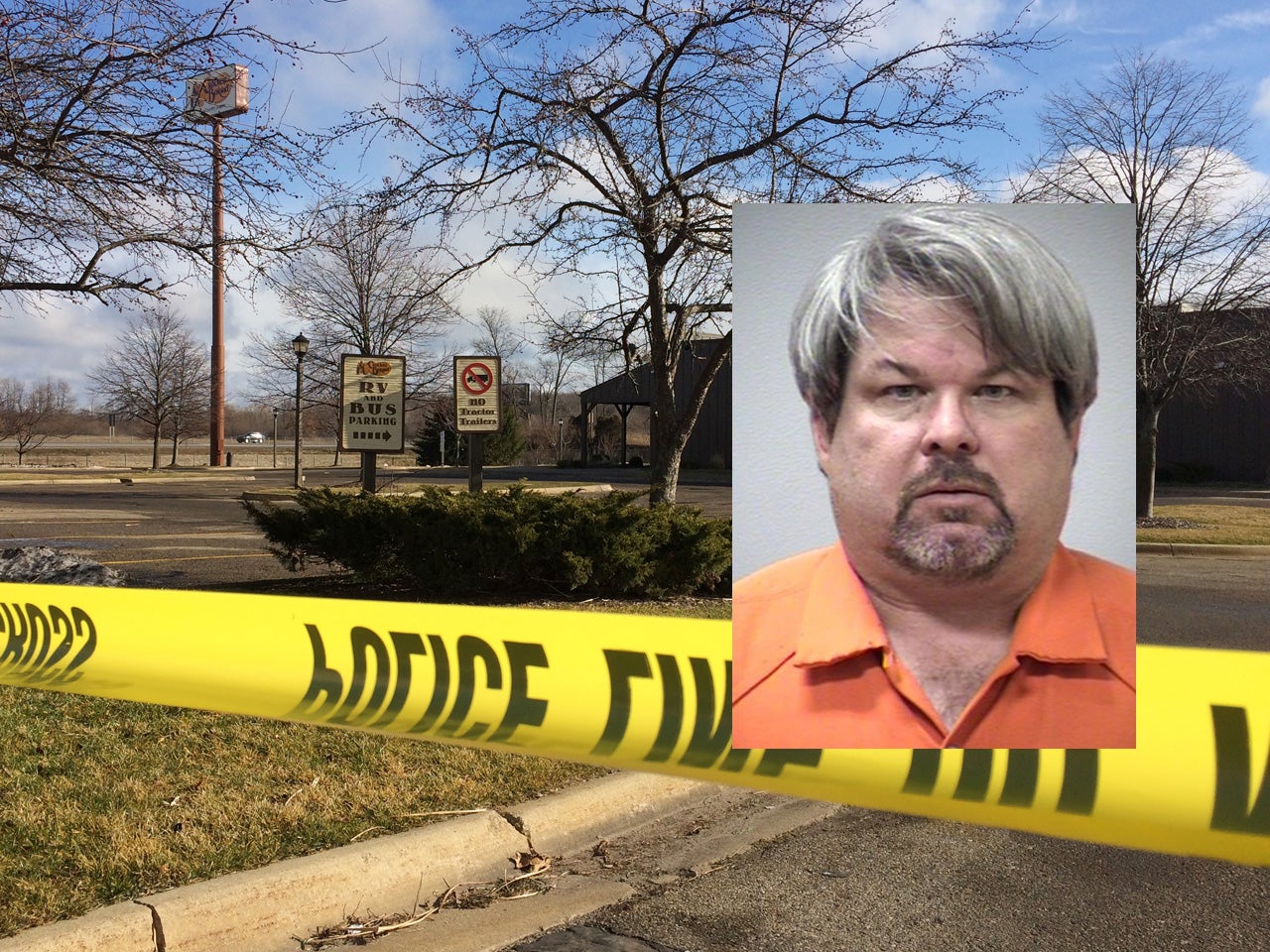 Prosecutor: Mich. rampage suspect admitted to shootings
A prosecutor says a man charged with killing six people in western Michigan has admitted to the weekend shootings.
Kalamazoo County prosecutor Jeff Getting says Jason Dalton, 45, waived his right against self-incrimination and admitted "his involvement in these incidents."
Dalton's statements to police were used to file charges of murder and attempted murder Monday.
Dalton has been denied bail after being charged with six counts of murder and two counts of attempted murder in the series of random shootings in western Michigan.
Getting filed the charges Monday against Dalton of Kalamazoo Township. Dalton, a driver with Uber, appeared in court via video conference Monday afternoon and indicated he understood the charges against him.
The charges also include weapons violations. The murder charges carry a mandatory life sentence.
Getting has dismissed the idea that Dalton was seeking a particular person when authorities say he shot the first victim.
Getting said Monday Dalton called a woman by a different name "to get her attention" on Saturday evening before shooting her multiple times. The woman shot outside of her apartment on the eastern edge of the county survived and has undergone surgery.
Police and prosecutors maintain the shootings were random and haven't revealed a motive. People also were shot outside of a restaurant and a car dealership in the Kalamazoo area.
Dalton was arrested Sunday in Kalamazoo. Police say the rampage began about 6 p.m. Saturday outside an apartment complex, where a woman was seriously wounded. A little more than four hours later, a father and son were fatally shot while looking at vehicles at a car dealership.
Fifteen minutes after that, five people were shot in the parking lot of a Cracker Barrel restaurant.
The Kopf family released a statement Monday on behalf of their 14-year-old daughter Abigail, who was one of the victims who survived the shooting at Cracker Barrel.
In the statement, the family says the night of the shooting Abigail had been with her grandmother, Barb.
"We are devastated by the loss of Grandma Barb and her wonderful friends," the statement read. "We will miss them dearly. Barb was a special part of our lives. Our hearts go out to her family."
Abigail survived the shooting, but on Saturday night her heart stopped. Her heartbeat was eventually restored. The family said that Abigail remains in critical condition fighting for her life.
A law enforcement source told CBS News correspondent Jeff Pegues that all of the necessary traces have been done on Dalton's weapons. Sources say not only was the handgun used in the shooting recovered by police but there were several firearms found in his home.
Kalamazoo County Sheriff Richard Fuller says Uber is cooperating with law enforcement officials investigating the shootings, and he believes the company will "help us fill in some timeline gaps."
An Uber passenger told CBS affiliate WWMT that he called police to report an erratic driver more than an hour before authorities allege the driver began shooting people at random.
Matt Mellen said the warning signs started immediately after he got into Dalton's car, just before 4:30 p.m. Saturday. The driver allegedly introduced himself using a different name, and there was a dog in the backseat, Mellen said. About a mile into the journey, the passenger says Dalton got a phone call, and then began driving erratically.
"We were driving through medians, driving through the lawn, speeding along and when we came to a stop, I jumped out the car and ran away," Mellen said.
He said he called the police after he got out of the car. And his girlfriend posted a warning about Dalton, with his Uber profile picture, on Facebook.
"We posted the picture on Facebook just so our friends wouldn't get in the car with him if they had to take an Uber that night," says Mellen. "I'm upset because I tried contacting Uber after I had talked to the police, saying that we needed to get this guy off the road."
Fuller said investigators are particularly interested in communication between Dalton and Uber, as well as between the company and customers he might have driven.
Uber says it received complaints about Dalton from several passengers Saturday night. But the company's security chief says before Saturday, Uber had no reason to believe anything was amiss with Dalton.
Uber's security chief says the company immediately suspends drivers who are accused of violent acts. But in the case of erratic driving, it typically contacts the driver first to make sure it hears both sides.
Uber says it received complaints about Dalton from several passengers, including one about erratic driving. But the company won't say whether it talked to Dalton, and is referring further questions to law enforcement.
Fuller said questions about motive and the shooter's frame of mind will be "the hardest to answer." He expects some answers will emerge in court but doubts they will be satisfying.
Before Saturday, Dalton had no criminal history and passed an Uber background check. Investigators described the Uber driver as "unemotional," and said he may have picked up at least one client during the shooting spree, which lasted nearly five hours, reports CBS News correspondent Anna Werner.
Dalton allegedly drove other customers that night after the shootings, including a couple who wished to remain anonymous.
"And I halfheartedly joked at him and said... 'You're not the shooter are you?' And he said 'No... and I said 'Are you sure?' And he said 'No, I'm just really tired,'" a man said. "He had a weapon in the car that he had just killed people with," his partner said.
President Obama told a group of governors Monday that "we're gonna need to do more" to prevent gun violence after after the shooting on Kalamazoo.
He praised the local officials and first responders for an "outstanding job" but said there were still families who were shattered by the violence.
"Earlier this year, I took some steps that will make it harder for dangerous people like this individual to buy a gun. But clearly, we're gonna need to do more if we're gonna keep innocent Americans safe," Mr. Obama said, referring to executive actions he took earlier this year to try to increase the frequency of background checks.
Dalton's family released a statement Monday afternoon, saying "there are no words which can express our shock and disbelief, and we are devastated and saddened for the victims and the families of the victims. We cannot comprehend the grief that you are feeling, and, while it seems woefully inadequate, we are deeply sorry and are praying for everyone affected."
Thanks for reading CBS NEWS.
Create your free account or log in
for more features.