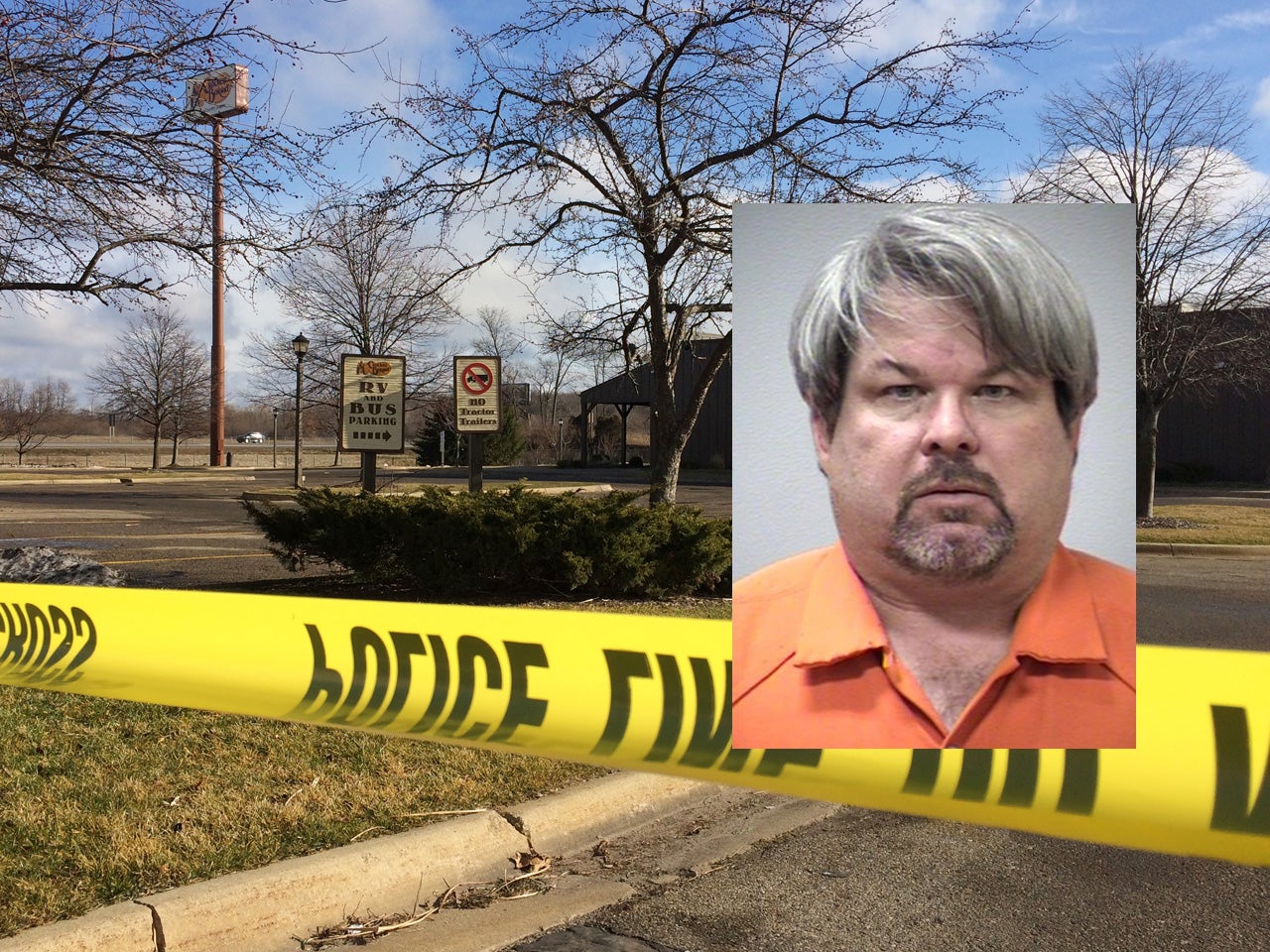 Kalamazoo shooting spree suspect an Uber driver
KALAMAZOO, Mich. -- A gunman who seemed to choose his victims at random opened fire outside an apartment complex, a car dealership and a restaurant in Michigan, killing at least six people and wounding several more during a rampage that lasted nearly seven hours, police said.
Police have arrested Jason Dalton of Kalamazoo, and accused him of going on a shooting spree that investigators have so far called random.
Police said the 45-year-old Uber driver had no criminal record. They could not say what motivated him Saturday night to target victims with no apparent connection to him or to each other.
"How do you go and tell the families of these victims that they weren't targeted for any reason other than they were there to be a target?" Kalamazoo County Prosecutor Jeff Getting said Sunday at a news conference.
Following a massive manhunt, Dalton was arrested without incident early Sunday in downtown Kalamazoo while waiting at a traffic light, according to officials. A semi-automatic weapon was seized during the arrest.
Department of Public Safety Chief Jeff Hadley says investigators contacted the wife of Dalton Saturday evening "to make sure she wasn't a victim." Hadley adds that she has cooperated with police in their investigation.
The Sheriff's Office is in possession of multiple surveillance videos, including the video at the car dealership which shows the shooting there, according to Kalamazoo County Undersheriff Paul Matyas. "There is surveillance video. It is rather graphic. It's graphic and it's disgusting," he told CBS News. The video at the Cracker Barrel restaurant shows the shootings at the restaurant but is of lesser quality, the undersheriff said.
Dalton is expected to be arraigned Monday on murder charges.
Kalamazoo County Undersheriff Paul Matyas described a terrifying series of attacks that began about 6 p.m. Saturday outside the Meadows apartment complex on the eastern edge of Kalamazoo County, where a woman was shot multiple times. She was expected to survive.
A little more than four hours later and 15 miles away, a father and his 18-year-old son were fatally shot while looking at cars at the dealership.
Fifteen minutes after that, five people were gunned down in the parking lot of a Cracker Barrel restaurant along Interstate 94, Matyas said. Four of them died.
A 14-year-old girl had earlier been reported among the fatalities, based on a pronouncement by medical officials. But police later said that she was hospitalized in critical condition.
Authorities did not believe the shootings were targeted at specific people, describing them as "our worst-case scenario," Matyas said.
"These are random murders," he said.
Dalton was arrested without incident about 12:40 a.m. Sunday after a deputy spotted his vehicle driving through downtown Kalamazoo after leaving a bar parking lot, authorities said.
Matyas declined to disclose anything found in the vehicle except for a semi-automatic handgun.
"In this particular case, we're just thankful it ended the way it did -- before he could really kill anybody else," Matyas said.
By midday, authorities were investigating a Facebook post that indicated the suspect was driving for Uber during the manhunt and had taken at least one fare, Getting said.
Uber has been one of the most successful tech industry startups in recent years, as customers have flocked to use its smartphone app for hailing rides in 380 cities around the globe. The company says its drivers are independent contractors who use its app to help find customers and schedule trips.
It was unclear Sunday if the fatal shootings in Kalamazoo had any relation to Dalton's employment. But critics have long complained the company should do more to screen drivers and guard passengers' safety.
Some of that criticism has been raised by competitors and regulators who argue that Uber's success has come as the company has expanded while seeking to avoid the strict licensing and permit requirements that traditional tax companies face.
"I do think this is an outrageous incident that's going to draw more attention to this issue," said Dave Sutton, spokesman for "Who's Driving You," an organization backed by Uber's competitors in the taxi and limousine industry, which has fought the company's expansion.
Uber prohibits both passengers and drivers from possessing guns of any kind in a vehicle. Anyone found to be in violation of the policy may be prohibited from using or driving for the service.
A man who knows Dalton said he was a married father of two who never showed any signs of violence.
Gary Pardo Jr. told The Associated Press that Dalton is "a family man that for all intents and purposes seemed to stick with his family."
Pardo's parents live across the street from Dalton in Kalamazoo Township.
Dalton was in contact with more than one person during the rampage, authorities said, but they would not elaborate. Prosecutors said they do not expect to charge anyone else.
"There's no common denominator with any of these," Matyas said. "This person was just waiting in the parking lot of the apartment complex. The one at ... the dealership, they were looking at cars. The ones at Cracker Barrel, they were just sitting in their cars. There is absolutely no common denominator ... through race, age, anything."
Authorities were interviewing Dalton and reviewing his phone. They did not know if the handgun belonged to him, Getting said.
"This is every community's nightmare -- when you have someone going around just randomly killing people, no rhyme, no reason," Getting said.
Tammy George said the woman who was shot outside the apartment building is her next-door neighbor. She and her family heard the gunfire, ran outside and saw the woman on the ground.
Four bullets went into a closet of George's home, she said. Her son, James, was playing video games with two friends a few feet away from where the bullets pierced the wall.
"I checked out the back window and saw a car speeding off," said James George, 17.
On Sunday morning, Tammy George came outside to clean the parking lot.
"I was worried about the kids coming out and seeing their mom's blood," she said. "I cleaned it up. No kid should have to come out and see their parent's blood on the ground."
During a Sunday morning news conference, some law enforcement officials wiped teary eyes or got choked up. When the news conference ended, Kalamazoo Mayor Bobby Hopewell and Department of Public Safety Chief Jeff Hadley embraced.
The four people killed outside the restaurant were identified as 62-year-old Mary Lou Nye of Baroda and 60-year-old Mary Jo Nye, 68-year-old Barbara Hawthorne and 74-year-old Dorothy Brown, all of Battle Creek.
Police did not release the names of the two victims killed at the car dealership, but Mattawan Consolidated Schools Superintendent Robin Buchler confirmed they were Tyler Smith and his father, Rich.
Mourners streamed into a Kalamazoo church for a special prayer service on Sunday evening.
The service Sunday night at Centerpoint Church was intended to honor the victims and help residents cope.
The lieutenant governor, area pastors and others spoke during the service, which also included several musical numbers.
Pastor Brian Stone told those in attendance it's natural to ask why such a tragedy would happen and said there is "no easy answer."
With a population of about 75,000, Kalamazoo is about 160 miles west of Detroit. It is home to Western Michigan University and the headquarters of popular craft beer maker Bell's Brewery. The city also is known for the anonymously funded Kalamazoo Promise program, which has paid college tuition of students who graduate from Kalamazoo Public Schools for more than a decade.
Thanks for reading CBS NEWS.
Create your free account or log in
for more features.