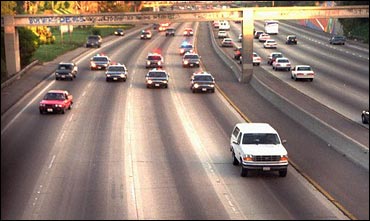 June 17, 1994: O.J. Simpson white bronco chase mesmerizes nation
It started with a murder warrant.
It ended with O.J. Simpson, a football superstar turned celebrity, in a Los Angeles jail cell under a 24-hour suicide watch.
"It's unlikely he will be out of jail anytime soon," reported CBS News' Sandra Hughes.
Simpson was supposed to surrender on June 17, 1994 after being charged for the brutal murder of his ex-wife Nicole Brown Simpson and her friend Ron Goldman.
But instead of turning himself in, he fled.
"The Los Angeles Police Department right now is actively searching for Mr. Simpson. He is a wanted murder suspect and we will go find him," LAPD Commander David Gascon told an antsy group of reporters as the drama unfolded.
Police used cell phone data to track down Simpson, traveling in a white Bronco driven by his friend Al Cowlings on a highway south of Los Angeles. What followed was a transfixing, televised spectacle that seemed more like a parade than a low-speed chase.
Fans lined the streets as the Bronco passed, cheering Simpson's nickname "Juice," a strange juxtaposition to the eerie chatter on the police radio: "The subject is in the back of the Bronco, and he is armed with a handgun that he is holding to the back of his head now."
For more than two hours, Cowlings and Simpson led police on a 75-mile chase along freeways and streets.
As the gripping situation played out, Simpson's attorney Robert Shapiro held a press conference. He begged his client to surrender before Robert Kardashian, a friend of Simpson's, read a letter written by O.J.
"Don't feel sorry for me. I've had a great life, great friends," the letter said. Its ominous nature led some to believe it was a suicide note, adding to the frenzy. Simpson's mother Eunice collapsed after hearing it.
Simpson's USC football coach, John McKay, even begged him to surrender over the local radio. "My God, we love you, Juice," he said. "Just pull over and I'll come out and stand by you all the rest of my life."
The day came to an end with Simpson's quiet surrender in the driveway of his Brentwood home, but the reaction and following trial was anything but.
Simpson's murder trial, often referred to as the "Trial of the Century," became a nation-wide obsession. It was filled with tabloid coverage and dramatic, often unbelievable moments in court -- including the infamous footage of O.J. trying on black gloves like those found at the murder scene.
The entire event, and Simpson's subsequent acquittal in 1995, has remained one of the most notorious periods in American media -- an undeniably intriguing mix of celebrity, horror, race, and sensationalism.
Countless articles, TV specials, and documentaries have been made analyzing the case. Nearly every single lawyer on the defense and prosecution, from Johnnie Cochran to Marcia Clark, wrote a book telling their side of the story.
Simpson himself even fanned the flames in 2006 when he announced plans to release a book called "If I Did It," which would have been his hypothetical account of the murders. The book deal was eventually cancelled after public outcry, and the Goldman family won the rights to the book, which they published with some modifications in 2007.
Earlier this year, FX's acclaimed mini-series "The People v. O.J. Simpson" thrust the trial back into the spotlight. At the height of the show's popularity, a new revelation about a knife found on Simpson's former property reignited public speculation about the ultimate "whodunit."
The knife was later found to have no connection to the murder, but America's interest in the case will likely never fade. ESPN's "O.J.: Made in America" five-part documentary series, which premiered this month, is the latest to capture the country's attention.
As for O.J. Simpson, he is serving a maximum sentence of 33 years for a botched armed robbery in 2007. He is eligible for parole in 2017.
Thanks for reading CBS NEWS.
Create your free account or log in
for more features.