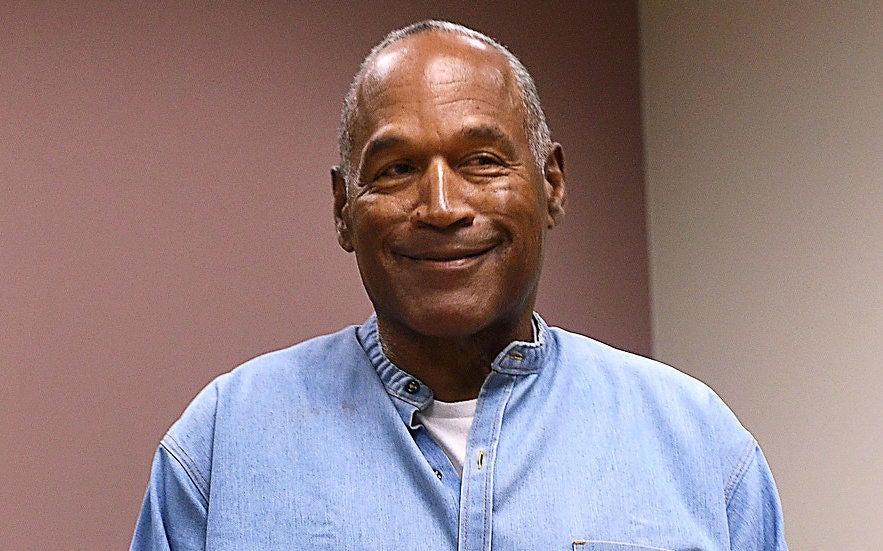 O.J. Simpson plans to live in Las Vegas area: AP
LAS VEGAS -- A Nevada parole official says O.J. Simpson plans to live at a home in the Las Vegas area for the foreseeable future.
State Parole and Probation Capt. Shawn Arruti told The Associated Press on Sunday that the former football hero and celebrity criminal defendant has one approved residential plan, and it doesn't currently include a move to Florida or any other state.
Arruti says that could change in the future.
Simpson previously said he wanted to live in Florida, where he used to live and where he has friends and two children.
Arruti says the exact location of the house in Las Vegas isn't disclosed for security and privacy reasons.
But he says that at least for now, the 70-year-old Simpson has no permission to leave Nevada without advance approval from his parole officer.
Meanwhile, officials at a remote Nevada prison where O.J. Simpson was set free early Sunday after nine years for armed robbery arranged the former football and Hollywood star's dead-of-night departure to avoid public scrutiny.
It worked. Simpson signed release paperwork just before midnight and disappeared into the darkness minutes into the first day he was eligible for release. Through efforts by prison officials to keep the time and place secret, there were no journalists outside the prison gates to capture the moment.
Though publicity-prone in the past, Simpson was neither heard from nor seen publicly as the day wore on -- apparently taking the advice of people in his inner circle that he avoid the spotlight.
Simpson was released at 12:08 a.m. PDT from Lovelock Correctional Center in northern Nevada, state prisons spokeswoman Brooke Keast told The Associated Press. She said she didn't know the name of the driver who met him and took him to an undisclosed location.
Keast recorded and released a brief video on social media in which Simpson is told to "come on out" and he responds "OK" after walking through an open door and toward a parking lot bordered by desert scrub brush.
The prisons spokeswoman also took photographs showing Simpson -- in blue jeans, denim jacket, eyeglasses, ball cap and white sneakers -- signing documents about 10 minutes before midnight. He later left the prison with four or five boxes of possessions in the car. Keast said she had no information about where he was going.
Tom Scotto, a Simpson friend who lives in Naples, Florida, said by text message an hour after the release that he was with Simpson. But Scotto did not answer texts asking where they were going or whether members of Simpson's family were with them.
Along with Simpson's sister and oldest daughter, Scotto had attended the July parole hearing at the same prison where Simpson went after his conviction for a botched 2007 heist at a Las Vegas hotel room - prison time he avoided after his 1995 acquittal in the killings of his ex-wife and her friend.
The 70-year-old Simpson said at the hearing that he wanted to move back to Florida, where he lived for nearly a decade before he was sent to prison in 2008. That return did not appear imminent.
Arruti said the only Simpson living arrangement received, investigated and approved was in the Las Vegas area. The parole official said Simpson doesn't have permission to leave Nevada.
Florida's Corrections Department "has not received any transfer paperwork from Nevada" about Simpson that would be required for him to live in that state and be monitored there, spokeswoman Ashley Cook said Sunday.
Though Florida's attorney general has urged corrections officials to object to Simpson's return, the department previously has said it would be required to accept a transfer if it met certain criteria.
"We understand we may have to take him, if he was a model prisoner. And two of his children live here, so that's his hook for coming to Florida," state Attorney General Pam Bondi said. "If we have to accept him, I certainly want conditions placed on him."
Simpson's attorney, Malcolm LaVergne, and state Parole and Probation Capt. Shawn Arruti, who has been handling Simpson's case, did not respond Sunday to messages seeking comment about Simpson's whereabouts.
Las Vegas is a 450-mile drive south of Lovelock, and a television news crew reported finding Simpson at a gas station near his destination. Simpson declined to be interviewed, saying he had done nothing since his release but sit in a car for five hours.
LaVergne said recently that Simpson looked forward to reuniting with his family, eating steak and seafood and returning to Florida. Simpson also planned to get an iPhone and get reacquainted with technology in its infancy when he began his sentence, his attorney said.
Both LaVergne and Scotto said in recent interviews with the AP that they thought Simpson should stay out of public view and focus on family and friends.
Keast said the overnight release from the prison about 90 miles east of Reno, Nevada, was conducted to avoid media attention. No media were near the front gate at the time when Simpson's car left the prison by a back road and entered nearby Interstate 80, she said.
"We needed to do this to ensure public safety and to avoid any possible incident," Keast said.
She acknowledged Nevada prison officials misled the media with word about the timing and location of Simpson's release. They had advised it would be no earlier than Monday and possibly in Las Vegas.
Thanks for reading CBS NEWS.
Create your free account or log in
for more features.