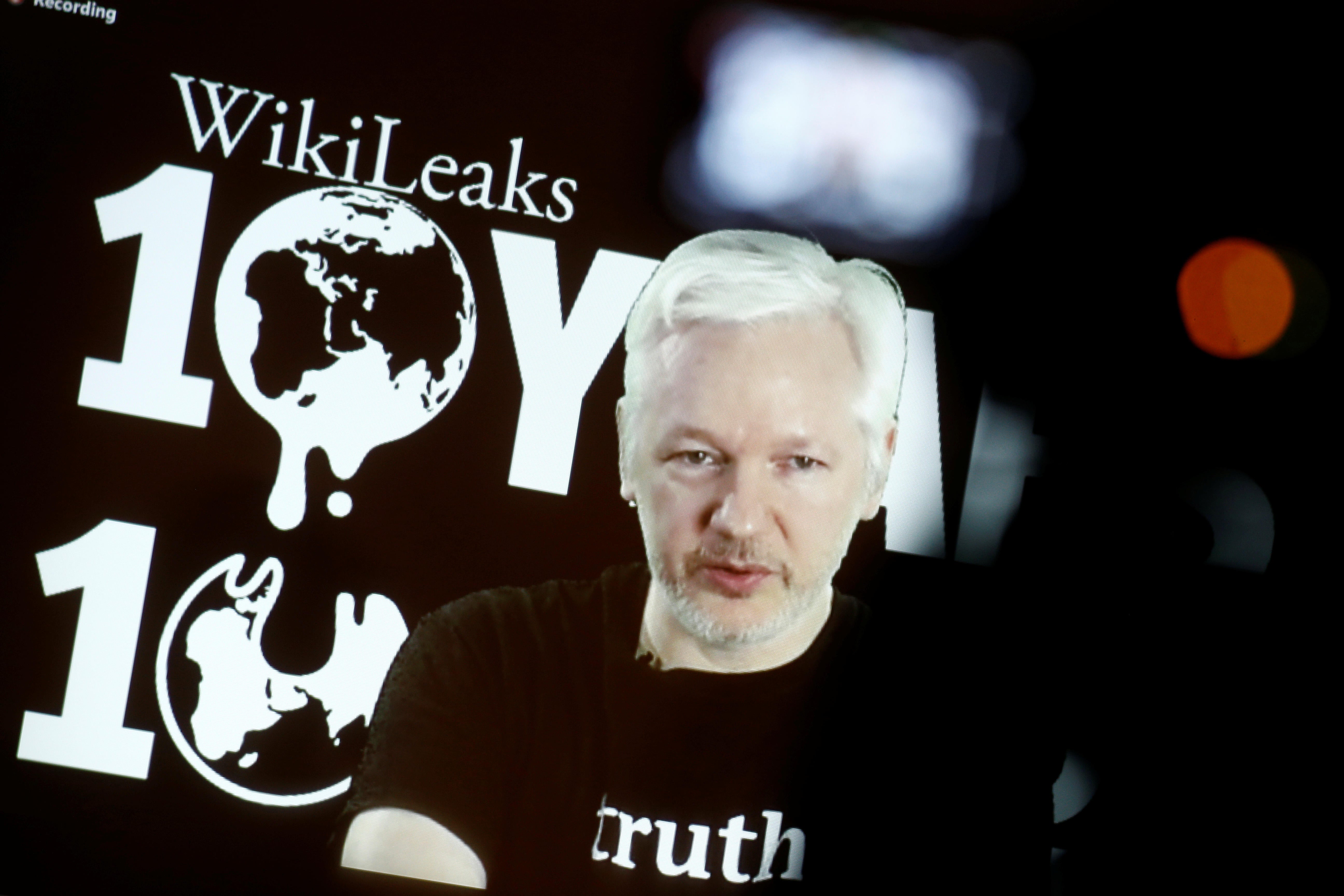 WikiLeaks founder Julian Assange "very happy" about fake news narrative
"What is special about WikiLeaks is that it's not just another damn story, it's not just another damn journalist putting their damn byline, advertising themselves and their position on another damn story."
That's the assessment of WikiLeaks founder Julian Assange, who appeared in Sydney over the weekend (albeit via video link) for a wide-ranging discussion on the failings of modern media, the power of leaked information and why WikiLeaks is happy to court scandal.
And while he says newspapers publish nothing more than "weaponized text," he's more than happy with the advent of "fake news."
WikiLeaks, which celebrated its 10th anniversary in October last year, has never been one to shrink from its stated goal of uncovering "government and corporate misconduct." However, the organization has come under fire in recent months for the way it releases information, particularly around the timing of its leaks in the lead up to the 2016 election.
But speaking to the audience in Sydney -- including supporters who were willing to yell their support during the live cross -- Assange defended WikiLeaks as "a wonderful library you can trust" and a source of "original pristine information."
"You're not reading pre-weaponized knowledge," he said of the organizations' millions of documents. "When you read a newspaper article, you are reading weaponized text that is designed to affect a person just like you.
"I think that is the real beauty of WikiLeaks... it is that sea of information, that treasure, that intellectual treasure, that rebel library of Alexandria you can go into."
Assange's comments throughout the two-hour event pitted this unfiltered archive of information against what he called the "very, very, very inaccurate" press and the "opportunistic snipers" that work in the industry as journalists.
But this disdain for the global news media did not necessarily extend to "fake news."
"When the narrative of fake news came out and was then taken off effectively by the neo-liberal press and pushed around... I could see exactly where that was going. I was rather happy about it," he said.
"WikiLeaks is very happy that there is a narrative about fake news out there because we have a perfect record of having never got it wrong in terms of authentications."
So what if that "pristine" information is private correspondence allegedly from one of Hillary Clinton's top aides, released a month before the election? Does freedom of information take on a new meaning when that information is timed to have the maximum impact?
"Sources don't give you stuff unless it's going to have impact," Assange said.
"The real value in WikiLeaks is it is a wonderful library that you can trust... But the library has to be marketed. And so the scandal-generation business, which we're also in -- I view that as a kind of marketing effort for what is much more substantial, which is our archive."
And as for the timing of the Podesta emails?
"We try and maximize the value of the information to readers. So that's publishing it at the moment when they most want to read it, when they most want to know what it contains. And that's definitely before an election rather than after election."
Assange himself is currently in election mode once more, awaiting the outcome of the Ecuadorian presidential election to learn if his status in the country's London embassy will change. But if there's one thing his Sydney audience learned, he's not shying away from scandal any time soon.
This article originally appeared on CNET.
Thanks for reading CBS NEWS.
Create your free account or log in
for more features.