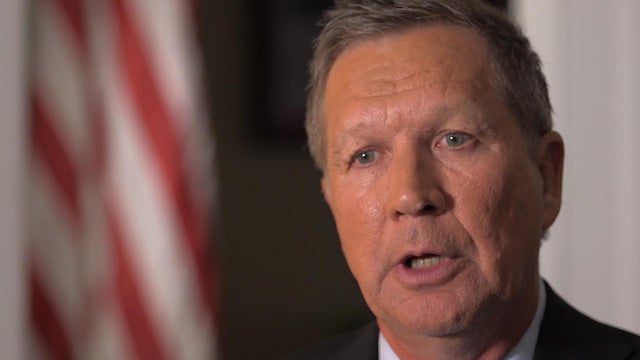 John Kasich: I've led on Black Lives Matter issues
Ohio Gov. John Kasich, a candidate for the 2016 Republican presidential nomination, told CBS News Chief White House Correspondent Major Garrett that he understands the concerns motivating the Black Lives Matter movement -- and that he's leading the way in addressing them.
"There are a lot of people in our inner cities who feel that the system... works against them," Kasich said, and "in some cases, they are" right.
"I'm one governor who has also led on this issue," he added.
Kasich noted that he assembled a diverse panel to explore issues of community and police relations. The governor created the task force in December, after Cleveland came under intense scrutiny for police misconduct. In November, the Cleveland Division of Police came under fire after 12-year-old Tamir Rice was gunned down by an officer. And in December, the U.S. Justice Department released a report finding a pattern of the use of excessive force by Cleveland police.
The governor pointed out that two of the recommendations from his task force are already being implemented: officials are working on a statewide policy on the use of deadly force by police, as well as improving the recruiting and hiring practices of Ohio police departments.
"Now we've moved to a different collaborative, where we're trying to get the community to understand that there is a police officer whose family waits every night for them to get home, and they love that police officer because that's their mom or dad," Kasich said. "And the police have to understand the concerns inside of the community. It's about getting people together, people talking, understanding one another, and the right policing policies."
Thanks for reading CBS NEWS.
Create your free account or log in
for more features.