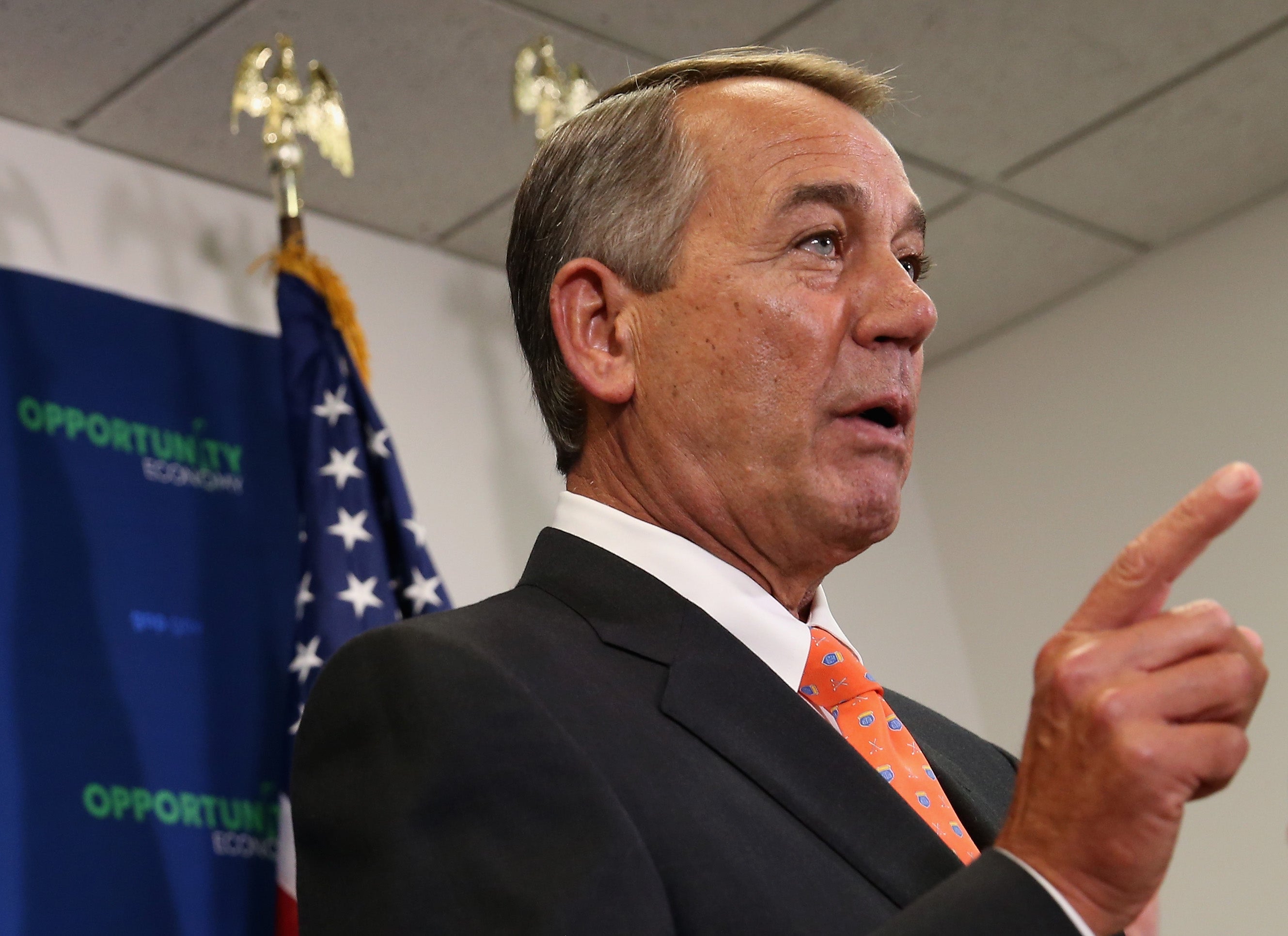 Boehner "certainly" prepared to let DHS funding run out
In a funding spat that could effectively shut down the Department of Homeland Security (DHS), House Republicans don't appear to be backing down from a fight.
House Speaker John Boehner said Sunday he's even readying himself for it.
"The House has acted," the speaker said on FOX News Sunday. "We've done our job. Senate Democrats are the ones putting us in this precarious position. It's up to Senate Democrats to get their act together."
When asked if the Speaker was "prepared" for the DHS to run out of financing, Boehner responded: "Certainly. The House has acted. We've done our job."
The bill, which would provide the Department of Homeland Security with necessary operating funds, is contingent on obstructing President Obama's recent executive actions on immigration. While a bill has passed the house, Senate Democrats have blocked it several times.
Minority Leader Nancy Pelosi responded with a scathing statement to Boehner's press appearance.
"With only four legislative days left until the Republican Homeland Security Shutdown, Speaker Boehner made it clear that he has no plan to avoid a government shutdown that would threaten the safety of the American people," Pelosi's office said in a statement. "The Speaker's reliance on talking points and finger-pointing was a sad reflection of the fact that Tea Party continues to hold the gavel as they insist on their futile anti-immigrant grandstanding."
Boehner tried to shift the blame to the other party, even as the comparisons to the Ted Cruz-led 2013 government shutdown started pouring in.
"Senate Democrats are the ones standing in the way," Boehner said. "They're the ones jeopardizing funding. Why don't they get on the bill and offer amendments, offer their ideas? Let's see what the Senate can do."
While the fight falls along party lines, even some Republicans are skeptical that the political maneuvering will prove fruitful.
Rep. Peter King, R-New York, also admitted that "More likely, Republicans will be blamed."
"We control the House and the Senate," King told The Hill newspaper on Friday. "You're reading about ISIS, about Paris, reading about beheadings and people burned to death, and our response is to shut down Homeland Security?"
Another New Yorker, Democratic Senator Chuck Schumer, added to the criticisms of the Speaker's tactics.
"When Speaker Boehner tied immigration to DHS funding he knew exactly what he was doing; saying unless I get my way, I'm going to shut down a large part of the government," Schumer said in a statement. "'To now blame Democrats when members of his own party, conservative leaders and others have all asked him to back off this game of chicken is disingenuous at best."
Sen. Bob Corker, R-Tennessee, also wants to see a funding bill pass Congress.
"I'll be the first to say when we have a department whose mission is to protect the homeland, especially in these times we need to fund it, and hopefully Congress over the next period of time will figure out a way to go forward," the senator said on CBS' "Face the Nation" Sunday.
Pelosi's office offered an alternative to the politicking: "With every House Democrat now cosponsoring clean legislation to fund DHS, it is clear that the votes are present to pass a bill now if only Speaker Boehner would get out of the way."
Funding for the Department of Homeland Security is scheduled to expire at the end of February, at which time the agency's non-essential employees will no longer be paid.
Thanks for reading CBS NEWS.
Create your free account or log in
for more features.