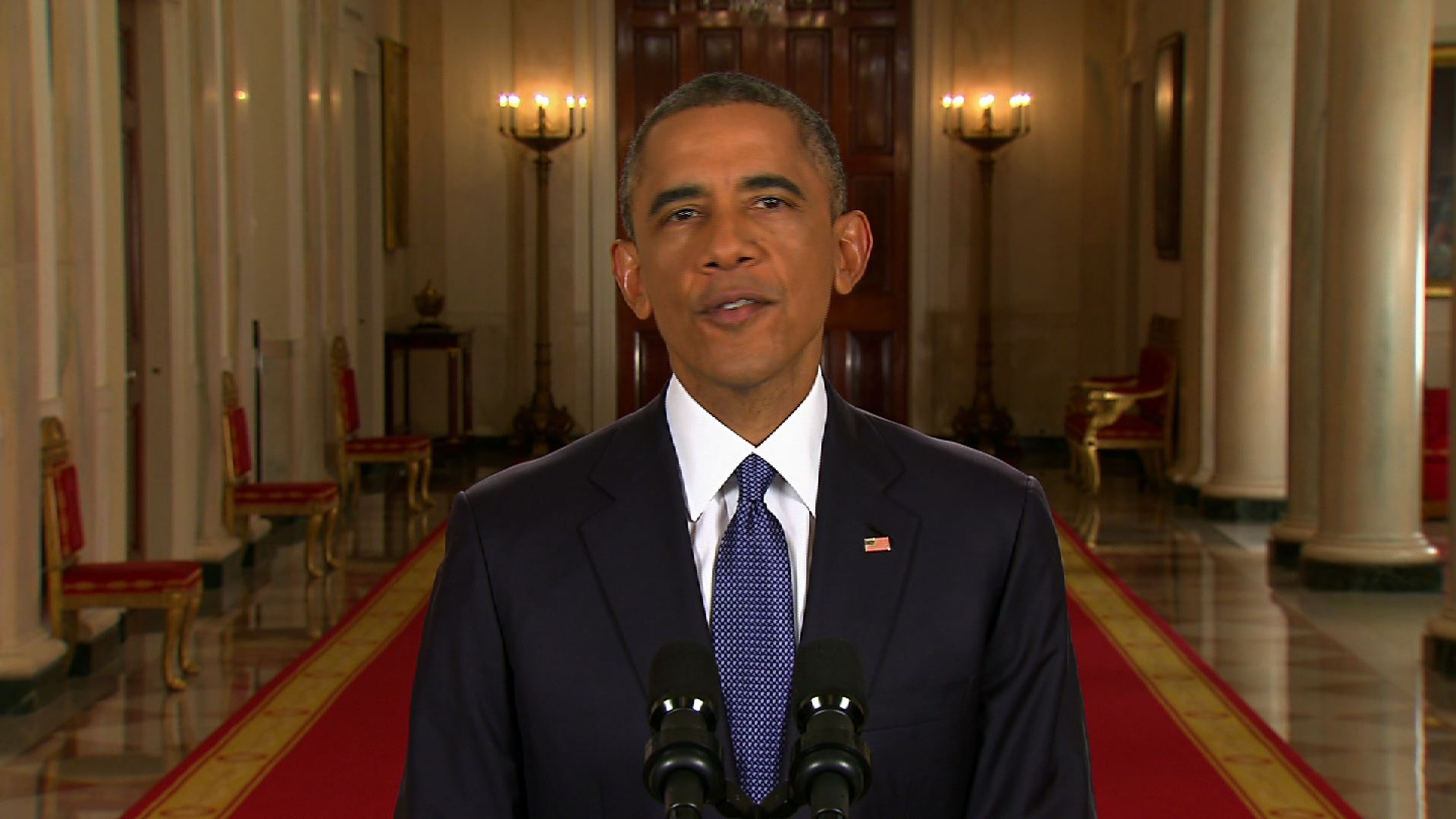 Obama to immigration critics in Congress: "Pass a bill"
President Obama on Thursday defended the actions he's taking to shield about 5 million immigrants in the U.S. illegally from deportation as "lawful" and consistent with what his predecessors have done.
"I continue to believe that the best way to solve this problem is by working together to pass that kind of common sense law," the president said. "But until that happens, there are actions I have the legal authority to take as President - the same kinds of actions taken by Democratic and Republican presidents before me - that will help make our immigration system more fair and more just."
"The actions I'm taking are not only lawful, they're the kinds of actions taken by every single Republican president and every single Democratic president for the past half century," Mr. Obama added.
The actions he outlined will grant a reprieve from deportation to about 5 million immigrants in the U.S. illegally and allow them to apply for a three-year work permit if they can pass a background check, register with the government, submit biometric data, and establish they are eligible for relief.
During the speech, he argued that his actions are shaped by America's character.
"Are we a nation that tolerates the hypocrisy of a system where workers who pick our fruit and make our beds never have a chance to get right with the law?" he asked. "Or are we a nation that gives them a chance to make amends, take responsibility, and give their kids a better future?"
Mr. Obama is not signing any executive orders to carry out his plans, but will rather issue several presidential memoranda that establish new procedures and guidelines for the Departments of Homeland Security, Justice and Labor. He will sign the memoranda in a trip Friday to Del Sol High School in Las Vegas, where he will promote the plan in a state that has a growing Latino population.
Those who will be affected by the memoranda include the parents of children who were either born in the U.S. or are Lawful Permanent Residents, and children who were brought into the country illegally prior to January 1, 2010, and have lived in the U.S. for at least five years. The latter category represents an expansion of the Deferred Action for Childhood Arrivals program, known as DACA, which previously required applicants to have arrived before June 15, 2007 and had an age limit.
DACA recipients will also be given a three-year reprieve, rather than the current two years.
Dreamers, the name given to young illegal immigrants who advocated for the original DACA law, are likely to be angered by the order since it excludes their parents from relief. The Migration Policy Institute estimates there are about 300,000 immigrants in the U.S. illegally who have a child who was a DACA recipient, but no children who are U.S. citizens or Legal Permanent Residents.
"Even as we focus on deporting criminals, the fact is, millions of immigrants - in every state, of every race and nationality - will still live here illegally. And let's be honest - tracking down, rounding up, and deporting millions of people isn't realistic. Anyone who suggests otherwise isn't being straight with you. It's also not who we are as Americans," the president said.
The actions are temporary and can be undone by Congressional legislation passed while Mr. Obama is in office, or by a future president, who can decide to extend or eliminate the new procedures.
He reiterated that point Thursday, saying, "to those members of Congress who question my authority to make our immigration system work better, or question the wisdom of me acting where Congress has failed, I have one answer: Pass a bill."
He urged them not to let "disagreement over a single issue be a deal breaker on every issue," and added, for good measure, "Congress certainly shouldn't shut down our government again just because we disagree on this."
Republicans, however, have argued that the president's move are a setback for the possibility of congressional action.
"By ignoring the will of the American people, President Obama has cemented his legacy of lawlessness and squandered what little credibility he had left. His 'my way or the highway' approach makes it harder to build the trust with the American people that is necessary to get things done on behalf of the country," House Speaker John Boehner, R-Ohio, said in a statement after the president's speech.
Adults who are covered by the program will be allowed to apply for a three-year work permit so long as they prove they have no criminal record and register with the government. They will also have to pay taxes and a fee for processing their paperwork. The government will start accepting applications in the spring of 2015, CBS News' Major Garrett reports.
Mr. Obama argued that removing the threat of deportation for some 5 million of the more than 11-million immigrants estimated to be living in the U.S. illegally will allow immigration courts to focus their resources on and speed up deportations for those who arrived most recently and people with suspected ties to terrorism, felony violence and gangs.
"I know some of the critics of this action call it amnesty. Well, it's not. Amnesty is the immigration system we have today - millions of people who live here without paying their taxes or playing by the rules, while politicians use the issue to scare people and whip up votes at election time," he said. "That's the real amnesty - leaving this broken system the way it is. Mass amnesty would be unfair. Mass deportation would be both impossible and contrary to our character."
He called his plan "accountability" and "a commonsense, middle ground approach."
The administration plans to keep the elevated number of Border Patrol and Immigration and Customs Enforcement agents on the southern border to help stem the flow of illegal immigration. There are currently 3,000 additional Border Patrol agents along the Southwest border, and the administration says that its border fencing, unmanned aircraft surveillance systems and ground surveillance systems have more than doubled since 2008.
The illegal population in the U.S. has stopped the rapid growth it saw from 1990 to 2007, and border apprehensions, an indicator of security, are at the lowest level since the 1970s, the administration said.
"If you meet the criteria, you can come out of the shadows and get right with the law. If you're a criminal, you'll be deported. If you plan to enter the U.S. illegally, your chances of getting caught and sent back just went up," Mr. Obama said.
The memoranda will also make a few alterations to the legal immigration system, allowing the holders of H1-B, or high-skilled visas, to move or change jobs without the potential to lose their immigration status. Their spouses will also be able to employment authorization if they have an approved application to become a Legal Permanent Resident.
The administration will also extend the amount of time that foreign students studying science, technology, engineering or mathematics can stay in the U.S. and speed up the process of reviewing requests for Lawful Permanent Resident status for the immediate relatives of U.S. citizens.
Republicans have expressed frustration and outrage at the White House all week and on Thursday, Senate Minority Leader Mitch McConnell, R-Kentucky, promised to fight back.
"If President Obama acts in defiance of the people and imposes his will on the country, Congress will act," said McConnell, who will become the majority leader next year.
Other Republicans, including House Speaker John Boehner, R-Ohio, have liked the president to a monarch.
"The president has said before that 'he's not king' and he's 'not an emperor,' but he sure is acting like one," Boehner said in a video recorded before the president's address. "And he's doing it a time when the American people want nothing more than for us to work together."
Many Democrats praised the president's actions, but urged Congress to pass reform. Others were more skeptical.
"I disagree with the President's decision to use executive action to make changes to our immigration system, and I disagree with the House's decision to not even take a vote on the bipartisan Senate legislation that overwhelmingly passed in June 2013," said a statement released by Sen. Joe Manchin, D-West Virginia. "We will only achieve sustainable, comprehensive immigration reform if all sides work together."
Many immigrant advocacy groups welcomed the announcement, with Frank Sharry of America's Voice hailing to president's actions as, "the biggest victory for immigrants and their allies in the past 25 years."
Others were disappointed the action did not affect more people. Some immigrant groups sought more protection for refugees and asylum seekers, as well as policies that would end family detention. Others, including Presente.org, said the order should have covered all of the estimated 11 million immigrants in the country illegally.
Thanks for reading CBS NEWS.
Create your free account or log in
for more features.