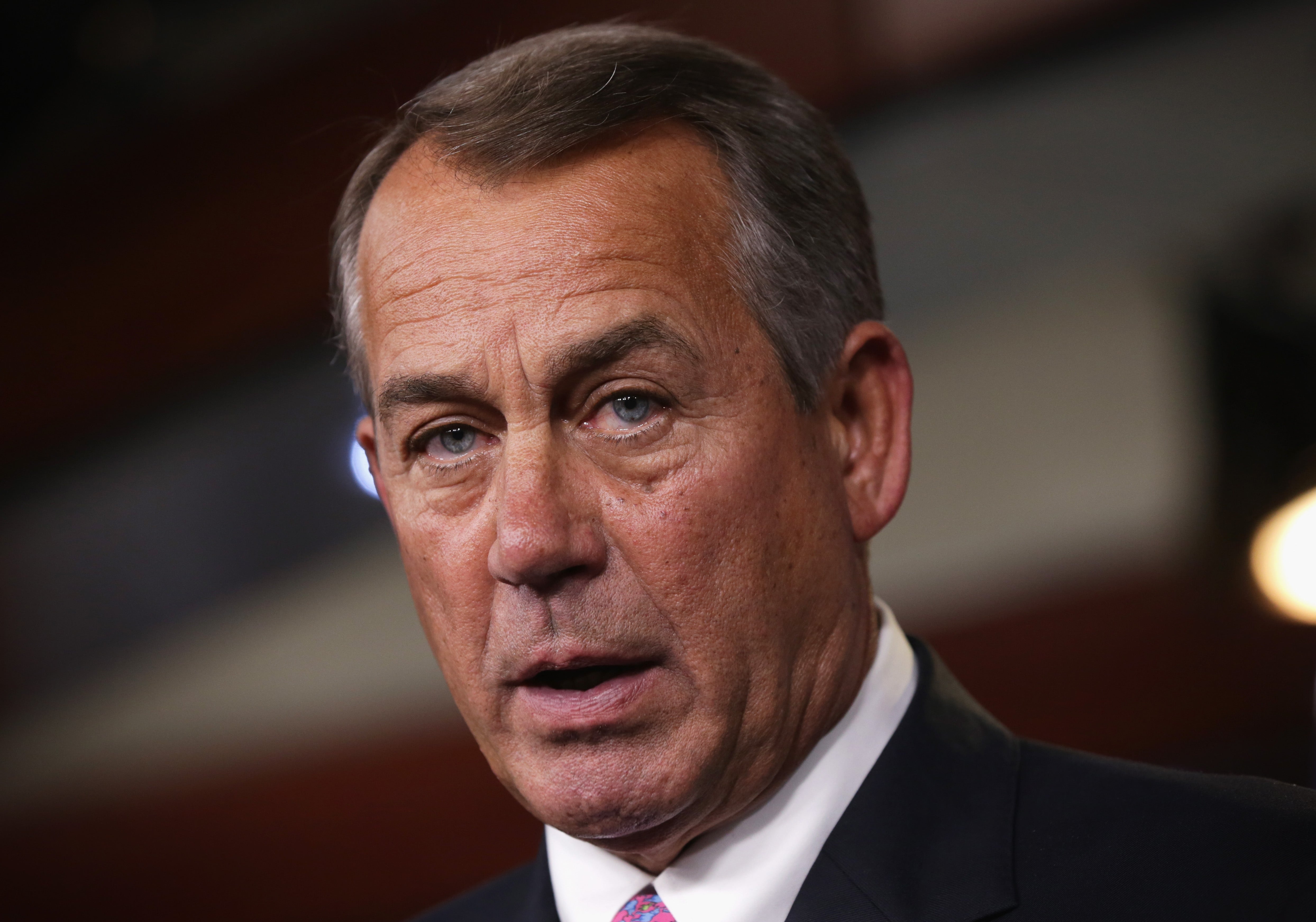 John Boehner: Race "no issue" in GOP treatment of Obama, Eric Holder
House Speaker John Boehner, R-Ohio, erupted on Thursday after a reporter asked him about Attorney General Eric Holder's claim that congressional Republicans have been unprecedented in their harsh treatment of President Obama and his administration.
The reporter suggested that Holder blamed race for the administration's mistreatment by Republicans, and he asked for Boehner's reaction.
"There's no issue of race here," Boehner replied, saying the administration simply hasn't been forthcoming in responding to Republicans' inquiries on a series of controversies.
"The frustration is that the American people have not been told the truth about what happened at the IRS. The American people have not been told the truth about what happened in 'Fast and Furious.' The administration has not told the American people about the truth about Benghazi," Boehner said. "And we've been going through all these hearings, having to hold people in contempt because they've made it impossible to get to the documents. They've not been forthcoming. They owe the American people the truth."
The reporter may have incorrectly interpreted Holder's words, though -- in his remarks on Wednesday, the attorney general never specifically blamed race for the GOP's harsh treatment of the administration. Speaking to the National Action Network about advancing civil rights, Holder bemoaned the "unprecedented, unwarranted, ugly, and divisive adversity" that has attended the last five years.

"If you don't believe that, you look at the way -- forget about me, forget about me. You look at the way the attorney general of the United States was treated yesterday by a House committee," he said. "What attorney general has ever had to deal with that kind of treatment? What president has ever had to deal with that kind of treatment?"

Holder was referring to a testy exchange he had on Tuesday with Republicans on the House Judiciary Committee. At one point, Rep. Louie Gohmert, R-Texas, suggested Holder might again be held in contempt by the House of Representatives. (Holder was held in contempt by the House once before for refusing to turn over documents relating to the Fast and Furious gun-walking scandal.)

"You don't want to go there, buddy," Holder told Gohmert after the congressman suggested Holder didn't think being held in contempt was a big deal. "I think that it was inappropriate and it was unjust, but never think that was not a big deal to me, don't ever think that."

Not to be outdone, Rep. Blake Farenthold, R-Texas, said he wouldn't ask Holder any questions because he believed the attorney general should be "in jail."
Thanks for reading CBS NEWS.
Create your free account or log in
for more features.