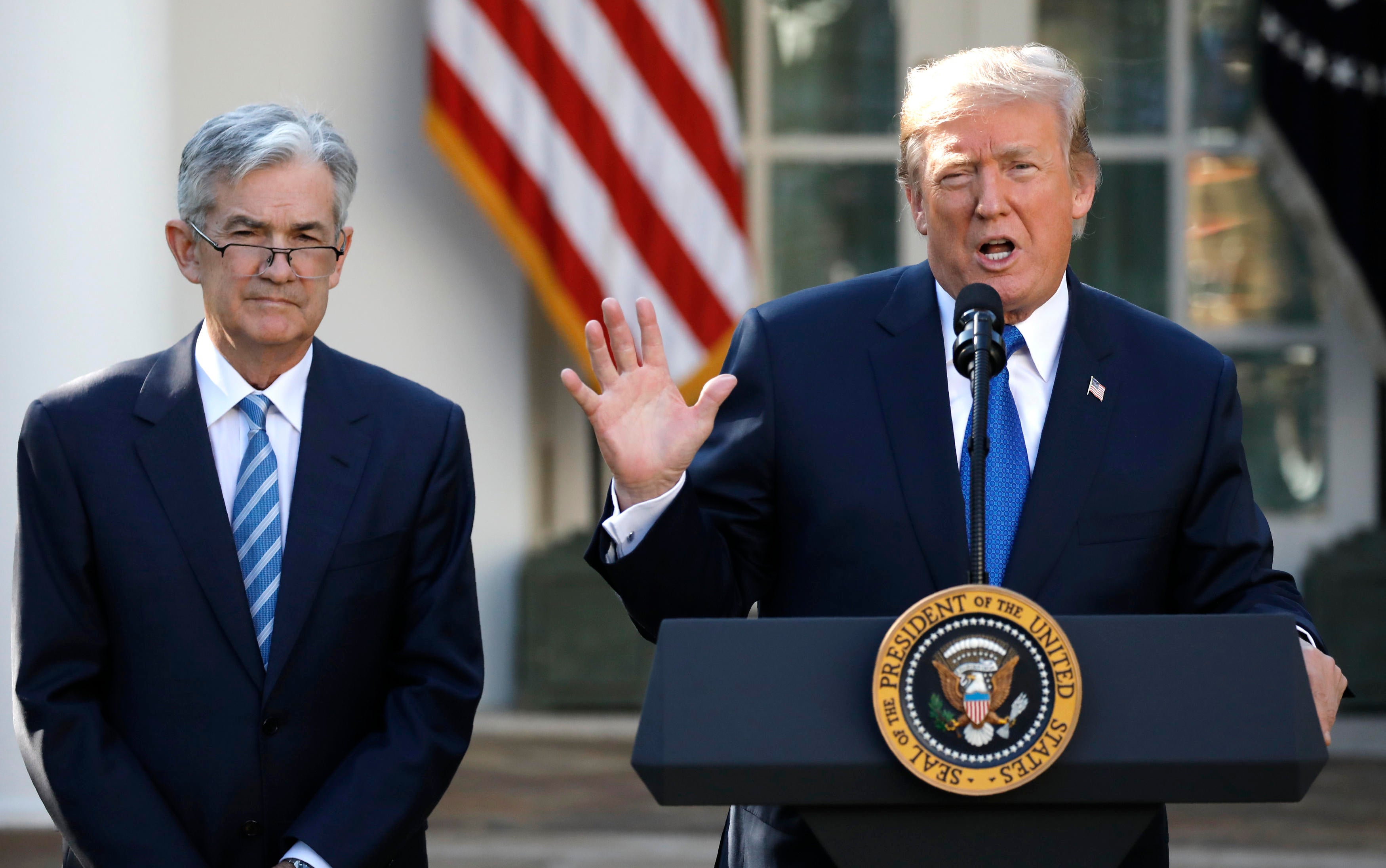 Trump nominates Jerome Powell as Federal Reserve chairman
President Trump on Thursday nominated Jerome "Jay" Powell as chairman of the Federal Reserve.
Powell, who sits on the Fed's Board of Governors, will succeed Janet Yellen as head of the central bank, a critical post responsible for guiding monetary policy and helping to steer the U.S. economy. The choice is likely to prove popular with financial markets given that Powell is closely aligned with Yellen in favoring a cautious approach to raising interest rates as the economy continues to recover from the 2008 financial crisis.
In naming Powell as Yellen's successor, in an appearance at the White House's Rose Garden, the president said, "Jay has the wisdom and leadership to guide our economy" and lauded his experience in both government and business.
Called the "Republican Yellen," Powell, in his fifth year on the Fed's board, has been a reliable backer of her slow tempo of rate increases, as well as her gradual approach to decreasing the central bank's $4.4 trillion hoard of bonds.
That modus operandi should continue in a Powell Fed. "You can expect Powell to raise rates, then stop and see how it is working out," said Stephen Bartolini, who oversees two bond funds for T. Rowe Price (TROW).
"In general, Powell's approach to monetary policy has aligned with the consensus," Terry Sheehan, an analyst with Oxford Economics, said in a note. "Powell is a good compromise for Trump regarding his views on regulation and rates. The markets should be relieved with a Powell nomination given he represents a steady, experienced policy official who favors the status quo on rate and balance sheet normalization."
Fed "hawks" versus "doves"
The president flirted with the idea of re-appointing Yellen, even though she is a liberal Democrat. On Wednesday, he called her "excellent," his way of paying tribute to her preference for relatively low rates that he needs to sustain the economic recovery -- and enhance GOP chances in the 2018 congressional mid-term elections and his own possible 2020 run for a second term.
Significantly, Mr. Trump shied away from naming John B. Taylor, a favorite of the more conservative Republican elements, to the Fed chair. Taylor, an economics professor at Stanford University, is much more hawkish than Powell or Yellen -- meaning that he is inclined to jack up rates faster. A stalwart Fed critic, he blames the central bank for helping foment the 2008 financial crisis by promoting public borrowing because it failed to pump up rates.
There's talk that Mr. Trump might name Taylor to the No. 2 spot on the Fed, which is vacant since the recent resignation of Stanley Fischer. If that happens, expect more intramural arguments and split votes than was the case under Yellen.
In late 2015, Yellen started reversing the Fed's prolonged practice of keeping rates low in the wake of the 2008-09 financial crisis. The economy had picked up enough to warrant a return to a more normal level of rates, she reasoned.
But unsure about economic turmoil brought on by crashing oil prices and other maladies, she waited an entire year before the next increase. Always contending that economic data told her when to move, Yellen's Fed has hiked the benchmark federal funds rate just four times, with a modest quarter-percentage point increase each. Another such increase is expected in December.
Lighter regulation
Like Yellen, Powell is dubious about the Trump Administration's desire to lighten banks' capital requirements -- a mandate that lenders back away from high debt levels in favor of large cushions of equity capital designed to buffer them better in bad times.
One area where Powell does break ranks with Yellen is on easing other crisis-induced regulations, particularly the Volcker Rule, named after former Fed Chair Paul Volcker. This bars banks from making certain investments deemed too risky, with their own money. In Powell's eyes, the rule is overly costly and cumbersome for the banks.
He does, however, seem to subscribe to Yellen's notion that one reason to ratchet up rates is to have the room to lower them again if bad times re-appear. Aside from the drastic rate cuts to combat the financial crisis, the Fed has sliced rates when hedge fund Long-Term Capital Management collapsed in 1998, threatening to take myriad investment partners with it, and when the dot-com bubble burst in 2001.
A member of the Fed's Board of Governors since 2012, Powell has followed a rather typical path for a GOP policy maker. He shuttled between Wall Street jobs with a stint at the U.S. Treasury Department under a Republican administration -- in his case that of President George H.W. Bush.
If confirmed by the Senate, Powell, 64, a lawyer and investment banker, would be the first non-economist to lead the Fed since 1987, when Volcker left the body. Yellen and the two previous Fed chairs, Alan Greenspan and Ben Bernanke, all have doctorates in economics.
While some Senate Democrats will surely oppose Powell, as a Trump appointee, he has a sufficiently bipartisan cast to withstand that, by the estimation of Cowen Washington Research Group. The group wrote in a research note Thursday that "it is really hard to demonize him." It noted that he previously worked at the Bipartisan Policy Center and labeled him a "pragmatic regulator."
Thanks for reading CBS NEWS.
Create your free account or log in
for more features.