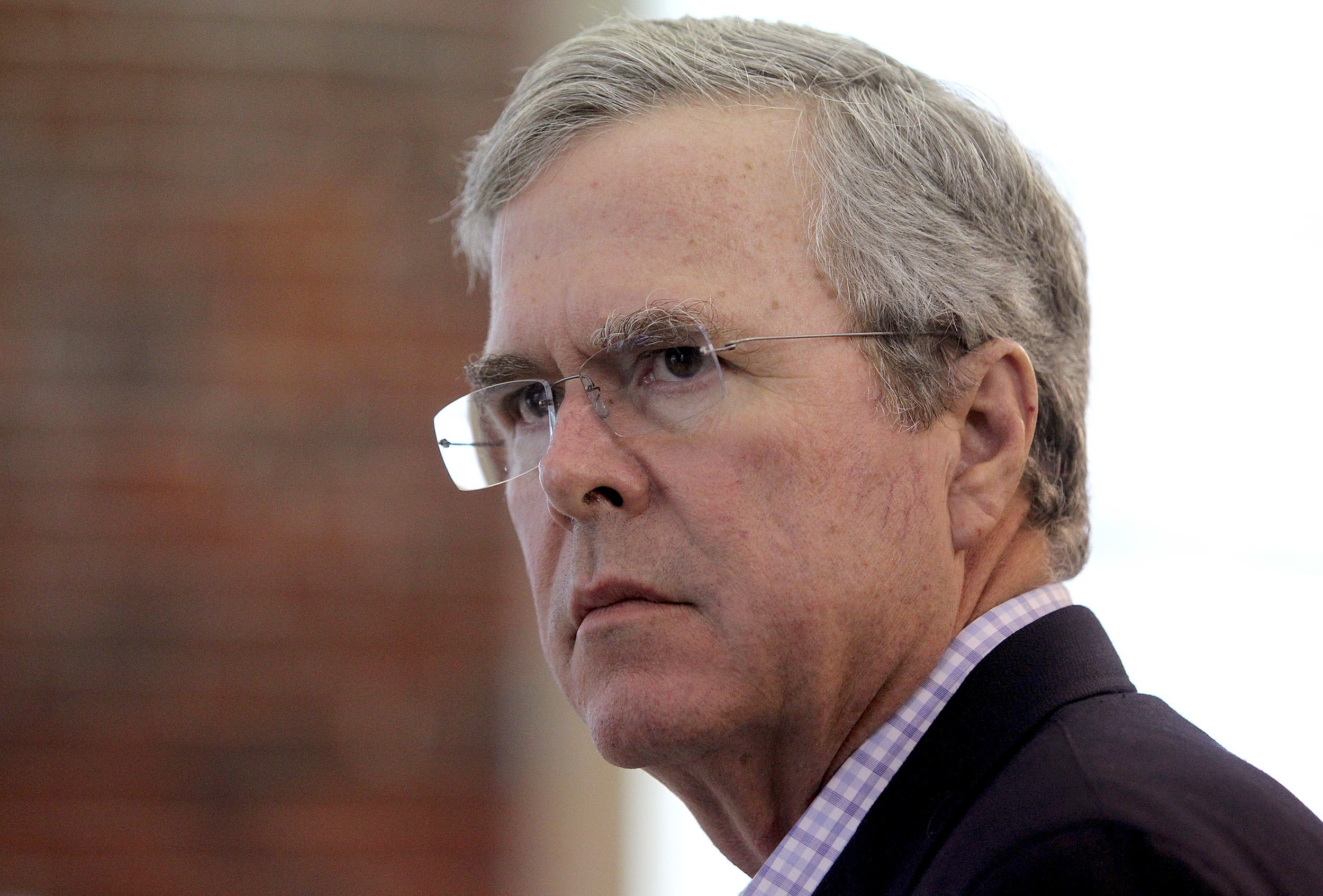 Jeb Bush hunkers down with family to assess his candidacy
Jeb Bush will attend a finance meeting this weekend in Houston convened by former President George H. W. Bush and attended by Bush's brother, former President George W. Bush, CBS News has learned.
The session, designed to assess where Bush's candidacy stands in the face of large-scale staff cutbacks and underwhelming poll numbers, will also be attended by Bush's mother, Barbara Bush. The governor's campaign confirmed the meeting will be held Sunday and Monday.
CBS News has also learned George W. Bush will headline a fundraiser for Jeb Bush in Georgetown (Washington, DC) on Oct. 29. The fundraising email, which went out earlier this week, was sent by George W. Bush's two former chiefs of staff, Andy Card and Josh Bolten. Jeb Bush will not attend the fund-raiser.
The email, sent to Bush-Cheney alumni, praised Bush's "extraordinary record of accomplishment and conservative innovation" and said that George W. Bush "looks forward to seeing his old friends at this event and to sharing his enthusiasm for Jeb's candidacy." Bolten and Card suggested that for those who can't make the event, there would be "other opportunities around the country," and the email closed, "Your help today will help position Jeb for a successful outcome."
The event underscores the need for the former Florida governor to lean on his brother's fund-raising prowess to aid his struggling campaign.
Earlier this month, asked whether his brother would play a bigger role in his campaign, whether he'd come to the rescue, Bush told CBS News, "No, he doesn't have to rescue me....I'm on the path. I'm totally confident about where we are. This is a long haul."
Over that long haul, though, those who are funding his campaign may disagree. A GOP source who interacts regularly with the Bush campaign said there is a "donor revolt in progress," as early Bush backers have grown dismayed over the reversal of their candidate's fortunes.
Complaints are more frequent about the Bush inner circle and Bush's message, schedule and intensity. These anxieties are not new for Bush - they go back as far as the advent of Donald Trump's entry into the race. But they have grown more pronounced as Bush has continued to lag, while challengers like Florida Sen. Marco Rubio and Texas Sen. Ted Cruz have gained traction and outsiders Trump and Ben Carson continue to dominate the crowded GOP field.
During an appearance today in Virginia Beach, Virginia, Bush said this about campaign cost-cutting: "This means lean and mean and it means that I have the ability to adapt. The circumstances when we started the election were different. I have not met a person that thought Donald Trump would be the front running candidate at this point. I'm all in in the early primary states including Virginia. Every dollar that we can save in overhead is a dollar that goes on television, goes on radio, goes on media, goes on voter outreach."
Much of Bush's fundraising has come through the network built first by his father and expanded by his brother during their successful campaigns for presidency. This has proven to be a strength and weakness for the governor's campaign. Bush was able to raise money early in the process because the Bush family fund-raising machinery was relatively easy to kick into high gear.
But many of those donors have reached their legal limits for the primary campaign, and Bush's campaign has, according to those familiar with its operations, had a tougher time prospecting for new donors or attracting contributions from large numbers of grassroots conservatives, who tend to give in smaller amounts.
Third quarter fundraising for Bush was particularly dispiriting in that he had $10.3 million in cash on hand (less than Ben Carson and Cruz) but had spent nearly as much in that period of time - $11.5 million - as he had raised, $13.4 million. That underscored the difficulty Bush has had in finding new donors to sustain daily campaign operations, even allowing for the fact that the third quarter is a traditionally difficult time to raise campaign funds.
Bush on Friday announced sizable staff layoffs and costs savings (40 percent cut to payroll and cuts to headquarters staff and travel) before the previously scheduled finance meeting in Houston. The moves were carried out not only to reduce campaign overhead but to acknowledge management failures before a fresh assessment could be made by his father and brother of Bush's financial and tactical prospects. Many familiar with the campaign considered these moves vital before a key stretch of time before Thanksgiving dominated by field organizing, campaigning in the early primary and caucus states and two GOP presidential debates on Oct. 28 and Nov. 10.
While the news of Bush staff layoffs conveyed a sense of a dead-end campaign, experienced GOP activists cautioned that Bush retains solid field operations in all early primary and caucus states and cannot be dismissed.
"There are head winds," said one GOP operative familiar with party fund-raising and influential donors. "It's a really hard climate for Jeb. But his field operations in all the early states are really good. He is going to be in this for a while."
While that is true, Bush must also concede his campaign remains mired in single digits in Iowa and New Hampshire and that most donors and bundlers of campaign contributions once aligned with Wisconsin Gov. Scott Walker have either gravitated to Florida Sen. Marco Rubio or remained neutral. Either way, Bush has not inherited much of the available donor or bundler resources Walker left behind when he quit the race.
Thanks for reading CBS NEWS.
Create your free account or log in
for more features.