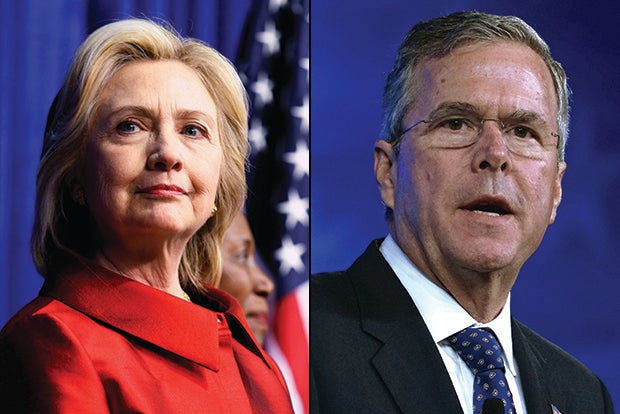 Polls show gains for Clinton, slowing support for Bush
New polls out Wednesday show Hillary Clinton surging ahead of rival Bernie Sanders in New Hampshire, with a strong debate performance bolstering her favorability numbers nationwide. Meanwhile, Donald Trump and Ben Carson still lead the Republican race in the country's first primary battle.
A WBUR survey among New Hampshire voters gives Clinton a lead of four points over Sanders: She sits at 38 percent, compared to Sanders' 34 percent of support. That number is within the poll's 4.9 percentage point margin of error.
While Sanders has barely lost support - his overall percentage dropped just one point - Clinton's seven-point gain after the party's first debate comes at the expense of Vice President Joe Biden, who remains undecided about entering the 2016 race. Biden's support fell five percentage points since the survey was last taken in September.
Nationally, there's more good news for Clinton. An Associated Press/GfK poll released Wednesday shows that her favorability ratings top those in the Democratic field. Forty-one percent of Democrats have a favorable view of the former secretary of state, a slight gain from the last AP/GfK poll conducted in July. Biden follows closely at 40 percent, while only 32 percent of voters have a favorable view of Sanders.
When it comes to unfavorable ratings, however, the survey finds that more people view Clinton unfavorably compared to her Democratic rivals. Just as Clinton readies for testimony before the House Select Committee investigating Benghazi, the poll shows nearly half of voters have an unfavorable opinion of her. Only 30 percent hold unfavorable views of Sanders.
More voters also view Clinton as the most electable in the 2016 race. Seventy-five percent of those polled believe she could possibly win, with 56 percent of voters saying Joe Biden could triumph. That puts the vice president with a higher electability than Sanders (44 percent) or Donald Trump (48 percent).
For Republicans in New Hampshire, new poll numbers from a Saint Anselm/Bloomberg Politics survey show Jeb Bush's stagnating support, while GOP contenders like Donald Trump and Ben Carson continue to dominate the early-voting contest.
Despite massive ad buys in the state by Right to Rise USA, a super PAC backing Bush, support for the former Florida governor languishes at just 10 percent -- a one point drop from the last survey in May. New Hampshire voters' overwhelming first choice for the GOP nomination is Donald Trump, at 24 percent, followed by pediatric neurosurgeon Ben Carson, at 17 percent. The polls show a lack of enthusiasm about Bush's policy positions: nearly half of likely primary voters don't like his immigration and national education policies, which have been overshadowed in recent months by the hard-line views of Trump and Carson.
Other candidates with a heavy investment in the New Hampshire contest, like Ohio Gov. John Kasich, continue to struggle in the state. Kasich registers at seven percent, tied with Carly Fiorina. Florida Sen. Marco Rubio comes in with eight percent of support.
Thanks for reading CBS NEWS.
Create your free account or log in
for more features.