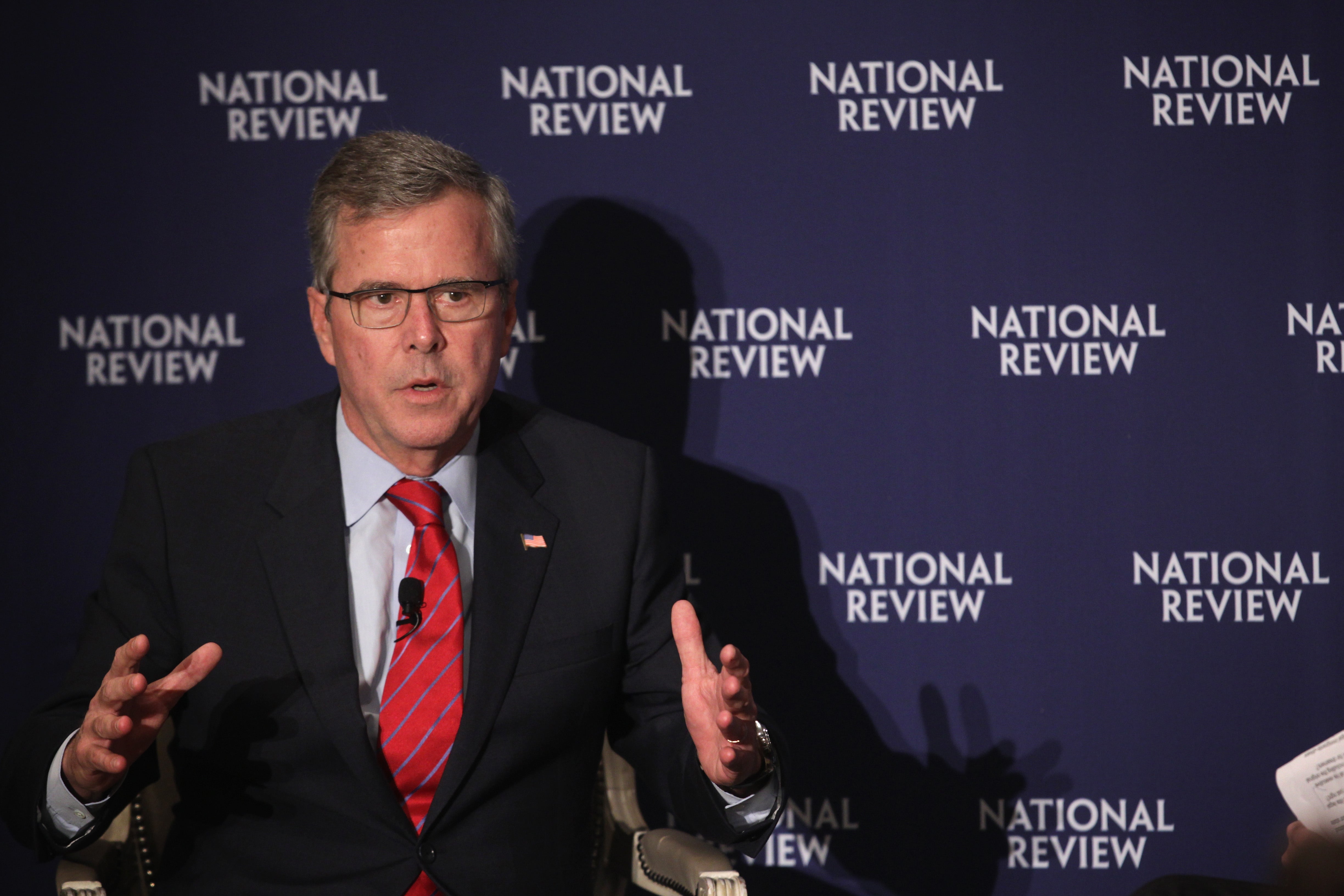 Jeb Bush earned millions in juggling act as corporate adviser
During his transition from Florida governor to likely presidential candidate, Jeb Bush served on the boards of or as an adviser to at least 15 companies and nonprofits, a dizzying array of corporate connections that earned him millions of dollars and occasional headaches.
Bush returned to corporate America after leaving the governor's mansion in early 2007, and his industry portfolio expanded steadily until he began shedding ties late last year to prepare a run for president.
Executives who worked alongside Bush describe him as an engaged adviser with an eye for detail.
Yet experts question how anyone could serve so many boards at once effectively.
"Board of directors and advisory boards are in charge of high-level oversight," said law professor Elizabeth Nowicki, a former Securities and Exchange Commission lawyer. "You cannot possibly do that simultaneously for 10 or 15 entities."
There is no formal rule limiting the number of boards one person can serve. But in the wake of the Enron scandal, where flimsy board oversight contributed to the company's infamous meltdown, and a federal law that increased liability for a public company's director, common sense dictates a small number, Nowicki said.
"If somebody starts serving on more than three or four boards that's a problem," she said.
Three boards should be the maximum, agreed Zabihollah Rezaee, a University of Memphis accounting professor who has authored books about corporate governance.
"Board members are representing shareholders, and they are responsible to shareholders for financial integrity," said Rezaee. "Best practices" dictate a small number, he said, "because of the amount of time it requires to be effective."
Bush served on the boards of or as an adviser to 11 companies or nonprofits at a time each year from 2010 to 2013, The Associated Press found. Those ties were in addition to his own businesses, such as Jeb Bush & Associates, and the educational foundations he created.
In 2010 Bush served on the board of directors of eight different entities, as adviser to a ninth company and advisory board member for two others. In 2013, he served on six boards, as an adviser to another company and on the advisory board of four more entities.
Bush answered curtly Thursday when asked about the positions after visiting a lab in Lansing, Michigan, that makes antidotes and vaccinations for poisons such as anthrax.
"I had two public boards," he said. "And I did my fiduciary duty quite well, I think. You'll have to ask them."
Bush was apparently referring to his standing only in 2014, when he shed his corporate ties. At that time he was on the board of two publicly held companies, Tenet Healthcare and Rayonier Inc. In 2013, he was on the board of four public companies, including the international advisory board of Barrick Gold Corp.
Bush spokeswoman Kristy Campbell said not all the corporate entities were the same - some were board slots, some advisory positions and others nonprofits - and suggested it was unfair to put them all in the same basket. AP's review found that Bush served on the board of directors of as many as seven for-profit companies at a time - while also serving as an adviser to other companies and nonprofits.
Bush's experience on corporate boardrooms could evolve into a theme during the 2016 race for the presidency. Among the issues the Florida Republican could be asked to explain:
-One company that paid Bush $15,000 a month as a board member and consultant, InnoVida Holdings, collapsed in fraud and bankruptcy, with the company's CEO, Claudio Osorio, now serving 12 1/2 years in prison. Bush joined InnoVida despite warning signs that Osorio's prior company dissolved amid bankruptcy and allegations of fraud.
-At least five companies where Bush served on the board or as adviser faced class-action lawsuits from shareholders or legal action by the government. Some of the most sweeping cases, involving allegations of fraud or environmental damage, remain active. The Securities and Exchange Commission subpoenaed one of the companies, Rayonier Inc., in November, shortly before Bush's exit.
-Bush earned $3.9 million from four companies alone since 2007, the AP found, plus $25,000 a year more from a medical company in Georgia, $9,600 annually from Bloomberg Philanthropies and zero pay from a drug addiction nonprofit. His earnings from eight other companies are unknown, and Bush has declined AP's requests to disclose his compensation - raising questions about how open he would be as a presidential candidate.
Bush was a board member or adviser to publicly traded health care, timber, gold mining and sanitation companies; for private firms involved in housing, finance, medicine, higher education and decontamination; and for nonprofits focused on drug addiction and philanthropy. He served on the board of directors for nine of the 15, and as an adviser or advisory board member for the others. Two of the 15 are nonprofits.
Once Bush officially declares for president, he will have 45 days to file a public disclosure form listing his sources of income for the prior year. Those forms include broad ranges for the values of assets or salaries that can be used to estimate a politician's net worth, but they will not be precise totals and will capture just the prior year.
"Until you say the magic words `I am running for president,' there are a whole lot of restrictions that don't apply to you. I think this is an advantage he is taking," said Bill Allison, a senior fellow with the Sunlight Foundation, a nonprofit that advocates for open government. "There just should be an expectation of transparency around anything that a presidential candidate is involved with, whether it's a nonprofit foundation or their past employers."
Spokeswoman Campbell said, "If he becomes a candidate, he'll comply with all necessary financial disclosures. That is an approach consistent with what he did in all three of his campaigns for governor."
Thanks for reading CBS NEWS.
Create your free account or log in
for more features.