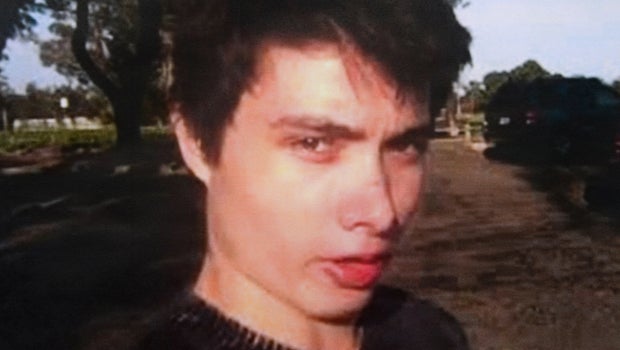 ​Isla Vista shooting witness: "I looked into his eyes"
A mass shooting Friday night in Isla Vista, Calif., has left seven people dead and 13 injured, and many unanswered questions. Correspondent Danielle Nottingham reports:
For 10 chaotic minutes gunshots filled the streets near the campus of the University of California, Santa Barbara.
Bailey Maples was holding hands with her boyfriend: "I felt the bullet graze me and I didn't, like, bleed or anything. And then I looked at my boyfriend after we reunited and he had been wounded and covered in blood."
"You saw the shooter's face?" Nottingham asked.
"Yes, I looked into his eyes."
Jacqueline Taylor was walking home after an evening out: "I saw the gun being pulled out. I saw four flashes of light that were going in one direction."
She also got a close look at the gunman, Elliot Rodger, who posted a YouTube video before the shootings, in which he said, "I'll take to the streets of Isla Vista and slay every single person I see there."
His rampage spanned 10 locations and ended in a gun battle with police. Rodger and six others were dead.
Santa Barbara County Sheriff Bill Brown said that three 9-millimeter semi-automatic handguns were recovered from the suspect's vehicle.
"We have determined that all of these weapons were legally purchased from federally-licensed firearms dealers, and that they were all registered to the suspect," Brown said.
Rodger's father, Peter, an assistant director on one of the "Hunger Games" films, did not speak publicly.
Attorney Alan Shifman spoke on the family's behalf: "This is the tragedy of the most extreme. They want to send their deepest condolences to all of the victims' families involved."
Police met with Elliot Rodger last month after a family member expressed concerns about videos Rodger had made, in which he talked about suicide and killing people.
Brown said, "The deputies contacted the suspect. At the time [they] found him to be polite and courteous. He downplayed the concerns for his welfare, and the deputies cleared the call."
Richard Martinez, father of one of the victims, voiced his exasperation: "Why did Chris die? Chris died because of craven, irresponsible politicians and the NRA!"
With so many now grieving, this quiet college town remains in shock.
When asked what she was thinking when she returned home, Bailey Maples replied, "I just didn't want to see, like, any blood on the ground, and I didn't want to see anything that would remind me of what happened. I wish that all of this was gone."
Thanks for reading CBS NEWS.
Create your free account or log in
for more features.