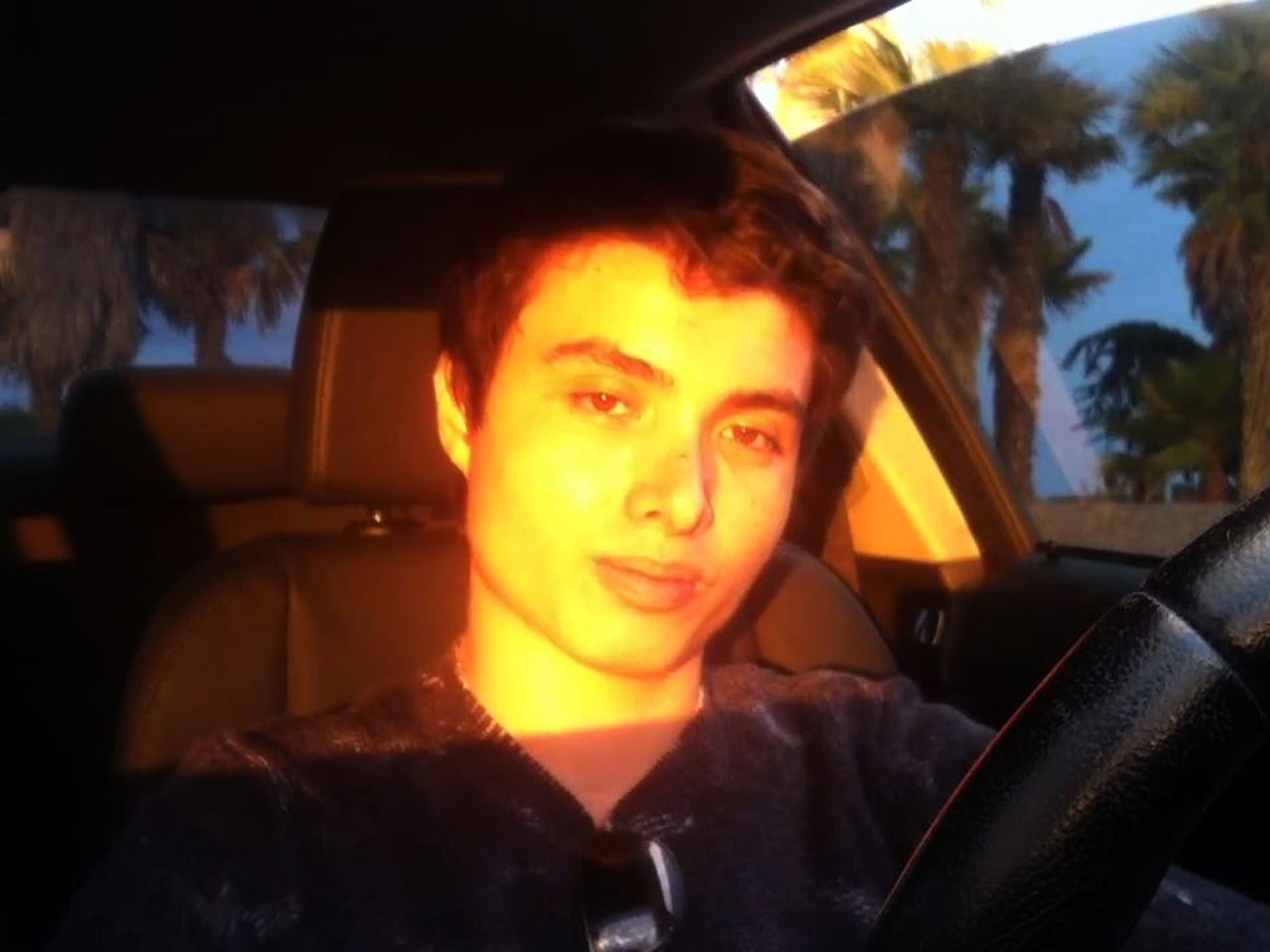 Rampage started at suspect's home before terror spree
GOLETA, Calif. -- A California gunman who went on a rampage near a Santa Barbara university stabbed three people to death at his apartment before shooting to death three more in a terrorizing crime spree through a neighborhood, sheriff's officials said Saturday.
Authorities said the 22-year-old lone gunman, Elliot Rodger - the son of a director who worked on the "The Hunger Games" - carried out his attacks Friday night in the beach community of Isla Vista near the University of California, Santa Barbara. The rampage happened hours after he looked into a video camera and warned in a disturbing Internet video that he would slaughter those with a good life - especially women who shunned him, authorities said.
Deputies wounded him during two separate shootouts as he sped through Isla Vista, leaving a trail of bloodshed that ended with Rodger apparently shooting himself in the head before crashing his black BMW into a parked car, Santa Barbara County Sheriff Bill Brown said.
Thirteen people were injured - eight from gunshot wounds, four from being hit by his car and one who suffered a minor injury whose exact cause was not clear yet, Brown said.
Deputies found three, legally purchased semi-automatic 9 mm handguns with 400 unspent rounds in his black BMW. All were purchased legally.
Brown called the rampage a "chaotic, rapidly unfolding convoluted incident" that involved multiple crime scenes.
Police provided new details about the scope of the killings as they described how he went from one location to another and opened fire on random people and exchanged gunfire with law enforcement before he crashed his BMW. Brown said the suspect had more than 400 rounds of unspent ammunition in his car.
Brown identified Rodger as a student at Santa Barbara City College.
Rodger fired for 10 minutes as he made his way through the beach community of Isla Vista where students were walking, biking and skateboarding in a deadly rampage that chillingly mirrored threats made on a YouTube video posted that same night, authorities said.
Seven others remained hospitalized with serious injuries.
It wasn't immediately clear whether Rodger was killed by gunfire in two shootouts with deputies or if he committed suicide.
---
1 - The rampage began with the stabbing deaths of three people at the residence of Elliot Rodger.
2 - Residents at the Alpha Phi Sorority house heard loud aggressive knocking for 1-2 minutes but no one opened the door. A witness from inside the house saw three women outside who were shot from across the street. Two of the women Katie Cooper, 22, and Veronika Weiss, 19, were fatally shot. The third woman was shot multiple times but she survived.
3 - At a nearby deli on Pardall Road the suspect exited the vehicle and fatally shot 20-year-old Christopher Martinez. Four foot patrol officers saw the suspect flee in the black BMW.
4 - At the top of the area called "the loop", the suspect fired rounds at 2 people on the sidewalk.
5 - He then turned south on el Embarcadero and east onto Del Playa. He brandished a gun at a woman there and then headed west on Del Playa. He began firing at a sheriff who was on foot. The deputy returned fire and the suspect continued west on Del Playa.
6 - At the 6600 block of Del Playa he hit a bicyclist with his car.
7 - At the intersection of Camino del Sur and Sabado Tarde, the suspect fired multiple times at pedestrians, three of whom were hit.
8 - The suspect continued east on Sabado Tarde and shot another victim.
9 - He continued east where he came into contact with 4 officers and he began firing at them. Three of the officers were able to return fire. The suspect was shot in the hip.
10 - He turned onto el Embarcadero again, accelerated and struck another bicyclist. The cyclist flew onto the car and smashed the windshield of the BMW. The car collided with park cars and stopped. The deputies pulled him out of the car and handcuffed him. He was dead with a gunshot wound to the head.
---
Investigators were analyzing the YouTube video in which a young man who identifies himself as Elliot Rodger sits in a car and looks at the camera, laughing often, and says he is going to take his revenge against humanity.
"It's obviously the work of a madman," Brown said.
Earlier Saturday, Alan Shifman - a lawyer who represents Peter Rodger, one of the assistant directors on "The Hunger Games" - issued a statement saying his client believes his son, Elliot Rodger, was the shooter.
The family is staunchly against guns, he added.
"The Rodger family offers their deepest compassion and sympathy to the families involved in this terrible tragedy. We are experiencing the most inconceivable pain, and our hearts go out to everybody involved," Shifman said.
Authorities had had three contacts with Rodgers in the past year, including one case in which he claimed to be beaten but deputies suspected he was the aggressor. On April 30, officials went to his Isla Vista apartment again to check on him at the request of his family. But deputies reported back that the Santa Barbara community college student was shy, polite and having a difficult social life but did not need to be taken in for mental health reasons, Brown said.
Richard Martinez said his son Christopher Martinez, 20, was killed in the shooting. He blamed politicians and gun-rights proponents. "When will this insanity stop? ... Too many have died. We should say to ourselves 'not one more,'" he said.
The shootings started around 9:30 p.m. in Isla Vista, a roughly half-square-mile community next to UC Santa Barbara's campus and picturesque beachside cliffs.
Alexander Mattera, 23, said his friend Chris Johnson was walking out of an improv comedy show when he was shot in front of a popular pizza place. He stumbled into a nearby house.
"He walked into these random guys' house bleeding," he said.
Mattera was sitting at a bonfire with friends when at least one gunshot whizzed overhead. The friends ran for cover when they heard the barrage of gunfire.
"We heard so many gunshots. It was unbelievable. I thought they were firecrackers," he said.
UC Santa Barbara senior Kyley Scarlet said she heard the BMW smash to a halt outside a house she was in.
"We ran outside and saw a bicyclist had been hit," she said. "Then the police dragged a body out of the car. It was him," she said.
As vice president of student government, Scarlet said she called a UCSB associate dean of student to advise her a student may have been hurt.
Scarlet, who is a former sorority president, said two girls from a sorority next door were killed on the lawn of Alpha Phi, where a pile of flowers grew on Saturday. Crying students wandered up to the spot, shook their heads and hugged each other.
Scarlet said a third sorority member was wounded there as well. She said all three were in the same sorority, which she did not identify. She said they were neither in her sorority nor in Alpha Phi.
Scarlet said she was very disturbed by the video describing his anger at sorority girls.
"It's hard thinking my actions, being part of a sorority, led him to do this," she said. "When I saw that video I was shaking and crying."
In the video, Rodger describes loneliness and frustration because "girls have never been attracted to me," and says, at age 22, he is still a virgin. The video, which is almost seven minutes long, appears scripted. The identity of the person in the video could not be independently confirmed.
Attorney Shifman said the Rodger family called police several weeks ago after being alarmed by YouTube videos "regarding suicide and the killing of people" that Elliot Rodger had been posting.
Police interviewed Elliot Rodger and found him to be a "perfectly polite, kind and wonderful human," but noted that he had few friends and no girlfriend, he added. Police did not find a history of guns.
Isla Vista, which is centered on university life with outdoor cafes, bike shops, burger joints, sororities and fraternities, was shrouded in fog and unusually quiet Saturday.
Police tape crisscrossed Isla Vista streets, while blood was still visible on the asphalt. Bullet holes pierced windows of a parked car and the IV Deli Mart. A small shrine of flowers was growing outside the business, whose floors inside were stained with blood. For much of the day, the wrecked BMW driven by the shooter remained on the street, its windshield smashed in and its driver's door wide open.
Tyler Martin, a UCSB freshman from Danville, California, was visiting his injured friend at Santa Barbara Cottage Hospital, where the seven victims were being treated.
He said two friends were riding longboards near his home about 9:30 p.m. when a car suddenly came up from behind and ran over one and clipped the other. Martin ran outside to help and tended to his most injured friend.
"As I was leaning over and trying to comfort him - he was in a lot of pain, obviously - I heard pop, pop, pop," Martin said.
The friend who was run over suffered leg injuries and was in surgery Saturday. The other friend was not seriously hurt.
In a statement, the university said it was "shocked and saddened" that several students were shot.
"This is almost the kind of event that's impossible to prevent and almost impossible to predict," UC President Janet Napolitano told reporters after giving the commencement speech at Laney College in Oakland, California.
Calif. Gov. Jerry Brown offered his condolences to the victims' families, saying he was saddened to learn "of this senseless tragedy."
The Rodger family is not ready to speak publicly yet, but wants to cooperate fully with police, Shifman said.
"My client's mission in life will be to try to prevent any such tragedies from ever happening again," he said. "This country, this world, needs to address mental illness and the ramifications from not recognizing these illnesses."
Isla Vista has a reputation for excessive partying. Last month, an annual spring bash spiraled into violence as young people clashed with police and tossed rocks and bottles. A university police officer and four deputies were injured and 130 people were arrested.
The community has experienced other tragedies in the past.
In 2001, the son of "Ally McBeal" TV director Daniel Attias ran down four pedestrians with his car on a crowded Isla Vista street. Witnesses testified that part-time college student David Attias got out of the car and shouted: "I am the angel of death!"
David Attias was ruled insane after he was convicted of second-degree murder.
Thanks for reading CBS NEWS.
Create your free account or log in
for more features.