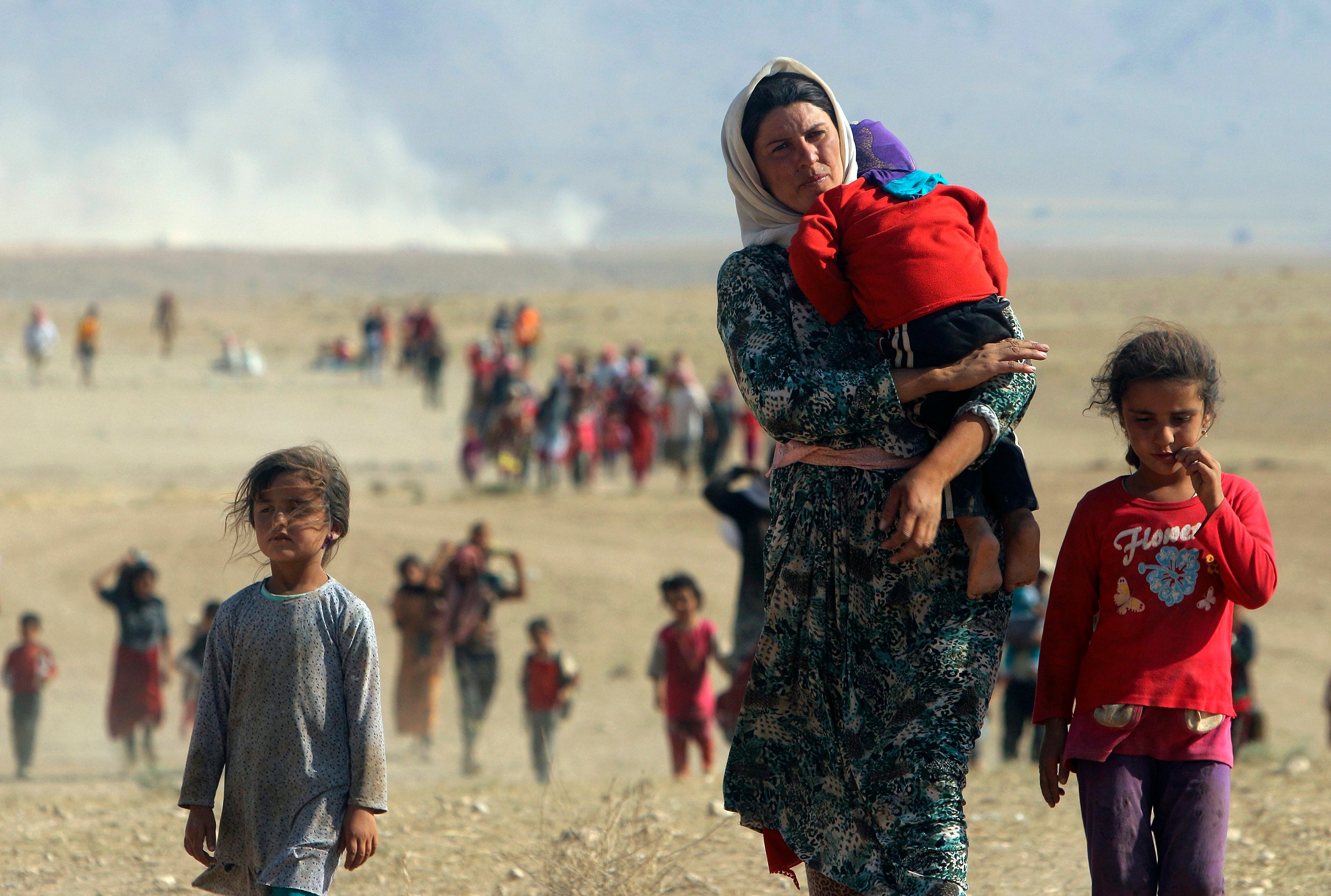 U.S. military cautiously ups role in Iraq
ERBIL, Iraq -- On the orders of President Obama, 130 more U.S. military advisers have arrived in Iraq to help figure out how to rescue thousands of refugees chased from their homes by ISIS militants in the country's north and northwest.
The deployment, confirmed Tuesday by Secretary of Defense Chuck Hagel, brings the total number of American advisers in Iraq -- sent into the country since the Islamic State of Iraq and Syria militants began their offensive in the north in June -- to 380. Hagel stressed that the American military contingent in Iraq would work in a strictly advisory role.
"We're not going back into Iraq in any of the same combat mission dimensions that we once were in in Iraq," said the defense chief.
CBS News correspondent Holly Williams says the new advisers will help assess how to help the thousands of members of the small religious minority Yazidi community who have been hounded by the Islamic extremists and are now stranded on barren mountaintops around the town of Sinjar, which ISIS captured days ago.
The militant group, which has re-branded itself simply "the Islamic State" in a bid to permanently establish its own Sunni Muslim territory spanning the Iraq-Syria border, has issued an ultimatum to Yazidis and Christians in towns and villages across northern Iraq; to convert the group's own warped version of Islam, leave their homes and flee, or be killed.
Two and half years after U.S. forces left Iraq, and as American F/A 18 fighter jets carry out airstrikes on ISIS positions around Erbil, the capital city of the semi-autonomous Kurdish region in the north of Iraq, thousands of Yazidis remain stranded on Sinjar Mountain, surrounded by the militants and facing starvation.
U.S. and Iraqi airdrops of food, water and basic emergency supplies are helping keep them alive, but the helicopter drops are risky missions.
The helicopters sometimes come under fire from the militants surrounding the mountains. On Tuesday, a helicopter crashed, injuring two American journalists on board and killing the pilot. Iraqi officials said it crashed due to a melee on the ground as refugees tried desperately to climb aboard.
A photographer for TIME who was also on the helicopter captured stark images of the desperate situation as refugees and Iraqi soldiers tried to scramble away from the badly damaged aircraft.
What help has reached the refugees came too late for more than 50 children who have already died on the hot, dusty mountains.
Yazidis who have made it to safety tell harrowing stories of men being slaughtered by the militants and of hundreds of young women being captured as slaves.
While the U.S. aerial fire power has enabled regional Kurdish forces to keep ISIS militants from storming into Erbil, it has failed to significantly reverse the group's advance in the region. ISIS continues to claim more territory across the border in Syria, and they remain firmly in control of a vast swathe of northern Iraq, including the key city of Mosul.
The Kurdish forces, known as peshmerga, have repeated called for more directly military support from the U.S. and its allies. They say the air support is welcome, but not enough to beat ISIS back.
As this humanitarian crisis unfolds, meanwhile, Iraq does at least appear closer to getting a new government.
Prime Minister Nouri al-Maliki, who many people blame for fueling Iraq's sectarian tensions, has become extremely isolated and lost even the support of many of his former backers from his Shiite sect of Islam.
The question remains, notes Williams, as to whether a new government can unify Iraq and deal with the threat to the nation posed by the Islamic militants.
Early this week, President Obama acknowledged the "difficult task" facing any new government chosen to lead Iraq.
"It has to regain the confidence of its citizens by governing inclusively, and by taking steps to demonstrate its resolve," Mr. Obama said Monday from Martha's Vineyard, where he was on his annual family vacation.
"These have been difficult days in Iraq, a country that's faced so many challenges in its recent history, and I'm sure that there will be difficult days ahead but just as the United States will remain vigilant against the threat posted to our people by [Iraqi extremists], we stand ready to partner with Iraq in its fight against these terrorist forces."
Thanks for reading CBS NEWS.
Create your free account or log in
for more features.