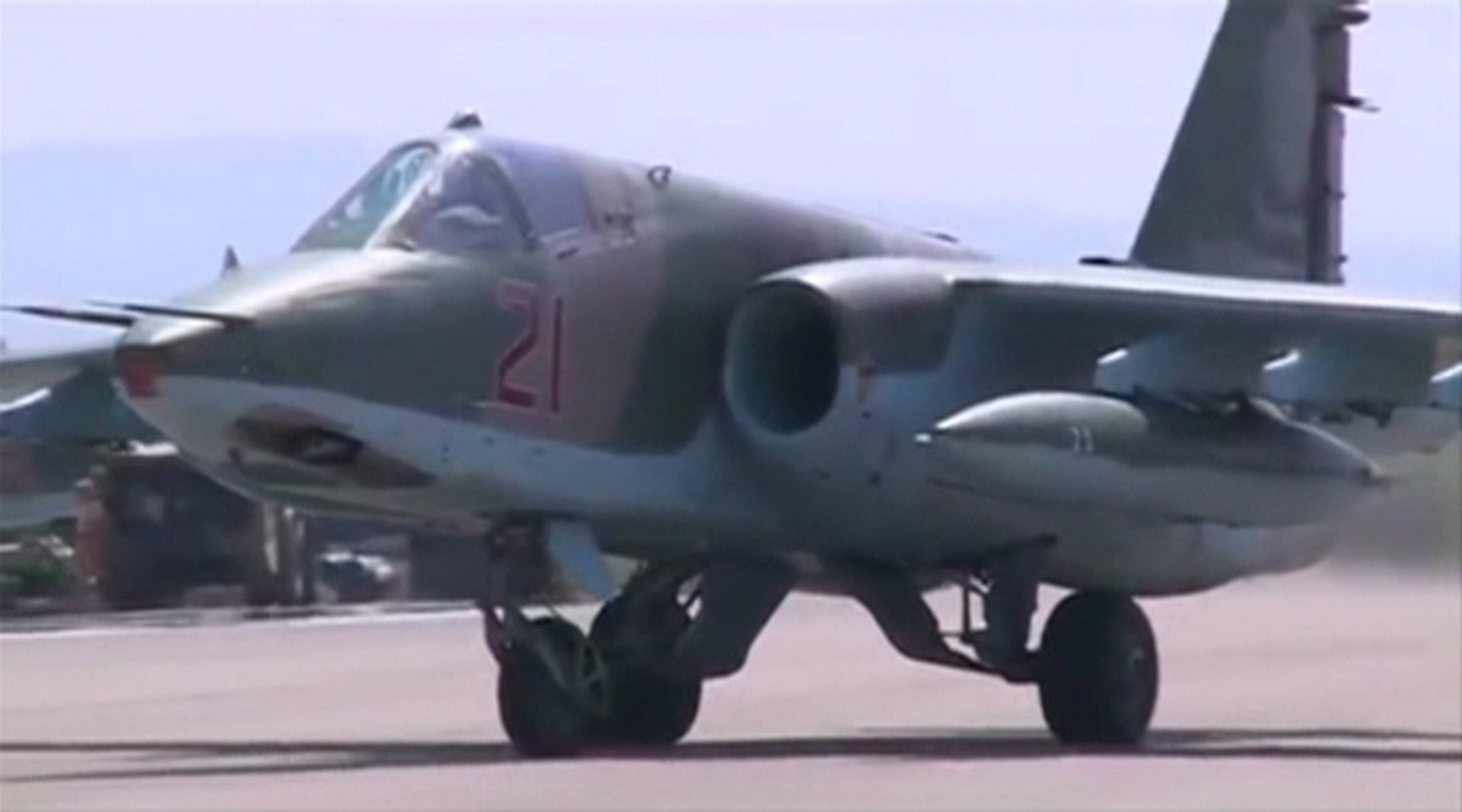 ​Iran lobbied for Russian campaign in Syria, officials say
BAGHDAD -- Iran played an integral role leading up to Russia's move to launch its air campaign in Syria and play a stronger role in Iraq, with one of Tehran's most powerful generals meeting for three hours with President Vladimir Putin to push for intervention, Iraqi government officials tell The Associated Press.
Gen. Qassem Soleimani, head of Iran's elite Quds Force, went to Moscow in August with the message that Russian airstrikes against the Islamic State of Iraq and Syria (ISIS) in Syria were imperative, said the two senior officials, who were later briefed on the meeting. Soleimani and Putin reviewed maps and surveillance photos and shared intelligence, all suggesting the militant group would expand its reach to Russia's doorstep in the Caucuses if Moscow didn't act, the two officials said.
The meeting also covered plans to create a joint intelligence-sharing center between Iraq, Syria, Iran and Russia in Baghdad, which began operating later the same month. Soleimani also met with senior Russian military officials during his visit, the officials said. The two officials spoke on condition of anonymity because they were not authorized to talk about the secret meeting,
The Iranian role points to the powerful influence of the country, which is the strongest backer of Syrian President Bashar Assad and is close to the Shiite-led leadership in Iraq's U.S.-backed government. Russia's dive into the Mideast's conflicts marks a shifting of alliances, particularly with Iraq, where officials have grumbled that the U.S.-led coalition's air campaign against ISIS has not been as effective as they hoped and the prime minister has said he'd welcome Russian airstrikes.
Asked on Wednesday about the reported Putin-Soleimani meeting, Putin's spokesman Dmitry Peskov shrugged it off by saying that there are too many statements from unidentified officials. At the time, Russia's deputy foreign ministry spokesman said he has "no information whatsoever" that Soleimani visited Russia, which would be a violation of U.N. travel sanctions against the general. The Iranian government on Wednesday did not respond to requests for comment on the reported meeting.
Russian military jets launched the airstrike campaign in Syria on Sept. 30, targeting what Moscow said were positions of ISIS and al Qaeda's branch. But it has also heavily hit rebels on the front-line against Syria's military, raising accusations that it is intervening to boost Assad in the civil war, now in its fifth year, after a series of losses by his military. Russia denies this, saying its campaign is solely intended to stop the spread of militants.
The U.S. meanwhile has had to navigate around regional alliances and enmities in trying to roll back ISIS's spread across large parts of Iraq and Syria. In Syria, Washington refuses to work with Assad's government in the air campaign, saying Assad needs to leave power, and it has been wary of appearing to help Syrian troops with strikes against ISIS.
In Iraq, the U.S. has been wary of helping to deepen Iran's influence and has avoided coordinating with the Shiite militias, trying instead to boost the Iraqi military, while pressing the Shiite-led government to ease sectarian tensions with the Sunni minority. Washington and Tehran refuse to work with each other directly, even as Iran takes a powerful role in fighting ISIS.
Soleimani, Tehran's point man in both the Syrian and Iraq conflicts, has been key in organizing Shiite militias in Iraq and Syria, which have had a leading role in fighting ISIS. Meanwhile, the U.S.-trained Iraqi military crumbled in the face of the ISIS advances last year and has struggled to gain ground ever since.
When ISIS took the western city of Ramadi in May, a top U.S. general complained that Iraqi forces didn't have the will to fight. U.S. airstrikes have been key in pushing back ISIS on several fronts in Iraq and Syria, often in coordination with the Iraqi military or Kurdish fighters on the ground.
Last month, Iran granted permission for Russian planes to fly over its territory en route to Syria, Russian news agencies said on Sept. 9. After Bulgaria rejected Moscow's overflight request for Sept. 1-24, a path via Iran and Iraq appeared to be the only one left, as Russia apparently sought to avoid flying over Turkey, which in 2012 grounded a Syria-bound plane carrying radar parts from Moscow.
U.S. Defense Secretary Ashton Carter said Russia's airstrikes in Syria in support of the Assad regime were "pouring gasoline on the fire" and called for Moscow to pursue a political solution.
In an interview with France 24 last week, Iraqi Prime Minister Haider al-Abadi said he would "welcome" military strikes by Russia in his country if Moscow made such a proposal but that hasn't happened yet.
"Our aim is to bring everybody to fight Daesh, not to fight among themselves," he said, using the Arabic acronym for ISIS.
He also sharply criticized President Barack Obama, accusing him of a lack of "will" in the fight against ISIS. He called the U.S. support in the fight "limited" and said he had expected "massive air power."
Karim al-Nouri, the spokesman for the Popular Mobilization Forces, the paramilitary force in Iraq made up predominantly of Shiite militias, said the Russians are "more serious in eliminating Daesh" than the Americans.
Thanks for reading CBS NEWS.
Create your free account or log in
for more features.