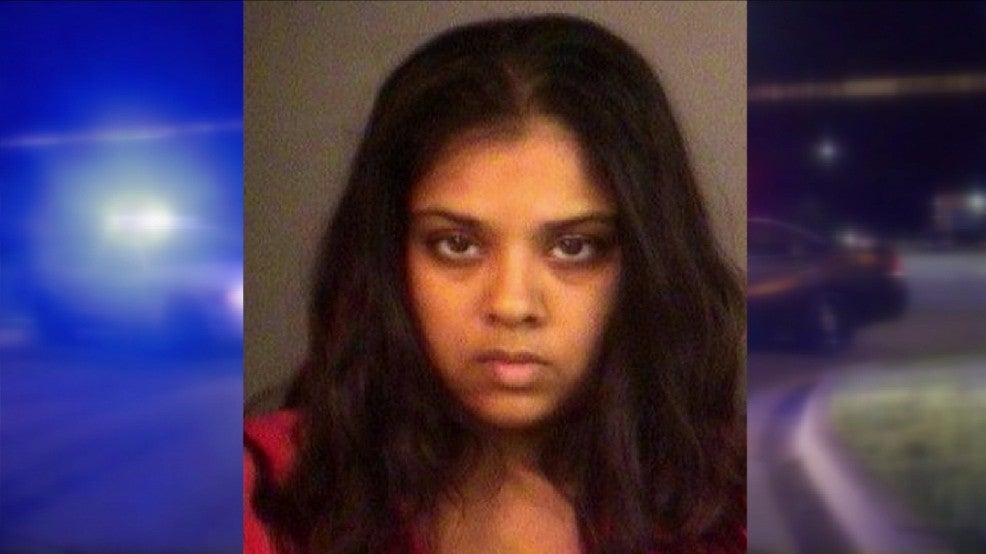 Indiana woman found guilty of feticide appeals conviction
INDIANAPOLIS -- Attorneys for an Indiana woman found guilty of killing the premature infant she delivered after ingesting abortion-inducing drugs asked an appeals court Monday to throw out the convictions that led to her 20-year prison sentence.
At issue is Indiana's feticide law, which the defense says was "passed to protect pregnant women from violence" that could harm their developing fetus, not to prosecute women for their own abortions. The state argues that the law "is not limited to third-party actors" and can apply to pregnant women.
Attorneys for 35-year-old Purvi Patel urged the Indiana Court of Appeals to reverse her 2015 convictions on charges of feticide and neglect of a dependent resulting in death. The state attorney general's office defended the northern Indiana jury's decision.
Patel, of Granger, was arrested in July 2013 after she sought treatment at a local hospital for profuse bleeding after delivering a 1½-pound infant boy and putting his body in a trash bin behind her family's restaurant. Court records show Patel purchased abortion-inducing drugs online through a pharmacy in Hong Kong, took those drugs and delivered a premature baby in her home bathroom.
Patel lived with her parents and grandparents, and she feared her family would discover she had been impregnated by a married man, according to court documents.
Patel's attorneys contend her convictions are not supported by the evidence and that the laws prosecutors used don't apply to her alleged actions in the child's premature delivery.
Two dozen women's advocacy groups, as well as Planned Parenthood and the American Civil Liberties Union, all have filed friend-of-the-court briefs siding with Patel.
At least 38 states have fetal homicide laws, according to the National Conference of State Legislatures. But the Patel case was the first time a state feticide law has been used against a woman specifically because of "an alleged self-induced abortion," said Jill E. Adams, executive director of the abortion rights advocacy group Center on Reproductive Rights and Justice.
"Prosecutors have been very creative and very egregious, stretching far beyond the letter of the law and even the legislative intent behind the law," she said of efforts by prosecutors in some states to use a variety of laws to criminalize self-induced abortions.
Becky Rogness, a spokeswoman for the anti-abortion group Indiana Right to Life, declined to comment on the Patel case.
Indiana's feticide statute, enacted in 1979, made it a crime to "knowingly or intentionally" end a pregnancy with a goal other than to produce a live birth or to remove a dead fetus. The law does not apply to abortions performed in compliance with Indiana's abortion statutes.
In 2009, Indiana lawmakers increased the possible prison terms for feticide convictions to between six years and 20 years, up from the previous two years to eight years. The change was prompted by the 2008 bank robbery shooting of an Indianapolis bank teller who was five months pregnant with twin girls. The woman survived after being shot in the abdomen, but she lost her twins.
Attorneys for the state argue that Patel's infant was at least 25 weeks into gestation, just beyond the threshold of viability, and had taken at least one breath before dying. The state's brief also argues that Patel "has not met her heavy burden to prove that Indiana's feticide statute constitutes an undue burden on the right to obtain an abortion."
Bryan Corbin, a spokesman for Indiana's attorney general's office, said that in all appeals the "defendant has the burden of proof on appeal."
Patel's appeal also contends she should not have been convicted of neglect, arguing prosecutors failed to prove she knew she had delivered a live baby or that she could have done anything to save his life. It argues that summoning medical help would have been "futile," citing a forensic pathologist's testimony that the infant likely would have died within about a minute.
In its brief, the state argues that prosecutors were "not required to prove that an attempt to obtain medical care would have saved the baby's life, only that Defendant placed her baby in appreciable danger by not obtaining medical care for him."
Across the nation, abortion-rights activists are closely following Monday's appeals court hearing.
Patel's case is one of more than a dozen recent cases cited by abortion-rights supporters in which women were arrested or convicted in connection with self-induced abortion. The issue is a volatile one, in part because many anti-abortion leaders say they do not favor prosecutions of women for their own abortions, even as they urge crackdowns on doctors who provide them.
Among the cases where this issue has arisen:
-A Georgia woman was jailed without bond last year before prosecutors decided police had wrongly charged her with murder after being told she used pills ordered online to terminate her pregnancy. Kenlissia Jones was freed and the murder charge dropped; a misdemeanor drug charge was maintained.
-In Indiana, a Chinese immigrant charged with killing her baby by eating rat poison while she was pregnant pleaded guilty to a misdemeanor count of criminal recklessness. It was part of a deal with prosecutors, who dropped a murder charge in 2013. The woman, Bei Bei Shuai, spent 178 days in jail.
-In Utah, a 17-year-old girl was charged in 2009 with solicitation to commit murder for allegedly hiring a man to beat her in an effort to induce a miscarriage. The charge was dismissed by a juvenile court judge who ruled that she was seeking an abortion and was not criminally liable. The man charged in the beating pleaded guilty to second-degree felony attempted murder and was sentenced to up to five years in prison.
-In South Carolina, a migrant worker from Mexico was convicted in 2005 of performing an illegal abortion on herself using the abortion-inducting drug misoprostol. Gabriela Flores, who already had three children, served a few months in jail during the case.
-In Pennsylvania, a woman received a 9-to-18-month prison term for helping to end her 16-year-old daughter's pregnancy by giving her pills purchased online. The mother, Jennifer Ann Whalen, told authorities they couldn't find a local clinic to perform an abortion, and the girl had no insurance to pay for a hospital stay.
-An Idaho woman, Jennie McCormack, was charged in 2011 with having an illegal abortion after telling authorities she took pills to terminate her pregnancy and then kept the fetus in a box on her back porch for several days. The charge was eventually dismissed.
Thanks for reading CBS NEWS.
Create your free account or log in
for more features.