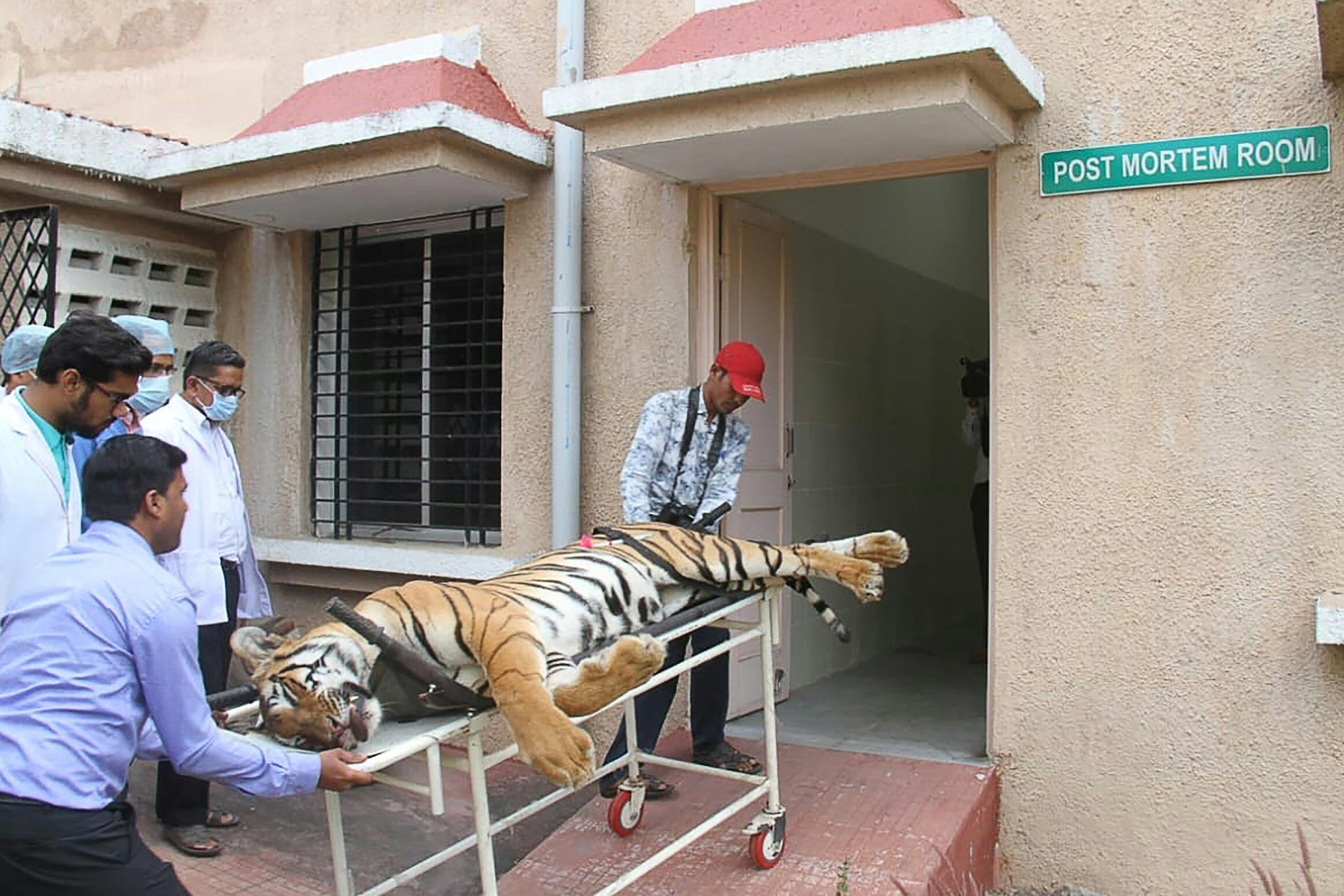 Backlash in India over killing of man-eating tiger "Avni"
NEW DELHI — For the past three months, a team of 150 people using 100 trap cameras, drones, hang-gliders, sniffer dogs, elephants, sharp shooters, and expert trackers struggled through a forested area in central India's Maharashtra state to hunt down a man-eating tigress. On Friday night, after an alleged attempt to tranquilize the animal, a bullet from the gun of a controversial hunter killed the big cat.
The 6-year-old tigress, officially named T1 but dubbed "Avni" (which means Earth in Hindi) by conservationists, was linked to at least 13 human deaths over the last two years. But the killing of what is a revered and protected animal in India, and the fate of her two 10-month-old cubs, has become a huge controversy.
Avni's latest victims were three people in the Yavatmal district of Maharashtra state. Thousands of people in about 20 villages around the forest had lived in a state of fear for months. Government advisories warning local residents to return early from the fields every day and not to venture out alone had crippled daily life.
Under pressure from locals to kill the tigress, the state's forestry authorities issued a "shoot on sight" order in early September against the tigress. That order was challenged in the courts and eventually reached India's Supreme Court. The top court declined to overturn the shooting order, but said an attempt must first be made to tranquilize the tigress.
Tigress lured and killed by controversial hunter
Tigers are an endangered species, protected under Indian law. They can be killed only if a state government determines the animal is dangerous to human life. Maharashstra state's forestry department branding Avni a man-eater cleared the way for a hunt.
On Friday, a patrol team lured Avni using as bait a live goat, the urine of another tigress, and a Calvin Klein perfume that contains a pheromone shown draw big cats. The perfume includes the pheromone civetone, which comes from the scent glands of the cat-like civet. As CBS News partner network BBC News reported, an experiment at New York's Bronx Zoo showed that jaguars were drawn to the perfume.
According to a government statement, when a forest patrol team spotted the tigress, a tranquilliser dart was first fired at the animal. But the statement says the tigress charged at the patrol's vehicle, forcing sharpshooter Asghar Ali Khan to kill it in "self-defence."
Asghar Ali Khan told the India Today news outlet that just as his "tranquilizer dart hit her, she charged at our open vehicle and to save life I had to shoot her."
Activists say killing broke the rules
Activists have challenged that official narrative, however, questioning whether there was really any effort to tranquilize the animal before it was shot. Wildlife activist Dr. Jerryl Banait, who had petitioned the Supreme Court against the hunting order, claims there was no such effort, and that the operation was not carried out according to the rules.
"Avni's killing must be investigated as there are clear violations of Standard Operating Procedures," Neha Sinha, another wildlife conservationist, told CBS News. "There were no veterinarians or representatives of the state in the hunting team as required by the rules."
Questions are also being raised as to why the government brought in controversial big game hunters Ali Khan and his father Shafat Ali Khan.
"Shafat Ali Khan has killed three tigers, at least 10 leopards, a few elephants and 300 wild boar in Chandrapur, Maharashtra. He is a criminal known for supplying guns to anti-nationals and for a suspected case of murder in Hyderabad," Maneka Gandhi, a government minister and known animal rights activist, said on Twitter.
Calling it a "ghastly murder," Gandhi added that the younger Ali Khan "was not authorized to kill. This is patently illegal. Despite the forest officials being committed to tranquilize, capture and quarantine the tigress, the trigger-happy shooter has killed her on his own."
Even the darting of a wild animal is prohibited at night, between sunset and sunrise, according to rules established by India's National Tiger Conservation Authority (NTCA).
PETA India has called for investigation into what it's calling a "wildlife crime." In a statement, the organization said, "Avni was killed illegally, satisfying a hunter's lust for blood ... (in an) apparent violation of the Wildlife Protection Act and the guidelines of National Tiger Conservation Authority."
"The whole hunting operation was shrouded in secrecy. There were protests already going on; the government should have been extra careful, yet they seem to have done it in a very non-transparent manner," conservationist Neha Sinha told CBS News.
India is home to 60 percent of the world's tiger population. A 2014 census put India's tiger population at 2,226, down from around 40,000 in the 1940s. The last couple of decades have seen the population increase due to protection laws.
While some of the villagers in Maharashtra's Yavatmal district celebrated Avni's death with firecrackers, the forest officials are out on a new mission: to try to find Avni's two young cubs, and save them.
Thanks for reading CBS NEWS.
Create your free account or log in
for more features.