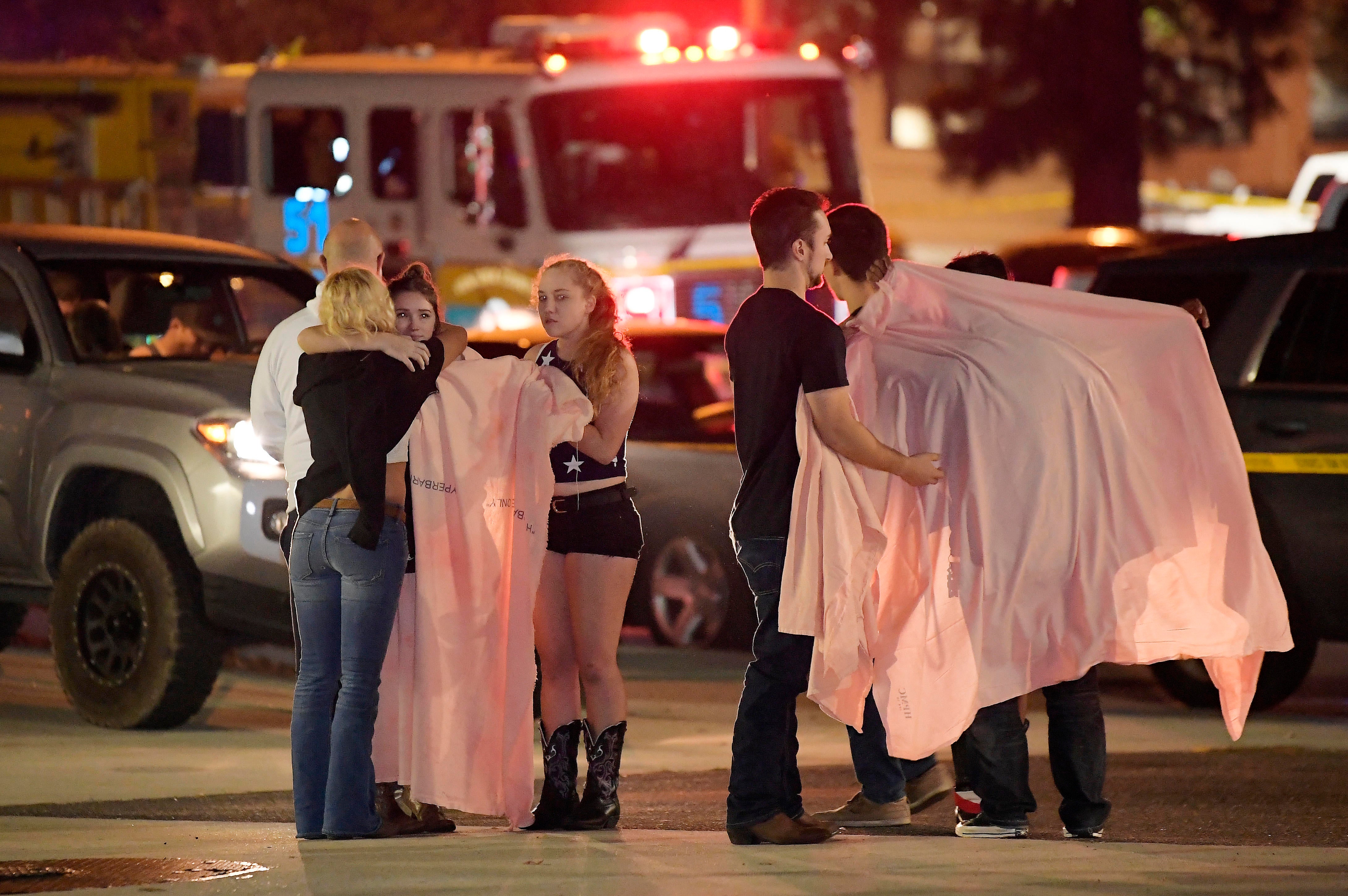 Police say bar shooter had ammo stockpile but stopped firing to ambush arriving officers
THOUSAND OAKS, Calif. -- The gunman who killed 12 people in a crowded Southern California bar had more than 150 bullets left to fire but stopped shooting to ambush arriving officers, killing one of them, police said. Investigators said Tuesday they still don't know why 28-year-old Ian David Long attacked staff and customers at the Borderline Bar and Grill in the Los Angeles suburb of Thousand Oaks on Nov. 7.
They painted a clearer picture of the chaos that ensued when Long opened fire as a crowd of people mostly in their 20s danced to country music.
Long threw smoke grenades into the group of revelers, obstructing what they could see. He used a flashlight with a laser sight attached to his .45-caliber semiautomatic pistol as he fired, killing 12 of the 13 people who were struck.
He stabbed one of the shooting victims in the neck, though it was unclear why, a coroner's official said.
The first two officers to arrive at the scene, sheriff's Sgt. Ron Helus and a highway patrolman, saw at least 100 people fleeing the bar and ran into an ambush, Ayub said. Long had gotten into a tactical position and fired on them when they entered. Helus, a 29-year veteran of the department who was close to retirement, was killed.
Some people laid on top of friends to protect them as the bullets flew while others frantically busted out the windows of the bar to escape.
"As you can imagine, this was a terrifying experience for everyone who was there," Ventura County Sheriff Bill Ayub said. "Confusion and chaos can only begin to adequately describe the situation."
Initial reports from survivors spread further confusion. Some of those who were injured in the escape fled to a nearby bar and authorities at first feared that a separate shooting had occurred there. Survivors also gave different descriptions of the shooter, leading officers to believe there was more than one gunman.
Long, who was not hit by the officers' gunfire, fatally shot himself. The former machine gunner and Afghanistan war veteran posted on social media during a break in the gunfire that he wondered if people would think he was insane.
He had the capability to kill many more than 12 people. Of seven 30-round high-capacity magazines that Long had, five remained unused, Ayub said. Such magazines are illegal to buy and possess in California but can easily be purchased in neighboring states.
There's no evidence that Long was radicalized or was targeting anyone at the bar, and though Long had previously been a customer there, the owner didn't know him, investigators said.
The mother of one of the victims, Telemachus "Tel" Orfanos, said she went to the news conference to make sure her son was remembered as more than a statistic.
Susan Schmidt-Orfanos said she was putting her energy into working for gun-control measures. Her son had survived the mass shooting last year in Las Vegas before being killed at Borderline.
"There's no place to put my anger," she said. "We need to end gun violence so that no other families grieve and are shattered as we are shattered. That's where my rage is going to go."
Todd Stratton was at the bar when the massacre unfolded. He'd also been friends with Long for 11 years and told CBS News he thought he might be suffering from post traumatic stress disorder (PTSD) when he came back from deployment in Afghanistan in 2013.
"There was times where people would ask him about it and he got kind of, you know, upset and said he didn't, you know, like talking about it," Stratton said.
Investigators have interviewed hundreds of witnesses and gathered bullet casings, surveillance video and other evidence from the scene, as well as seized items from Long's home, including digital media, said Paul Delacourt, assistant director in charge of the FBI's Los Angeles field office. Most of the evidence taken by the FBI is being analyzed at its lab in Quantico, Virginia.
Detectives hope items from the house help them learn why Long carried out the attack and that evidence from the bar better explains how he carried it out.
"There's a process of both interviewing the people and getting the information investigators obtain and consolidating those to develop a timeline, and if we can discover what the motivation was for this attack," Ventura County sheriff's Capt. Garo Kuredjian said.
Their work persisted in spite of a wildfire that erupted just hours after the shooting, forcing some FBI investigators and sheriff's detectives to evacuate. "They didn't miss a beat," said Kuredjian.
Neighbors have said Long made them uncomfortable and even called 911 on him in April. Responding deputies found Long behaving angrily and irrationally, but a mental health specialist who met with him didn't feel he needed to be hospitalized.
Two of Long's former high school track coaches described his behavior during his teenage years as aggressive and disturbing.
Dominique Colell, who coached girls' track and field at the high school where Long was a sprinter, remembers an angry young man who could be verbally and physically combative.
In one instance, Colell said Long used his fingers to mimic shooting her in the back of the head as she talked to another athlete. In another, he grabbed her rear and midsection after she refused to return a cellphone he said was his.
"I literally feared for myself around him," Colell said. "He was the only athlete that I was scared of."
Editor's note: On Dec. 7, investigators revealed that Sgt. Ron Helus was accidentally killed by a patrolman's bullet; he was also struck 5 times by the gunman. Read the latest story here.
Thanks for reading CBS NEWS.
Create your free account or log in
for more features.