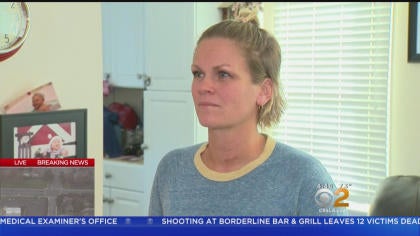 Former high school track coach says bar shooting suspect groped, assaulted her
NEWBURY PARK, Calif. -- A former track coach at Newbury Park High School in California says Ian David Long, the 28-year-old suspect in the Wednesday mass shooting at a Thousand Oaks bar, assaulted her while he was a student there.
Dominique Colell told CBS Los Angeles her "jaw dropped" when she saw Long identified at the suspect on the news.
"He attacked me. He attacked his high school track coach," Colell said. "Who does that?"
Authorities say Long, a former Marine combat veteran who had been stationed in Afghanistan, used a .45-caliber Glock handgun with an illegal, extra-capacity magazine in the shooting that left 12 dead. Witnesses said he first shot a security guard outside the bar and deployed smoke bombs before going in and aiming at employees and customers, reports CBS News correspondent Carter Evans.
Long, who lived with his mother in Newbury Park, then apparently killed himself.
Colell told CBS Los Angeles that Long groped and assaulted her over a cell phone while she was his high school track coach. Colell said it happened during practice when someone found a phone and she was trying to figure out who it belonged to.
"Ian came up and started screaming at me that was his phone," said Colell. "He just started grabbing me. He groped my stomach. He groped my butt. I pushed him off me and said 'for that — you're off the team.' "
Colell said she didn't report the incident because she was encouraged by other coaches and the school to accept an apology to not ruin his future in the Marine Corps.
"I should have reported it then," Colell said.
A school district spokeswoman did not immediately respond to a request for comment from CBS News.
Officials had previously implied that Long may have suffered from post-traumatic stress disorder because of his military background, but Colell says he showed signs of aggression before his military service. The Marine Corps said Long entered active duty in Los Angeles in August 2008 and served until March 2013. He ranked as a corporal in 2011 and his military occupational specialty was machine gunner, the Marine Corps said.
Ventura County Sheriff Geoff Dean said his department's mental health crisis team was called to Long's home in April for a disturbance call and concluded that Long did not need to be taken into custody under a "5150" order, an evaluation that determines whether a person needs to be involuntarily held for up to 72 hours because they are a threat to themselves or others.
The episode was thought to be possible PTSD, Dean said.
"There are hundreds of thousands of people with PTSD," said Colell. "They don't go around shooting people. This kid was mentally disturbed in high school. There were signs and the administration knew it."
Authorities say they are still investigating a motive.
Thanks for reading CBS NEWS.
Create your free account or log in
for more features.