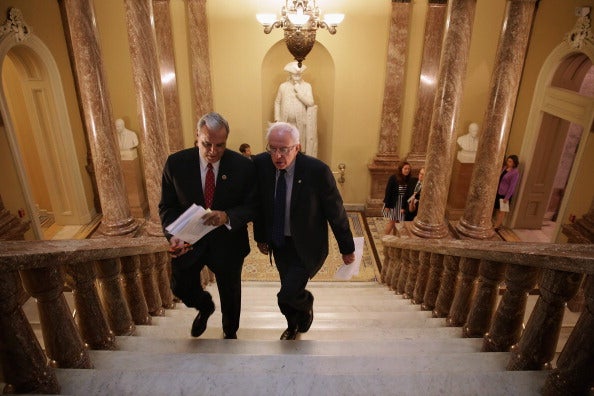 House approves bill overhauling VA health care
WASHINGTON -- The House has approved a compromise bill to refurbish the Veterans Affairs Department and improve veterans' health care.
The 420-5 vote Wednesday sends the bill to the Senate, where approval is expected by the end of the week.
The $16.3 billion measure, which was unveiled Monday by the chairmen of the House and Senate veterans affairs committees, is intended to help veterans avoid long waits for health care, hire more doctors and nurses to treat them and make firing senior executives at the VA easier.
The measure includes $10 billion in emergency spending to help veterans who can't get prompt appointments with VA doctors to obtain outside care; $5 billion to hire doctors, nurses and other medical staff and about $1.3 billion to lease 27 new clinics across the country.
The Senate on Tuesday confirmed business executive Robert McDonald to lead the sprawling agency, which provides health care to nearly 9 million enrolled veterans and disability compensation to nearly 4 million veterans.
McDonald, 61, of Cincinnati, will replace Acting VA Secretary Sloan Gibson, who took over in May after Eric Shinseki
resigned
amid a growing
uproar over reports
of long veterans' waits for health care and VA workers falsifying records to cover up delays.
McDonald has pledged to transform the VA and promised that "systematic failures" must be addressed. He said improving patient access to health care was a top priority, along with restoring transparency, accountability and integrity to the VA.
"In the wake of the biggest scandal in the history of the Department of Veterans Affairs, Bob McDonald certainly has his work cut out for him," said Rep. Jeff Miller, R-Fla., chairman of the House Veterans' Affairs Committee.
In order to be successful, McDonald "will need to take swift and decisive action to discipline employees responsible for mismanagement, negligence and corruption that harms veterans while taking bold steps to replace the department's culture of complacency with a climate of accountability," Miller said.
Miller is a co-sponsor of the VA overhaul bill, along with Sen. Bernie Sanders, I-Vt., his counterpart in the Senate veterans' panel.
The bill is expected to add $10 billion to the federal deficit over 10 years after cost-savings such as changes in a veterans' retirement program and reimbursements by insurance companies are included, the nonpartisan Congressional Budget Office said.
Despite the steep cost, Miller said earlier this week he was confident he could sell the bill to fellow Republicans, which he did.
"Taking care of our veterans is not an inexpensive proposition, and our members understand that," he said. "The VA has caused this problem and one of the ways that we can help solve it is to give veterans a choice, a choice to stay in the system or a choice to go out of the system" to get government-paid health care from a private doctor.
Miller and Sanders released a statement Sunday saying they "made significant progress on legislation to make the VA more accountable and recruit more doctors, nurses and other health care professionals." An aide added that the agreement will "deal with both the short-term and long-term needs of the VA."
The breakthrough came just days after negotiations to merge the House- and Senate-passed bills hit a snag. On Friday, Miller unilaterally called a bipartisan meeting that was boycotted by all but one Democrat on the committee tasked with combining the two pieces of legislation. That prompted Sanders, who had initially proposed infusing the agency with $25 billion over three years, to accuse that "the good faith we have shown is simply not being reciprocated by the other side."
The VA has been rocked by reports of patients dying while awaiting treatment and mounting evidence that workers falsified or omitted appointment schedules to mask frequent, long delays.
If passed by the Senate, the compromise measure would require the VA to pay private doctors to treat qualifying veterans who can't get prompt appointments at the VA's nearly 1,000 hospitals and outpatient clinics, or those who live at least 40 miles from one of them. Only veterans who are enrolled in VA care as of Aug. 1 or live at least 40 miles away would be eligible to get outside care.
At a hearing last week, the acting VA secretary said the agency will need $17.6 billion dollars over the next three years to meet new patient demand.
Thanks for reading CBS NEWS.
Create your free account or log in
for more features.