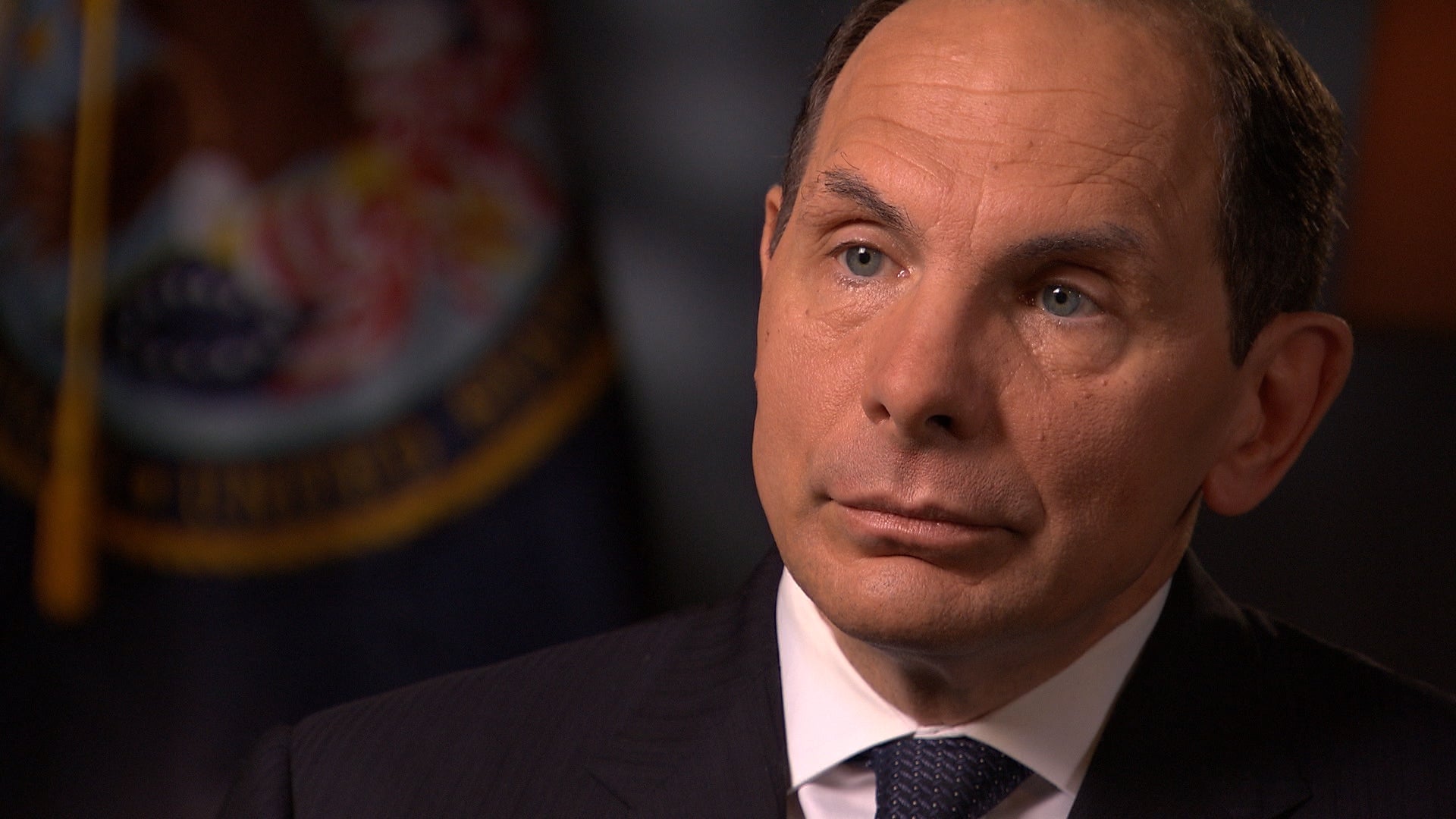 The following is a script of "Cleaning up the VA" which aired on November 9, 2014, and was rebroadcast on June 28, 2014. Scott Pelley is the correspondent. Guy Campanile, producer.
The Department of Veterans Affairs is in the midst of the biggest reorganization in its history. It comes after the agency's biggest fiasco. It was just a year ago that we learned that tens of thousands of vets were waiting months for medical care, while managers cooked the books to hide the delays. The former secretary was forced out. As we first reported last fall, the new man in charge has no government or medical experience. But 62-year-old Bob McDonald does know management. He was chief executive officer of Procter & Gamble, the largest consumer products company in the world. We wanted to know how a soap salesman will go about cleaning up the VA.
Scott Pelley: How many employees do you think should be fired based on what you know?
Secretary McDonald: The report we've passed up to the Senate Committee and House Committee, has about 35 names on it. I've got another report that has over 1,000.
Scott Pelley: If 1,000 people need to go, give me a sense of what are some of the things that they did?
Secretary McDonald: We're simplistically talking about people who violated our values.
Scott Pelley: And those values are what?
Secretary McDonald: It's integrity, it's advocacy, it's respect, it's excellence. These are the things that we try to do for our veterans.
But Bob McDonald can't punish or fire a thousand people right now. He's discovering how different the Capitol is from capitalism. To fire a government manager he has to put together a case and prove it to an administrative judge.
Secretary McDonald: Scott, the reason this is, reason this is okay in some respects is that...
Scott Pelley: A lot of people think it's not okay...
Secretary McDonald: Well...
Scott Pelley: ...that if people lied and put veterans second...
Secretary McDonald: That's different. That's different.
Scott Pelley: ...and their self first, they should be cleared out.
Secretary McDonald: Absolutely. Absolutely. But we've got to make it stick.
Scott Pelley: How do you mean?
Secretary McDonald: So we propose the action, the judge rules and the individual has a time to appeal. That's why we have a lot of people on administrative leave. We've moved them out because we don't want any harm to our veterans.
[Volunteer: Bob I'd like you to meet my district commander.]
When we met McDonald he'd been on the job four months and was getting an education. He had inspected 41 VA facilities. We caught up with him in Boston, where we discovered that he refuses to be called "Mr. Secretary."
[Woman: It's so nice to meet you, Mr. Secretary.]
[Secretary McDonald: Nice to meet you. I'm Bob. Please call me "Bob."]
His Washington staff can't get their heads around calling the boss by his first name, so they've taken to calling him "Secretary Bob."
[Secretary McDonald: So you were with Patton in North Africa?]
[Volunteer: No, he was with me.]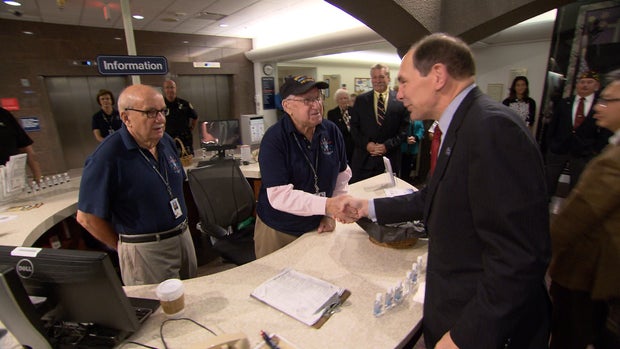 He'll need that sense of humor because McDonald is battling a behemoth cobbled together over decades. The VA is the second largest agency in the entire federal government behind only the Department of Defense.
Secretary McDonald: We have no hope of taking care of veterans if we don't take care of each other.
He has 340,000 employees who handle services ranging from home mortgages, to college loans, to heart transplants.
[Secretary McDonald: Well you've got people who really care about veterans here.]
[Patient: Exactly.]
With nine million patients the VA is America's largest healthcare system, but it had slipped into critical condition. Last year, a doctor in Phoenix exposed those phony wait lists.
[President Obama: It is dishonorable. It is disgraceful. And I will not tolerate it, period.]
Investigators found that the official records showed that vets in Phoenix were getting appointments in 14 days. But this was the true wait list. Those are numbers of days in the right column more than 400 days in most cases. The investigation found that the wait may have contributed to six deaths. It was all because Phoenix was overwhelmed.
Scott Pelley: The general condition of the emergency room at that time, you would describe as what?
Dr. Katherine Mitchell: Chaos. Absolute chaos.
Dr. Katherine Mitchell was co-director of the emergency room.
Scott Pelley: How well known was it inside the VA in Phoenix that veterans were going months without getting an appointment?
Dr. Katherine Mitchell: Everyone knew that, everyone that worked at the Phoenix VA for any length of time.
And when she reported the problems, she was reassigned to an empty clinic.
[Dr. Katherine Mitchell: In 2013, I submitted a confidential OIG complaint regarding the life threatening issues within the Phoenix VA system.]
Dr. Mitchell was among the first to blow the whistle.
Dr. Katherine Mitchell: I had veterans who had survived World War II, who had survived Pork Chop Hill, who survived the Battle of Fallujah, who had gone through so many situations of combat, where it's a life and death situation. And yet, I could not guarantee their safety in the middle of metropolitan Phoenix in my ER because we didn't have adequate staffing or training.
A nationwide investigation confirmed the phony wait lists in Phoenix and 92 other VA centers.
Scott Pelley: When you read that in the Inspector Generals report, you thought what?
Secretary McDonald: I was incensed. I was incensed. Our veterans have earned these benefits. They earn them with their lives in danger.
Scott Pelley: It strikes me that you are coming into a system which was broken because the people in the regions were lying to headquarters.
Secretary McDonald: This is one of the reasons I have traveled. I've got to get to the bottom of it. I've got to meet the people. So the adverse information gets from the bottom to the top as quickly as possible. People get rewarded for bringing adverse information forward.
Scott Pelley: That has never been the case before.
Secretary McDonald: It's going to be the case now.
Secretary McDonald: I have a piece of paper right here from a veteran.
The day we were with him, a vet had driven 1,200 miles to get care at the Boston VA hospital. She slipped McDonald this note.
Secretary McDonald: Can you read it? It says, "I'm from Alabama and I had to come here to Boston to get care." That breaks my heart.
Other failures boggle the mind. In Pittsburgh, six vets died of Legionnaires' disease in a VA hospital that had known its water system was contaminated. In Brockton, Massachusetts a Vietnam vet was hospitalized for eight years with a psychiatric disorder, but no one ever scheduled an appointment for him with a psychiatrist.
Scott Pelley: When you got the call suggesting this job, I would imagine you would've thought, "Oh boy. I'm not sure I need that headache at this point in my life."
Secretary McDonald: My immediate reaction was, "I want to do it." I feel like my whole life has been designed to lead to this.
The design of Bob McDonald's life, in many ways, started at the U.S. Military Academy. He graduated in '75, and served five years as a paratrooper. He bought his first home with a VA loan. And the VA paid for his master's degree. In 33 years at Procter & Gamble, he put Tide, Pampers and Joy into most of the cupboards on Earth. Though he left West Point long ago, West Point never left him.
Scott Pelley: The first time you saw this view of the Hudson River you were 18 years old, here at West Point, getting sworn in at this very spot. And I wonder what that experience has done to inform your life?
Secretary McDonald: I think it's the West Point motto: "Duty, Honor, Country."
He's sentimental that way, uncompromising. So it's no wonder his new No. 2 at the VA is his West Point classmate Sloan Gibson, who used to run the USO. As cadets, they sat across the table from each other in the mess hall.
Sloan Gibson: The first place I visited was Phoenix, ground zero. While I was in Phoenix, I met with a large group of employees. They wanted to do the right thing. They worked really hard, but the system and the organization was just not supporting them. What I saw there: leadership failure, mismanagement and chronic underinvestment in the system.
Already Gibson has suspended bonuses for all VA executives. And he fired the director of an Alabama hospital. Bob McDonald's reorganization of the VA is designed so veterans won't have to go to war to get their benefits.
Secretary McDonald: Right now they face nine different organization structures across the country so they don't know where to go and if they do find somebody to go to that person may be an expert in benefits but not an expert in heath care. And we want to create a customer service representative that that person can go to. Secondly they face multiple websites that require multiple user names and multiple passwords and that's not acceptable. We've got to get to one website, one entry point and then fan people out from there.
[Man: Can you stand up for me?]
Something he's already done is given doctors a raise. VA physicians were making less than most private doctors. It was hard to fill the open jobs and that led to those intolerable wait lists.
Scott Pelley: How many doctors and nurses and medical professionals do you need to hire right now?
Secretary McDonald: If we could do it today we would tell you we probably need about 28,000, is what we said in our committee testimony.
Scott Pelley: I'm sorry, 28,000?
Secretary McDonald: Yes. But wait a minute, Scott...
Scott Pelley: How long is that going to take?
Secretary McDonald: Well, it's going to take time. Because every adverse outcome that gets amplified by the media doesn't help me. I was on...
Scott Pelley: You've got a bad reputation.
Secretary McDonald: I do. But we're changing it.
[Secretary McDonald: And it is the largest integrated health network in the United States.]
He's trying to change that reputation himself. McDonald is personally recruiting doctors and nurses. This was Massachusetts General Hospital.
[Secretary McDonald: If you want to do research, clinical work and teach at the same time, this is a great place to work...]
Later we caught him calling a young doctor that he'd met the day before.
[Secretary McDonald: I heard what a wonderful cardiologist you are. So we've got some state of the art stuff we're doing here and we'd like to get you on board. And if you get to Washington, I'd love to see you.]
And if you know the number of a good psychiatrist, McDonald needs to hire 2,500 mental health professionals. Since 2006, 400,000 vets, many from Iraq and Afghanistan have applied for mental health services.
Secretary McDonald: We've had an instance where we've spoken to the family and the family has told us that the individual came to the VA and they got out of their car and they took their own life in our parking lot because they knew that we could then deal with it. And they didn't want to do it at home with their family.
Scott Pelley: Deal with their body?
Secretary McDonald: Well, deal with their tragedy.
There are many tragic, senseless failures around the VA, but we noticed something else too.
[Man: If there is any bonuses to be given out, give them to these people.]
[Secretary McDonald: I will...]
Everywhere McDonald went, there were plenty of vets eager to praise their care, from rehab...
[Man: And there was a lot of other guys and ladies who you know was homeless like I had became and we stayed like a family...]
...To a Boston homeless shelter funded by VA.
[Man: Thank you for coming, sir.]
[Secretary McDonald: It's my pleasure, you are kidding? I knew you were here. I wanted to see you.]
While his staff gets used to "Secretary Bob" there's another term that they're learning. He calls vets "customers," which to a Procter & Gamble-mind is both a compliment and a bond. McDonald says, by next year, there will be one website, not 12. New patients will see a doctor within 30 days and no one will wait for their benefits.
Scott Pelley: What do you owe these veterans? Not the VA. But Bob McDonald, what do you owe these veterans?
Secretary McDonald: Well, this is very personal because I served with a lot of these guys. And we were in very dangerous situations. And anytime you jump out of an airplane in a parachute, you're putting your life in danger. And as a jumpmaster, you're checking that person's equipment. And their life is reliant on yours. That's the kind of relationships you create. Those are the relationships that drive me to do this.
A few footnotes to our story. Last fall, McDonald apologized for telling a homeless veteran that he had served in Special Operations when he had only gone through the training.
As for the VA, the average wait for a doctor is now just four days and McDonald fired the executive director of that Phoenix hospital at the center of the scandal.
Thanks for reading CBS NEWS.
Create your free account or log in
for more features.