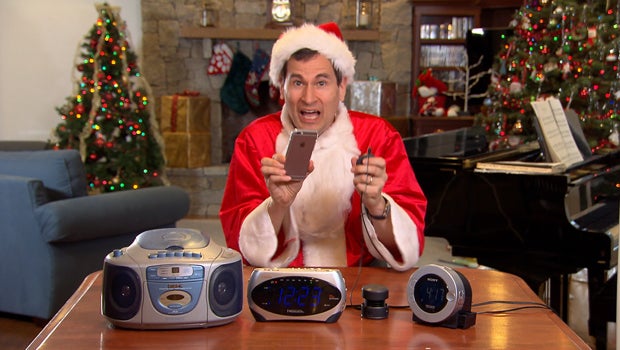 Holiday gift ideas from Techno Claus
'Tis The Season for a visit from Techno Claus -- who, you may recall, bears a striking resemblance to our David Pogue of Yahoo Tech:

Techno Claus clambers out of the chimney, as he does every year.
Tis I, jolly Techno Claus! Yes, I am here!
(Just barely -- those chimneys get tighter each year.)
This year once again, I shall offer advice
On buying tech presents, all modest in price.
These days, the music we love's on our phone
But man cannot dance to weak speakers alone!
The Audio Chromecast plugs into your clocks,
Or any old speaker, or ancient boombox
And makes it a wireless hifi for your apps
Only 35 bucks -- get a couple, perhaps!

Rhino Shield Crash Guard Bumper, $25
Your schmancy new smartphone's a magic machine --
At least till you drop it and shatter the screen.
So wrap up the phone with a Crash Guard -- a band
That staves off disaster, should your phone crash-land!
He drops it deliberately onto the pavement -- from three feet, five feet, 10 feet. He inspects it: no damage!
Whenever I do that, my heart skips a beat.
But look -- it's just fine, even dropped from ten feet!

Giftmate 60 Piece Gift Bag Set, $25
Now this time, the present's not this in my lap.
See, I threw you a curve -- the gift is the wrap!
There's five dozen bags in a package, and hey --
Re-use 'em each year! You don't throw 'em away!

Polaroid Snap Instant Camera, $100
You recollect Polaroid cameras, no doubt
You'd point and you'd shoot, and the picture'd come out?
Well, look at who's back with a digital cam!
You shoot, and you wait 60 seconds, and bam!
The pictures are charming -- they're stickers as well --
And this card saves your pix for your Mac or your Dell.
You've heard of a selfie stick? Sort of a fad;
It lets your phone capture yourself. See? Not bad.
But this one's got talent! It's long or it's short,
And the handle's a tripod, for added support!

Singtrix System, $350
He sings the following into the Singtrix machine, to the tune of "Away in a Manger."
OK, karaoke was fine in its day,
But this machine here really blows it away!
It fixes your pitch and adds harmonies, too
Feel free to change settings; it has quite a few!
On YouTube, you'll find ev'ry possible tune
Then cancel your meetings the whole afternoooooooooooon!

So dat's what I got for suggestions this year
I wish you long battery life and good cheer.
And now I must tend to some reindeer affairs.
He struggles getting into the fireplace.
You know what? Forget it. I'm takin' the stairs!
Thanks for reading CBS NEWS.
Create your free account or log in
for more features.