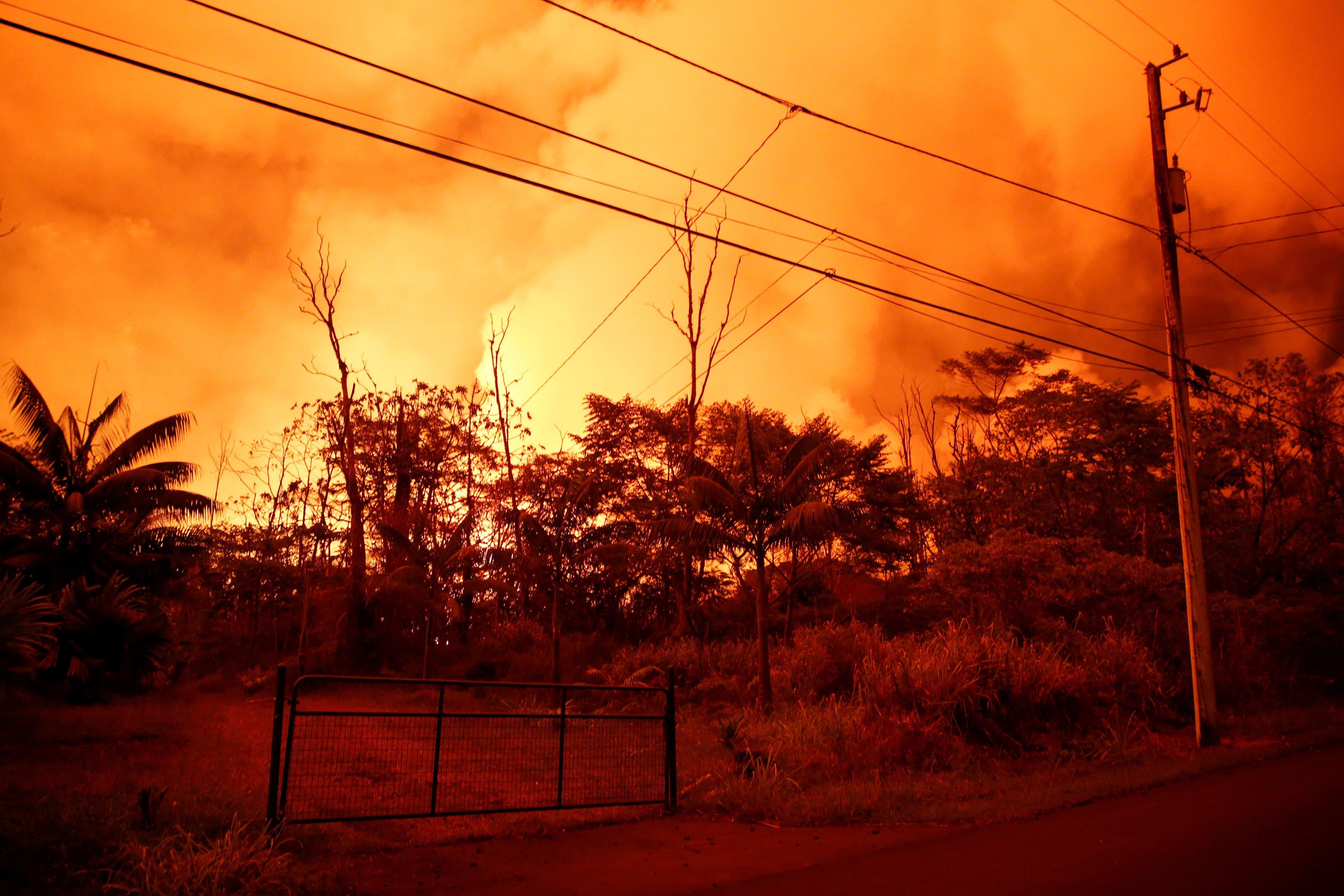 Hawaii volcano lava destroys more homes, including Big Island mayor's
HONOLULU -- Lava from Hawaii's erupting Kilauea volcano has destroyed more than 150 homes in a rural Big Island district, including that of Big Island Mayor Harry Kim. As of early Tuesday, lava burned down at least 159 homes, CBS News correspondent Carter Evans reports. On Friday, the count was at 87 homes. Officials had previously been updating the number of structures burned because it was difficult to tell from aerial surveys which were homes or other buildings.
"We don't have an estimate yet, but safe to say that hundreds of homes were lost in Kapoho Beach Lots and Vacationland last night," said Janet Snyder, a spokeswoman for Hawaii County on the Big Island.
Snyder said from now on, the county will provide counts of homes destroyed. No injuries were reported in the area because it was evacuated.
Evans reports the cascade into Kapoho Bay is releasing toxic steam mixed with tiny particles of glass. It's the second time lava has hit the ocean since the crisis began.
A morning overflight confirmed that lava completely filled Kapoho Bay, inundated most of Vacationland and covered all but the northern part of Kapoho Beach Lots, scientists with the U.S. Geological Survey's (USGS) Hawaiian Volcano Observatory said.
Lava early Tuesday destroyed the mayor's second home, Snyder said.
"There's a lot of destruction," Talmadge Magno, Hawaii County Civil Defense administrator, told CBS affiliate KGMB-TV. "It's like a flood -- it's just pouring out, covering everything in its path. It looks like there's no stopping it."
County Managing Director Wil Okabe said his own vacation home in Kapoho Beach Lots is also threatened. Okabe described the area as a mix of vacation rentals and year-round residences.
"For us it's more of a vacation area, but for those who live there permanently, they're trying to figure out where they're going to be living," he said.
"He was very depressed," Okabe said of how Kim, the mayor, felt about losing his vacation home. Kim and Okabe live in Hilo, the county's seat, which is more than an hour drive from the Kapoho area.
Residents in the nearby areas should also be prepared to evacuate with little notice, officials said.
On Sunday, a USGS field crew was in a helicopter when they noticed people on the ground needed help. The crew landed and confirmed the three people had no cellphone reception. The flight crew went to a safe location and dropped off the USGS team, then went back and airlifted the people to safety, Janet Babb said, a USGS geologist.
USGS helicopter footage from Monday showed lava from one fissure entering the ocean at Kapoho Bay and completely filled it, KGMB-TV reports.
Scientists said a laze plume was blowing inland from the ocean entry but dissipating quickly. Laze is formed when hot lava hits the ocean, reacts with sea water and sends hydrochloric acid and steam with fine glass particles in the air.
Officials warned the public to stay away from the plume because it can irritate skin and eyes and make it difficult to breathe.
Lava has covered a total of 8 square miles, scientists said Monday.
Kathy Emery, who evacuated from her 5-acre farm in Kapoho, told KMGB-TV she doesn't know if she has a home to go back to.
"Right now, we don't have anything. And I don't know what to do," she said. "I wish I could just find out if I have a house."
USGS' Hawaiian Volcano Observatory said Monday that parts of the channelized flow from a fissure were starting to break out and move north.
There have been various arrests of people forcing their way through blocked areas. Police on Monday said a 62-year-old man sped through a checkpoint near an intersection where lava was approaching. He faces charges that include refusing to evacuate and reckless driving. Police said a 55-year-old man was arrested last week after he circumvented a traffic checkpoint and crashed his vehicle into a hardened lava flow.
The monthlong eruption has claimed as much as a half of a forest reserve that's home to native birds and trees that have already been declining because of disease, state officials said.
Most of Hawaii Volcanoes National Park has been closed since May 11 because of earthquakes and continuous explosions from the volcano's summit crater.
Continued earthquakes, including Sunday's magnitude 5.5 quake, damaged the overlook deck and other features at Jagger Museum in the national park, where most visitors go to see the summit lava lake, park spokeswoman Jessica Ferracane said.
"Unlike lava, which you can see coming and avoid, we cannot see or predict earthquakes, nor can we foresee a summit explosion, but both threats continue," park Superintendent Cindy Orlando said. It's not known when the heavily visited Kilauea section of the park will reopen.
Thanks for reading CBS NEWS.
Create your free account or log in
for more features.