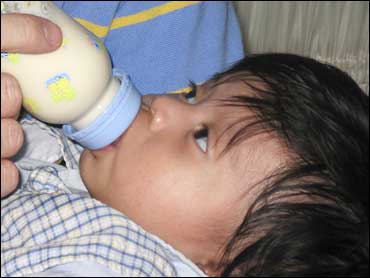 Guatemala Adoption Fraud May Hit U.S.
Luciany Ball's adoption file says she was born 14 months ago by Caesarean section to a single mother who gave her up so she could be raised by a loving family in a six-bedroom Indiana farmhouse.
But now some of the documents appear to be fraudulent, part of a slew of irregularities at the agency handling Luciany's adoption that have left dozens of babies in danger of being seized from their anguished American adoptive parents. The probe also casts a cloud of uncertainty over some 2,900 pending U.S. adoptions.
Prosecutors describe their probe of Casa Quivira - considered Guatemala's best adoption agency - as their first serious attempt to investigate a $100 million industry that has made tiny Guatemala the largest source of American babies after China.
The system has delivered 29,400 Guatemalan children into U.S. homes since 1990 - so many that one in every 100 Guatemalan babies born each year was growing up in an American home.
But after a months-long investigation that began with the seizure of 46 babies from Casa Quivira last August, prosecutors say they found fraud cloaking the true identities of at least nine children and that half their birth mothers couldn't be found at all.
The fraud points to much deeper problems with the flawed adoption system that Guatemala replaced in January, and casts a cloud of uncertainty over the backgrounds of thousands of children now growing up in America, The Associated Press has learned.
After intense lobbying by U.S. parents, most of the 2,900 pending U.S. adoptions will likely go forward, partly because Guatemala lacks the resources to fully investigate them. Parents of the Casa Quivira babies, however, are stuck in the very nightmare they tried to avoid by spending at least $30,000 per child for hassle-free adoptions.
"I certainly wouldn't want to give Luciany back," said Mary Ball, the child's adoptive mother, her eyes welling up. "She's our family. She's our daughter."
Prosecutors say the problems at Casa Quivira include illegal payments to at least one birth mother, stolen identities - including that of a child stillborn 22 years ago - and a mentally ill birth mother who was incapable of giving consent.
A Guatemalan judge said he would announce Tuesday whether to pursue a trial against Casa Quivira's attorney and notary. Prosecutors also obtained an arrest warrant against the American owner, and they want fresh DNA tests for all the babies, even those whose paperwork is apparently in order.
"Their rights to an identity are violated because if their mothers have no identity, neither do they," prosecutor Jaime Tecu told the judge.
Luciany's story reveals some of the complexities of adoptions in the poverty-ridden country.
Luciany was born on Jan. 4, 2007. Her birth mother shows up twice in her village's civil registry, with the same picture and fingerprints but different names. One says she is Maria Natividad Hernandez, a married woman. The other - created in her village the same day she gave birth to Luciany in a hospital hours away - identifies her as Orbelina Davila Paz, a single woman.
Prosecutors suspect she got a false ID so she and her husband could give the baby up without going before a judge. They believe many of the birth mothers with false identity documents were trying to get around laws that require husbands and grandparents to renounce their rights in court.
Luciany's birth mother gave her to a network of notaries and attorneys supplying babies to Casa Quivira, a spotless home in the picturesque colonial city of Antigua. A few weeks later, Mary and Michael Ball started adoption proceedings for Luciany.
Mary Ball, 39, has an adopted sister, and has wanted to adopt a child since she was a little girl herself. She felt so strongly about adoption that she discussed her plan with Michael even before getting married.
She chose Casa Quivira because her best friend had adopted through the same agency. The Balls did not want to adopt an American child out of fear the birth mother would back out at the last minute.
"We didn't want to grow attached to a child and have that child taken away," said Ball, who prosecutes sex crimes and child abuse in Indiana.
They met Luciany when she was 4 months old and fell in love. She has huge brown eyes and a ton of dark brown hair. Every month they received new photos of her by e-mail. They spent more than $30,000 in agency fees and travel costs.
The Balls were told that Luciany would be living in poverty if she stayed in Guatemala. A visit by the AP to her birth mother's home in Santa Rosa de Lima confirmed the extended family lives in a tiny one-room shack made of cinderblocks, with an open cooking area. Barefoot children played on the dirt floor as sewage water ran past.
While waiting for Luciany, Mary Ball became pregnant herself with a daughter, Isabella. She looked forward to the girls growing up together, along with her 3-year-old son, Hadyn.
Then came the horrible day last August when Mary Ball received an e-mail at work from Casa Quivira. Authorities had raided the agency, seizing Luciany and 45 other babies.
Casa Quivira's notary and attorney were arrested on charges of illegally processing paperwork. Since then, prosecutors also have built a case against the owner, Clifford Phillips of Deland, Florida.
Phillips, who owns the agency with his Guatemalan wife Sandra Gonzalez, an attorney, has denied any responsibility for fraud. The couple has handled hundreds of adoptions since it opened in 1996, and outside adoption experts said their record was spotless.
Phillips told the AP he has been made the "whipping boy" for a system in which corrupt officials have for years supplied and signed off on adoption documents.
"I have nothing to do with documents. I don't touch documents," Phillips said. "They want me to be responsible for making sure the process is not fraudulent? I'm not equipped to do that. I have faith that the Guatemalan attorneys did all they could to check it out."
Defense lawyers for Casa Quivira's attorney and notary, in turn, blamed birth mothers and others for fraud, telling the judge at the Monday hearing that they cannot be responsible for confirming that the documents they present are legitimate.
But Solicitor General Mario Gordillo told the AP that somebody had to have walked the women through the process of falsifying documents, and that Phillips and his lawyer and notary must be held to account.
"These biological mothers many times can't read nor write, much less falsify IDs or birth certificates," Gordillo said.
Thirty-six of the babies seized in the August raid are still being held at Casa Quivira.
Ten more, including Luciany, are now in the United States, with families in Georgia, Illinois, Indiana, Maryland, Massachusetts, Michigan, New Jersey and Pennsylvania.
Luciany finally arrived in Indiana in September, days before Mary Ball gave birth to daughter Isabella. But their uncertainty continues.
If fraud is proven, whatever the reason, Guatemala would invalidate the adoption and try to recover the child, even one that has already become a U.S. citizen.
"We would have to do that, according to the law," Gordillo said.
Custody disputes with Guatemala for babies already in the United States would eventually land before a judge in the adoptive family's hometown, according to the U.S. Embassy. But if document fraud is discovered for babies still in Guatemala, their cases will have to start all over again. A false identity for whatever reason would be a "strong indicator" that the child may not qualify for an immigrant visa, said U.S. Consul John Lowell.
Guatemala, for its part, says it will give priority to U.S. parents who have to restart their adoptions. But these cases will come under the country's new adoption law, which took effect Jan. 1, to comply with an international treaty to prevent human trafficking. The law puts adoptions before Guatemala's notoriously sluggish courts and a new National Adoptions Council, which still does not have an office, a budget or a staff.
The result: U.S. parents could face a very long wait before they know whether they will get their babies.
Mary Ball is ready to fight for Luciany, who has her own room in the family's home west of Indianapolis and a flood of toys from her two doting grandmothers.
"I couldn't give up without a fight because I love Luciany," she said. "I feel she's going to have a great life with us."
Thanks for reading CBS NEWS.
Create your free account or log in
for more features.