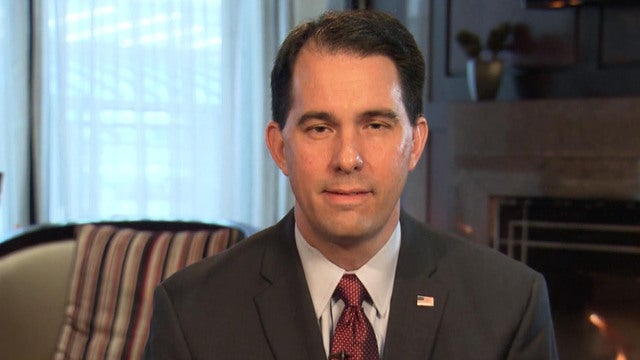 No criticism of Trump's "fat pigs" comment from Walker
When Wisconsin Gov. Scott Walker had the opportunity to denounce Donald Trump's history of offensive comments about women - brought up during Thursday's debate by moderator Megyn Kelly - he stuck to his debate approach and stayed out of the fray.
"Certainly, I think Donald Trump can speak for himself," he said Friday on "CBS This Morning."
The real estate mogul and Republican candidate fired back at Fox News host Megyn Kelly for her question about past comments he's made in reference to women as "fat pigs, dogs, slobs and disgusting animals."
"I think the big problem this country has is being politically correct," Trump said. "...Frankly, what I say, and oftentimes it's fun, it's kidding. We have a good time. What I say is what I say. And honestly Megyn, if you don't like it, I'm sorry."
Walker would only say it's not the kind of language he'd use.
"To me, I think even those I disagree with, I'm going to be respectful," Walker said.
Walker's efforts not to confront his fellow GOP nominees and stay out of the headline-making fights may also be keeping him from standing out in the large field, though.
A recent CBS News poll revealed 55 percent of those surveyed held undecided views of Walker or hadn't heard of him. While some of the other candidates were more aggressive during the debate, the Wisconsin governor maintained a noticeable distance from the brawling nominees, and went after the Democratic frontrunner.
"The real opponent in this race is ultimately going to be Hillary Clinton," Walker said.
On Thursday night he criticized her on issues ranging from foreign policy to abortion.
"I'm pro-life, I've always been pro-life, and I've got a position that I think is consistent with many Americans out there...Unlike Hillary Clinton, who has a radical position in terms of support for Planned Parenthood, I defunded Planned Parenthood more than four years ago, long before any of these videos came out," he said.
While candidates like Gov. Chris Christie and Sen. Rand Paul stole the spotlight with their pointed exchanges, Walker took a milder approach, even describing himself as "aggressively normal" Thursday evening.
Friday morning Clinton was still the only candidate he was singling out. "I said she would be a good 'deceiver-in-chief' but she certainly wouldn't be a good commander-in-chief. We can't trust her to do that and that's what we should spend our time focusing on: the real contrast between what Republicans have to offer and what we get with a Clinton presidency," Walker said.
Pitted against Clinton in a July Quinnipiac University poll, Walker trails Clinton by only one percent, 43 to 44.
Thanks for reading CBS NEWS.
Create your free account or log in
for more features.