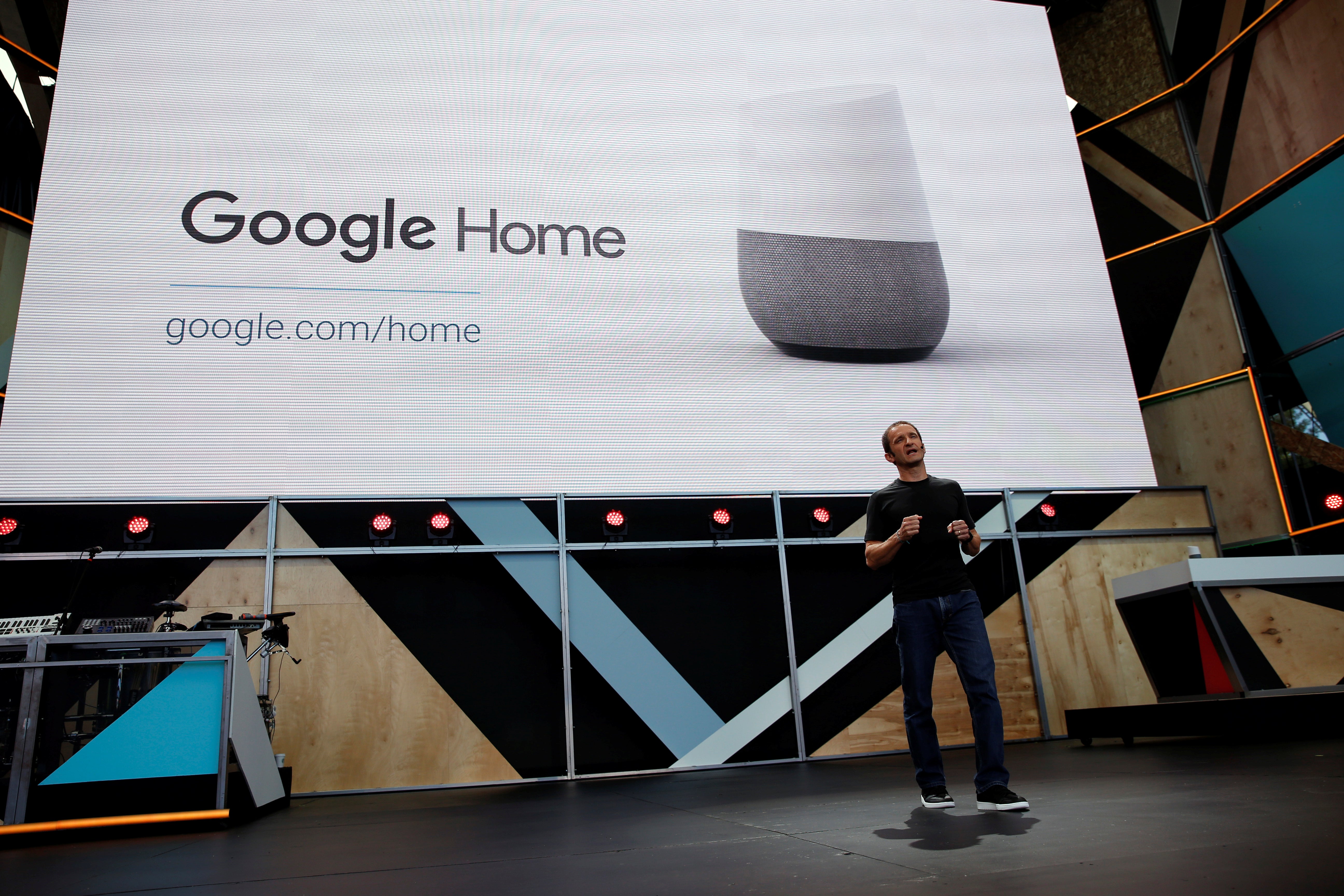 Google I/O: Smart-home speaker, VR system, and chat service debut
MOUNTAIN VIEW, Calif. -- Google is showing off a new smart-home speaker, a virtual-reality system called Daydream and a chat service called Allo. At the same time, the company is demonstrating just how pervasive it has become, even as it's squeezed by its biggest competitors -- Facebook, Apple and Amazon.
More than 7,000 people are attending this year's Google I/O developers conference, the company's annual showcase, in Mountain View, California.
In an attempt to outshine Apple, Google is adding a few more features to the next version of its Android operating system, including a security approach that lets you encrypt specific files rather than the whole phone.
And in a jab at Amazon, the company announced Google Home, an Internet-connected speaker that listens for your voice commands to play music or control lights and thermostats in the home. It is reminiscent of Amazon's Echo and will be available later this year for a yet-unannounced price.
"Google's advantage in this fight could be its large portfolio of popular apps, including Google Maps, Google Photos and Google Calendar, as well as Nest's smart-home devices," writes CNET's Ben Fox Rubin. "Also, Google's digital assistant, known as 'OK Google' or Google Now, already resides in Android smartphones and the Google search app. Having a device that can bring all those items together in an easy-to-use, voice-controlled speaker could give the Echo a run for its money."
Meanwhile, the chat service Allo will use Google's computers to predict how you want to respond, saving you typing. Allo will compete with popular chat services such as Facebook's Messenger and WhatsApp, also owned by Facebook.
Reporters and bloggers from around the world are attending, ensuring that whatever the company unveils will also be featured in stories, pictures and video delivered to a vast audience of consumers. The three-day showcase also attracts thousands of computer programmers, giving Google an opportunity to convince them why they should design applications and other services that work with its gadgets and an array of software that includes the Chrome Web browser and Android operating system for mobile devices.
Android powers about 80 percent of the world's smartphones, largely because Google gives away the software for free to device makers. Google can afford to do that because it designs Android to feature its search engine, maps and other digital services, giving it more opportunities to show the digital ads that generate most of its revenue.
But Apple's iPhone carries more cachet with affluent consumers and often introduces features that Android copies. Apple will hold a similar conference in June to unveil its fall software plans.
Google's bare-bones entry into the still-nascent field of virtual reality came two years ago when it unveiled a cheap headset made out of cardboard. The company is poised to get more serious, given far more sophisticated options available for sale.
With Daydream, manufacturers including Samsung, HTC and Huawei will have smartphones capable of handling it. These headsets promise to be more comfortable and more immersive than the cardboard headset. Google is also distributing guidelines for a new controller with a few buttons, a touchpad and sensors to track its orientation and where it's pointing. The controller can be used to flip digital pancakes, throw things and cast a virtual fishing line.
"With Daydream, Google believes a more comfortable viewer, intuitive controller, a set of rigid requirements for the smartphone and new optimizations in the Android N software will help manufacturers deliver 'the best smartphone-based mobile VR experience' on the market," writes CNET's Sean Hollister.
Analysts are touting virtual reality, a technology that casts its users into artificial, three-dimensional worlds, as one of the industry's most promising areas for growth.
Meanwhile, Google Home and Allo will tap Google's computing prowess. Artificial intelligence, a term used to describe efforts to develop software that acts and behaves more like humans, has been a focal point of Google's for years. Progress in the field has helped Google's search engine comprehend the intent of people's inquiries more quickly and vastly improved the comprehension and responsiveness of its voice-recognition services.
Thanks for reading CBS NEWS.
Create your free account or log in
for more features.