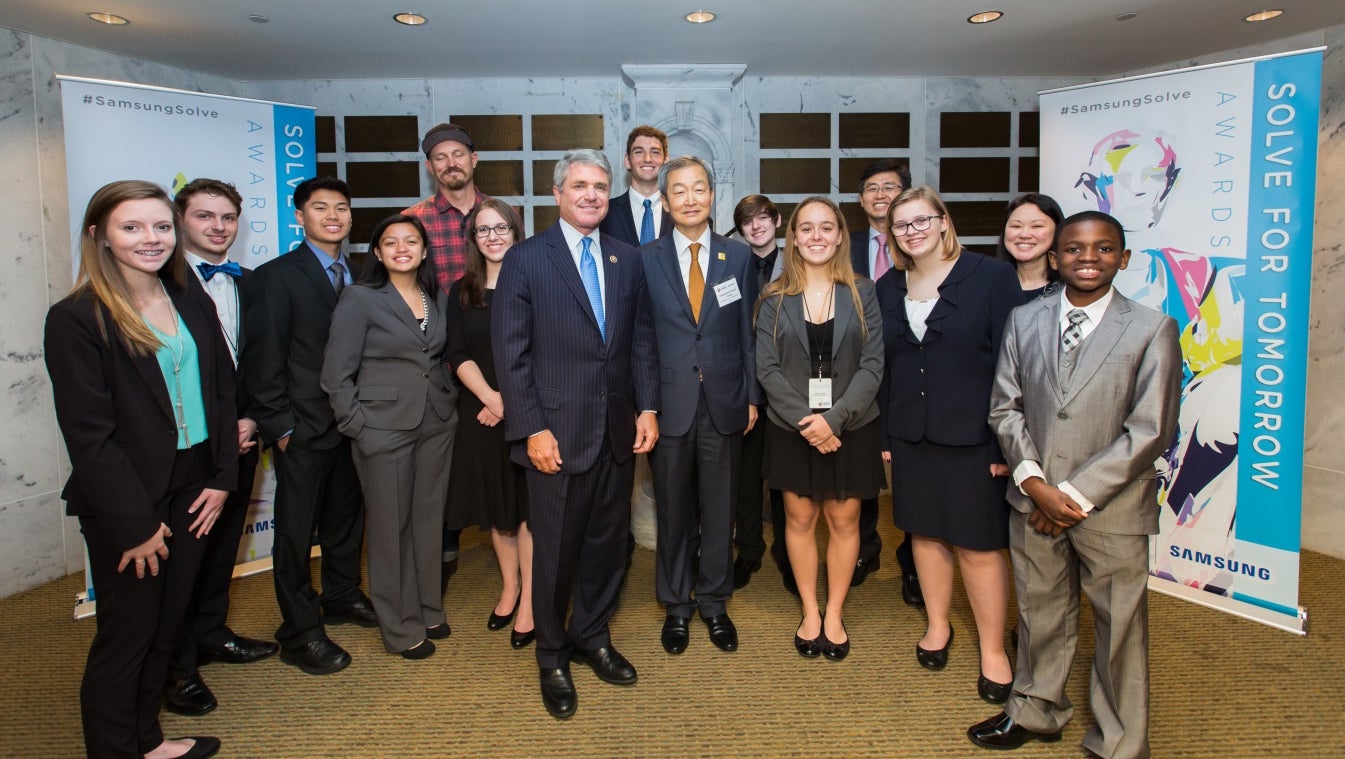 "Most amazing" student inventors honored in Samsung competition
When Grayson Fast, a student at Horizon Middle School in Aurora, Colorado, first started working on a school project aimed at designing an artificial limb for a local veteran, she did not realize that it would garner national attention. The school is near Buckley Air Force Base, and for Grayson, who is the daughter of veterans, having the opportunity to design, develop and 3D-print an artificial limb in an elective engineering class for a local veteran had personal significance. The personal connection she and her classmates felt about their work paid off when the school's project was named one of five winners in the 2016 Samsung Solve for Tomorrow contest, which recognizes students in grades six through 12 nationwide who create STEM (science, technology, engineering, and math) projects to solve problems impacting their communities.
"Originally, I wasn't sure what kind of impact this project would have, but then when I saw how the community responded to our project, everything changed," Fast told CBS News. "It's been really nice to see all of the work we are doing be recognized and to be able to help improve somebody's life. It's life-changing."
The five winning teams were chosen out of a pool of more than 4,100 schools that initially submitted proposals back in October. In March, 15 finalist schools presented their work before a professional judging panel at the Samsung Solve for Tomorrow pitch event in New York City. Finally, the five winning schools were honored for their work at an event in Washington, D.C. on Wednesday. They received a tour of the White House and met their Congressional representatives.
Students from two of the teams -- including Fast, age 14, and her classmates Simon-Peter Frimpong and Maya Max-Villard, both 13 -- also presented their work at the White House Science Fair on April 13.
The stakes were high for these winning public schools. The five teams received a collective $120,000 in educational technology for their schools, and the spotlight shed by Samsung gave greater visibility to the projects, which ranged from Horizon Middle School's prosthetics for veterans to California's Mission Valley ROP/James Logan High School's fully functioning solar-powered charging station for electric vehicles.
The other winning projects include Brooklyn Technical High School's smart watch app that warns pedestrians about oncoming vehicles; Missouri's Ridgewood Middle School's comfortable classroom furniture, engineered for some of their peers with disabilities who had difficulty sitting upright in their chairs; and Virginia's Loudon Valley High School's wireless, solar-powered, weatherproof safety alert system that connects to emergency services, which is particularly useful for hikers and cyclists in remote areas.
When asked what it's like to see the students' work and hear their presentations, Ann Woo, Samsung's director of corporate responsibility, said she is always impressed by the students' ingenuity year after year.
"Two words come to mind -- thrilling and humbling," Woo told CBS News back at the pitch event in March. "Thrilling in that we've read all 4,100 entries, and to see the students in person and be so proud of the work they've done and the energy of wanting to be a national winner and open to learning is just a thrilling experience. It's humbling because I really think that it's hard to read on paper, but to see how much effort they put in to their projects and how they came to make decisions, these things are part of the process, and I think that's really humbling for us and it reinforces for us that we are a catalyst for them to be amazing."
The contest has been around since 2010 to inspire U.S. public school students to pursue STEM topics in school. Woo said that to see students engage with the contest from the conceptual phase to the pitch event and finally to the winners' announcement reveals a "sea change in STEM" unfolding over the course of a school year. These students could be the innovators and entrepreneurs of the future, she stressed.
"When we talk about what is reality today, it is only setting the groundwork for what tomorrow looks like and it's so amazing to see these kids who are going to be CEOs and innovators and leaders. Not only in how they act or think, but what they do now will lay the groundwork for what tomorrow will look like," Woo said.
Powering the future
Students from the Bay Area's Mission Valley ROP/James Logan High School decided to fill a real-life energy need: they developed a solar-powered charging station in a region that has the highest number of electric vehicles on the roads today. That team was the Community Choice Winner, which was selected by a public vote solicited on Twitter and Instagram.
"I, myself, have a background with mechanical engineering, but after this project, it opened my eyes more to other categories, other fields of engineering," Jarrell Masana, one of the school's team members, told CBS News.
Fellow team member Arielle Pascua said that while she had been interested in STEM before, her eyes were now "opened up to engineering."
Their teacher, Ebadut "Eba" Mohamed, said that it was particularly meaningful that his school's project was selected as the public, social media-driven choice.
"As a teacher it was meaningful to see the community get involved throughout this whole process. You know, the students' work got recognized -- we got the attention of a lot of people in government and the industry all around the state and around the country," Mohamed told CBS News. "This gave us a big push that really helped a lot of people identify with the project. It was just a big collaboration between the students and the staff."
Masana said that emphasizing solar-powered, sustainable energy solutions was important to him and his classmates. He said they were motivated by the need to address pollution and find ways to reduce fossil fuel consumption.
They were surprised and thrilled to learn that their project was one of two Samsung winners chosen to be included in the White House Science Fair.
"The day after the social media voting was completed, I got a call from Samsung that they had some news. I thought it was about the contest, but they said no, the White House wanted our project to be in the White House Science Fair," Mohamed said.
He said that he immediately started thinking about the practicality of dissembling their charging station fit for a car and somehow transporting it cross-country to the nation's capital.
What was the solution? He said that his students spent their spring breaks creating a smaller-scale model of the station that they could bring to the fair, creating a new pitch and presentation that would be ready to be shown to none other than President Obama.
"Oh my goodness, I thought it was a prank at first when I heard about the White House," Pascua said. "It was around April Fool's, but then when I found out that it was serious, then, you know, it was time to put on that game face, and everyone got ready."
That same kind of determination to move the project forward, to brainstorm new ideas, to improvise against various constraints is a trait shared by most of the students involved in the contest.
What's next?
Horizon Middle School student Simon-Peter Frimpong said that his team's affordable custom prosthetics have attracted attention not only from the veteran and military community but also from other groups and advocates supporting people with disabilities. Right now, the same team that did so well in the Samsung contest is creating a prosthetic arm for a sixth grade student in their school.
"It's amazing to see that our work paid off, at this event, but also in our school," Frimpong told CBS News. "It's great to know we can help someone."
Frimpong and Fast's teacher, Melinda Possehl, called this group of students the "most amazing" she has ever met in her life.
"They've overcome so many obstacles this year, they've dealt with so many things. Now, we've won this Samsung award and and the kids are looking at this work and seeing it as bigger thing, a global thing. It's more than just a school project," she told CBS News.
Possehl said that outside organizations are now approaching her class, asking for their input into ways to develop prosthetics.
For Fast, the power of this project was watching something small snowball into work that can have a major impact.
"I loved seeing a small project that was helping one person, to see how it can make such a difference. Now, we have the right amount of funds to take the project further, we have more confidence now," she said. "We know what we are capable of and want to do so much more."
Thanks for reading CBS NEWS.
Create your free account or log in
for more features.