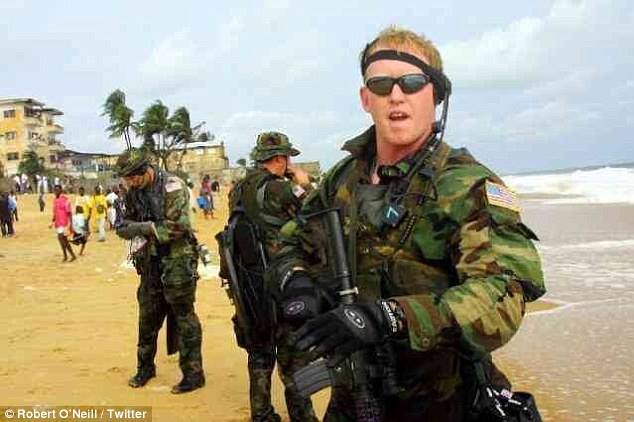 "I'm not trying to make this about me"
Former Navy SEAL Robert O'Neill says he killed the world's most wanted man.
"I turned and went into the next room and I was looking at Osama bin Laden and that's when I shot him and killed him," O'Neill told CBS News correspondent Margaret Brennan.
He said he shot bin Laden three times in the face.
Details of the bin Laden raid were classified as well as the identities of SEAL Team 6, known only by those at the top.
O'Neill's controversial step of revealing his identity and role in the historic mission were overshadowed by a former teammate who leaked O'Neill's identity last week, angry over O'Neill's intent to talk. The 24 Navy SEALs who executed the raid were sworn to secrecy, part of the lifelong pledge taken by all members of the elite force.
"I think it's a difficult secret to keep," O'Neill said. "Everyone was proud. I think it was apparent that we had done it."
What followed did not compare to that extraordinary mission, and within a year, the highly decorated vet no longer wanted to carry a gun. He chose to leave the military after more than 16 years of service.
"Like a lot of guys that are still there now, I stop getting adrenaline when people are shooting, and I knew that that could lead to complacency because if I am not afraid of, that I might wind up doing something stupid thinking that I can't get hurt," O'Neill said.
He was honorably discharged, but his early departure cost him a government pension. So he launched a career as a motivational speaker.
After two years and some tough financial times while transitioning into civilian life, O'Neill decided to share his story -- a controversial choice he made after meeting with families of those killed in the 9/11 attacks. He has received criticism for trying to cash in.
"Well, I'd say if I was cashing in, I would have written a book as soon as I got out. I haven't written a book. I'm not writing a book," O'Neill said.
One of his teammates, who goes by the pseudonym Mark Owen, wrote a book and even spoke to CBS News' Scott Pelley on "60 Minutes."
When asked why he isn't disguising himself, O'Neill said, "It was meeting the 9/11 families and having someone there, being honest, telling the truth, giving them closure."
The two former SEALs give slightly different accounts of the mission. O'Neill maintains that he fired the kill shot. Owen claims they both did.
"I can't speak for him and I can't say what he saw," O'Neill said. "I think he's saying what he saw. And I think it can be foggy. All I can do is tell you what I saw for sure. I'm telling my end of the story."
But the disclosures may have legal consequences, and top officers at the Naval Special Warfare Command recently warned other SEALs to stop talking.
The Pentagon told CBS News they are listening to what O'Neill is saying publicly and monitoring it.
O'Neill said he isn't afraid.
"I would rather that didn't happen... Everything that I've done so far has been done with them in mind, with respect for the Pentagon and the Department of Defense and what they're doing," he said.
Some have criticized O'Neill for taking credit for bin Laden's killing.
"Like I said, this is my part of the story," O'Neill said. "I'm not trying to make this about me."
O'Neill's new mission is to help fellow veterans transition to civilian life. He helped start a charity called Your Grateful Nation to do just that.
"A lot of people have told me it's more stressful thinking about getting out of the Navy than going back to combat, because at least in combat they know exactly what to expect," O'Neill said.
O'Neill hopes his new-found notoriety will provide a platform for him to better serve and help fellow vets. Already they've been able to give money to a fellow former SEAL.
Thanks for reading CBS NEWS.
Create your free account or log in
for more features.