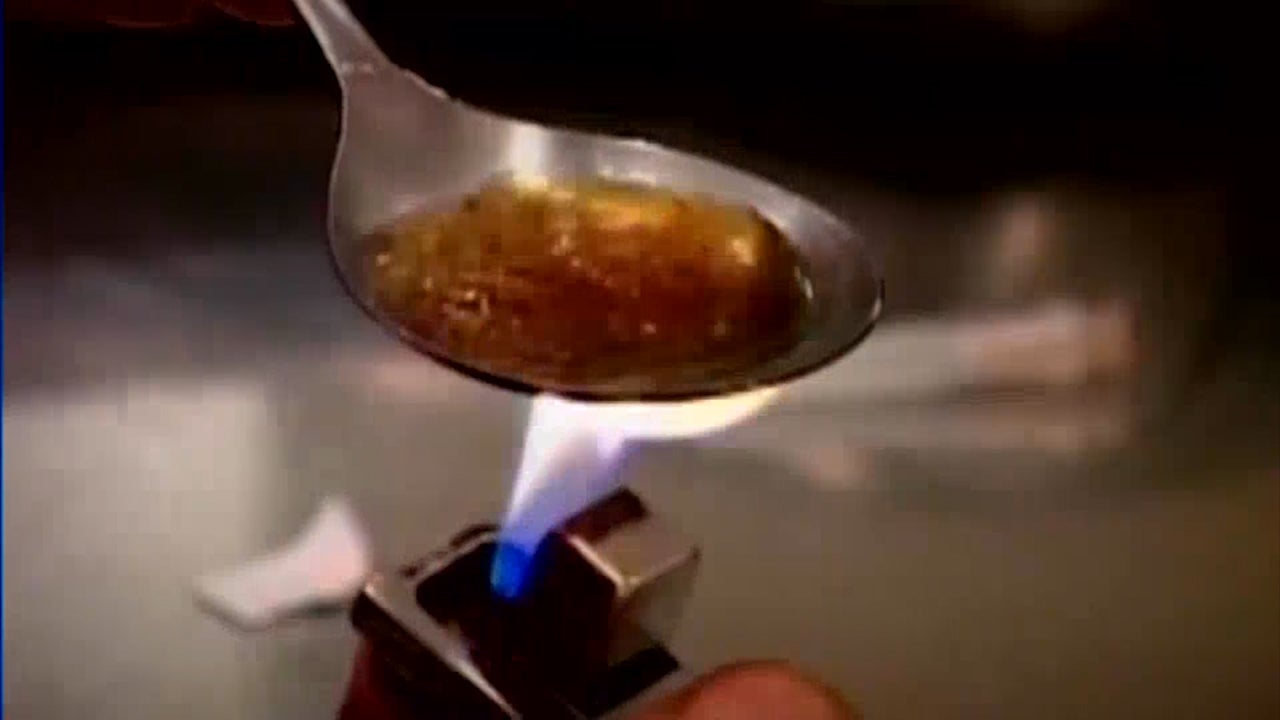 For 2016 candidates, fight against addiction is often personal
The heroin epidemic is particularly acute in New Hampshire, the first state in the nation that holds a primary election, and this has placed the problem at the forefront of the 2016 presidential campaign. Several of the candidates have been personally affected by the addiction of family or friends.
Jeb Bush's daughter, Noelle, struggled with drug addiction and was arrested while he served as Florida's governor. Carly Fiorina's stepdaughter died of a drug overdose in 2009. Other candidates count family members and friends among those who have struggled with drugs. The few who don't have a personal connection to addiction are learning about the magnitude of the problem in town halls and forums with New Hampshire voters.
State officials estimated there were more than 400 deaths from drug use during 2015, twice as many as in 2013. Over half of the deaths that had been reported by mid-December were caused by fentanyl, an opiate that can be more powerful than heroin, according to New Hampshire's chief medical examiner.
A full twenty-five percent of New Hampshire adults said drug abuse was the top issue facing their state in an October WMUR Granite State Poll. It was the first time in eight years that jobs and the economy hadn't taken the top spot.
There's widespread agreement that sentencing laws need to change so nonviolent drug offenders end up in treatment, not prison. But Republicans are more likely to point to drug courts and state solutions, where Democrats see room for lots of federal investment.
Here's a look how candidates want to tackle the problem.
Chris Christie
In an interview earlier this year, the New Jersey governor made an emotional plea to improve treatment for drug addiction that turned into a viral video. He talked about a law school friend who began taking Percocet to treat a back injury, and ultimately became addicted. In spite of an intervention he and his friends held, the friend went in and out of rehab before he was found dead in a hotel room 10 years later with an empty bottle of Percocet and an empty quart of vodka.
Christie also talked about how people like his mother, who got lung cancer from smoking, received far more compassion than people who become addicted to heroin, cocaine or alcohol.
"Every life is precious, every life is an individual gift from God," he told a New Hampshire audience. "We have to stop judging and start giving them the tools they need to get better."
As governor and as a presidential candidate, he's advocated treatment programs over prison sentences for drug offenders.
In late April, Christie signed legislation to establish a statewide Opioid Law Enforcement Task Force and to expand drop-off locations for unused prescription drugs. As president, he would instruct his attorney general to establish more drug courts and push people into mandatory addiction treatment rather than prison.
Jeb Bush
Bush this week opened up about his daughter's struggle with addiction as a way to connect with voters.
"The pain that you feel when you have a loved one who has addiction challenges and spirals out of control is something that I share with a whole lot of people," he said at a New Hampshire forum on addiction and the heroin epidemic Tuesday.
And in a post on Medium he presented a plan targeting drug supply and demand. He favors starting drug abuse and addiction prevention during childhood, helping nonviolent offenders get treatment, increasing punishments for drug sales, stopping the flow of illegal drugs across the border, and improving treatment and recovery programs.
"It will take real leadership that makes solving the problem a top priority. I've successfully fought this epidemic as a Governor, but more importantly, I've experienced it as a father," he wrote.
Carly Fiorina
Fiorina, who lost her stepdaughter to a drug overdose in 2009, warned that continuing to criminalize drug addiction will not solve the problem.
"The system we have today is part of the problem now, not part of the solution," she said. "We now have the highest incarceration rates in the world. And the majority of people we have in prison are people like my daughter, Lori -- struggling with addiction."
In an op-ed for Time, she wrote that the U.S. must invest more in the treating drug addiction and put nonviolent drug offenders into treatment, not prison. She praised states like Texas, which created special drug courts to deal with problems of addiction, and Georgia, which has prioritized helping inmates with education and jobs, so they can better plan for their lives after prison.
John Kasich
Like many of his Republican colleagues, the Ohio governor talks about the importance of reducing jail sentences, going after dealers, and adequately funding drug rehabilitation programs. At the New Hampshire forum Tuesday, he told voters that as governor, he ordered state agencies to stop requiring that job seekers disclose whether they have a prior criminal conviction.
But he has also questioned the efficacy of using funds for school anti-drug programs.
"We don't need to give a school teacher money or training to tell kids, 'Don't get on drugs,'" he said at the forum. "If someone can convince me that we need money, I'm willing to listen, but I haven't figured it out yet."
Instead, he suggested that putting mentors into schools can convince kids to stay away from addictive substances.
Donald Trump
The businessman, who called the heroin problem "an unbelievable problem" at an event in New Hampshire, said, "You know where that stuff comes from...," a reference to his previous claims that immigrants bring drugs across the southern border.
"We're going to work on it, and we're going to work on it very strongly," he said, although he did not give specifics. His brother, who struggled with addiction, died of alcoholism.
Ted Cruz
The Texas senator has also not spoken extensively about how to tackle heroin addiction, but he considers it a local issue.
"I think dealing with the challenges of drug and alcohol addiction and treatment and rehabilitation are primarily questions for state and local officials and health care professionals, but it is a rising problem that needs to be dealt with, and dealt with seriously," he told Roll Call in October.
Ben Carson
The former neurosurgeon tied the rising rates of addiction to shifting American values and a heightened focus on political correctness in a November appearance on CBS' "Face the Nation."
"We have to really start asking ourselves, 'What have we taken out of our lives in America? What are some of those values and principles that allowed us to extend the ladder of success so rapidly to the very pinnacle of the world, and the highest pinnacle anyone else had ever reached? And why are we in the process of throwing away all of our values and principles for the sake of political correctness?' he said when asked about the WMUR poll.
He then referenced the flow of drugs across the southern border, and said, "We need to not give up on this war on drugs, and certainly not to facilitate it. We can do this, but we have to have the national will to do it."
Hillary Clinton
The former secretary of state has spoken extensively with voters about heroin addiction throughout her campaign. She proposed a plan to tackle the epidemic in September.
Her plan mainly relies on financial incentives for states, for initiatives like programs to stop or prevent young people from taking drugs, and to get them treatment if they need it. She also wants states to be sure that first responders have access to naloxone, the drug that can help treat an opioid overdose, and that they use state prescription drug monitoring programs to ensure that opioid painkillers are being prescribed appropriately. More broadly, she has called for criminal justice reform that will push people into treatment rather than prison.
"We need to do more on the prescribing end of it. There are too many opioids being prescribed, and that leads directly now to heroin addiction. And we need to change the way we do law enforcement, and of course, we need more programs and facilities, so when somebody is ready to get help, there's a place for them to go," she said at the Democratic debate in December.
Bernie Sanders
Sanders, along with Maryland Rep. Elijah Cummings, wants states to make deals with the company that makes naloxone to ensure prices don't skyrocket.
"I think we have got to tell the medical profession and doctors who are prescribing opiates and the pharmaceutical industry that they have got to start getting their act together. We cannot have this huge number of opiates out there throughout this country, where young people are taking them, getting hooked, and then going to heroin," Sanders said at the debate.
He also said the U.S. must "radically" change the way it deals with mental health and addiction issues to ensure that they do not have to wait several months for treatment.
Martin O'Malley
The former Maryland governor has during the course of the campaign mentioned a close friend who lost a daughter to addiction.
He has called for better federal monitoring of the epidemic and $12 billion in federal investment and partnerships to help reduce drug overdose deaths. O'Malley would als expand access to naloxone among first responders and hospitals.
He would build on policies he implemented as governor such as allowing Medicare and Medicaid dollars to be used to cover medications that help reverse overdoses and treat addiction. O'Malley also wants more physician training on drug prescriptions and stronger prescription drug monitoring programs.
Thanks for reading CBS NEWS.
Create your free account or log in
for more features.