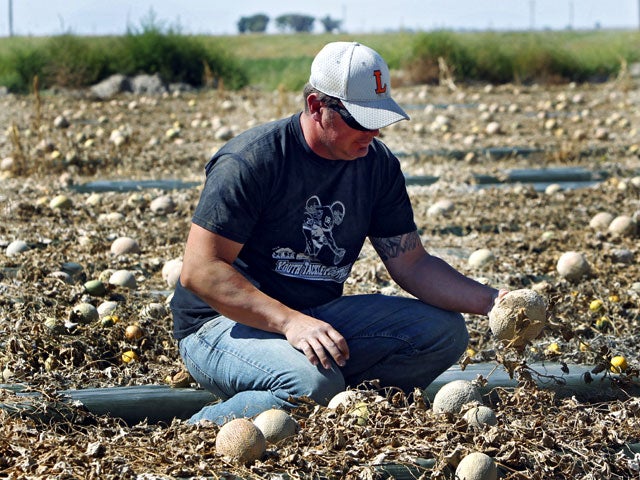 Feds charge Jensen Farms over 2011 listeria-cantaloupe outbreak
Jensen Farms made headlines in 2011 when its sweet Rocky Ford cantaloupes were linked to a deadly listeria outbreak.
Now the farm's owners are facing federal charges for their role in the outbreak that killed 33 people and was linked to one miscarriage, in addition to sickening 147 people nationwide. The company, based in Colorado, later filed for bankruptcy.
On Thursday, owners Eric and Ryan Jensen turned themselves in to U.S. Marshals in Denver where they were taken into custody and brought up on charges, according to a press release issued by John Walsh, U.S. Attorney of the District of Colorado. They are charged with allegedly introducing cantaloupes containing the poisonous listeria monocytogenes bacteria. Also, the cantaloupes were "prepared, packed and held under conditions which rendered it injurious to health," the complaint added.
The Jensen brothers were charged with six counts of adulteration of a food and aiding and abetting. If convicted, each faces one year in federal prison and a fine of up to $250,000 per charge.
A news release from U.S. Department of Justice goes into further detail how the brothers allegedly contributed to the 28-state outbreak that wasdeclared over in Dec. 2011. The cantaloupe's processing center took fruit from the fields and transferred them to a conveyor system where they were cleaned, cooled and packaged. The fruit should have been washed by antibacterial solutions to rid them of bacteria.
However, the Jensens allegedly changed the system in May 2011, installing a system built to clean potatoes that was supposed to include a chlorine spray for cleaning fruit, an investigation from the Food and Drug Administration and Centers for Disease Control and Prevention revealed. According to the U.S. attorney's office, the spray was never used and both defendants were aware their cantaloupes could be contaminated if they weren't washed properly.
"As this case so tragically reminds us, food processors play a critical role in ensuring that our food is safe," Walsh said in the statement statement. "They bear a special responsibility to ensure that the food they produce and sell is not dangerous to the public. Where they fail to live up to that responsibility, and as these charges demonstrate, this office and the Food and Drug Administration have a responsibility to act forcefully to enforce the law."
The outbreak had originated from Sweet Rocky Ford cantaloupes shipped from Jensen Farms from July 29 through September 10, 2011 to at least 24 states. The cantaloupes were recalled Sept. 14 but officials had warned earlier to throw out any cantaloupes from the Rocky Ford region of Colorado to ensure safety.
Listeria infection, or listeriosis, can cause symptoms including fever, diarrhea, muscle aches, headache, stiff neck, confusion, loss of balance and convulsions. Some healthy people may experience no symptoms after ingesting the bacteria, while older adults, pregnant women and people with weakened immune systems may experience more severe illness.
A spokesperson for the Rocky Ford Grower's Association noted in an email to CBSNews.com that Jensen Farms is 90 miles away from the region despite using the "Rocky Ford" name on its cantaloupes, which almost took the livelihood of many farmers in the area when the CDC began warning about cantaloupes from the region early on in the 2011 outbreak.
"If there is any good to come from this situation, it's that it has led to a laser-like focus on enhancing safety procedures in the Rocky Ford growing area," Michael Hirakata, president of the Rocky Ford Grower's Association, said in a Sept. 26 statement.
The CDC has more information on the 2011 listeria outbreak.
Thanks for reading CBS NEWS.
Create your free account or log in
for more features.