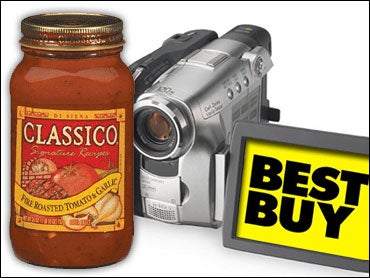 Family Receives $1,600 Jar Of Pasta Sauce
The Rittenbergs planned to shoot family movies with a new camcorder. They may have to settle for a family pasta dinner, instead.
The couple paid about $1,600 for a camcorder at a Best Buy store in the St. Louis suburb of Ellisville last week. They said when they opened the box, they found something they hadn't pictured: a jar of Classico pasta sauce where the camera should have been.
"The only thing I thought was, 'you've got to be kidding me,"' Melisa Rittenberg, 36, of the southeast Missouri town Perryville, said.
Also inside the box was a telephone cord and an electric outlet cover, all positioned in the box where the camera equipment should have been. So far, they're stuck with the spicy red pepper sauce, though a Best Buy manager said the company is working to resolve the matter.
Here's the couple's side of the story: Rittenberg and her husband, Jim, 37, bought a camcorder for about $600 on Nov. 19 at a Best Buy in Cape Girardeau, Mo., about 115 miles south of St. Louis.
They wanted a camera with better picture quality, so Jim decided to exchange it for the more expensive Sony camcorder. Because they were going to visit relatives for Thanksgiving, Jim made the exchange at the Best Buy store in Ellisville on Wednesday.
When he opened the box at his parents' home, he found the jar of pasta sauce — which weighs about as much as the electronic equipment — but no camcorder, Melisa Rittenberg said.
When the couple tried to return it, they were told by Best Buy that the box had been sealed, so the swap couldn't have happened at the store.
"We are not thieves," said Melisa Rittenberg, a school district speech pathologist. The couple filed a police report, and Ellisville police are investigating. The Rittenbergs have not heard back from Best Buy or Sony concerning if they will receive a replacement camera or reimbursement.
The Best Buy general manager in Ellisville, Wade Trapp, said a decision on how to resolve the problem has not been determined.
San Diego-based Sony Electronics Inc. said it had a record of the incident. The company said it had not fielded any other complaints about pasta sauce being discovered in place of cameras.
Meanwhile, the Rittenbergs have what amounts to a $1,600 jar of pasta sauce. Melisa Rittenberg advised customers to check inside the box before leaving stores.
"You take it out of the store, and it's yours," she said. "It could be an empty box. It could have a jar of sauce in it, like ours."

Thanks for reading CBS NEWS.
Create your free account or log in
for more features.