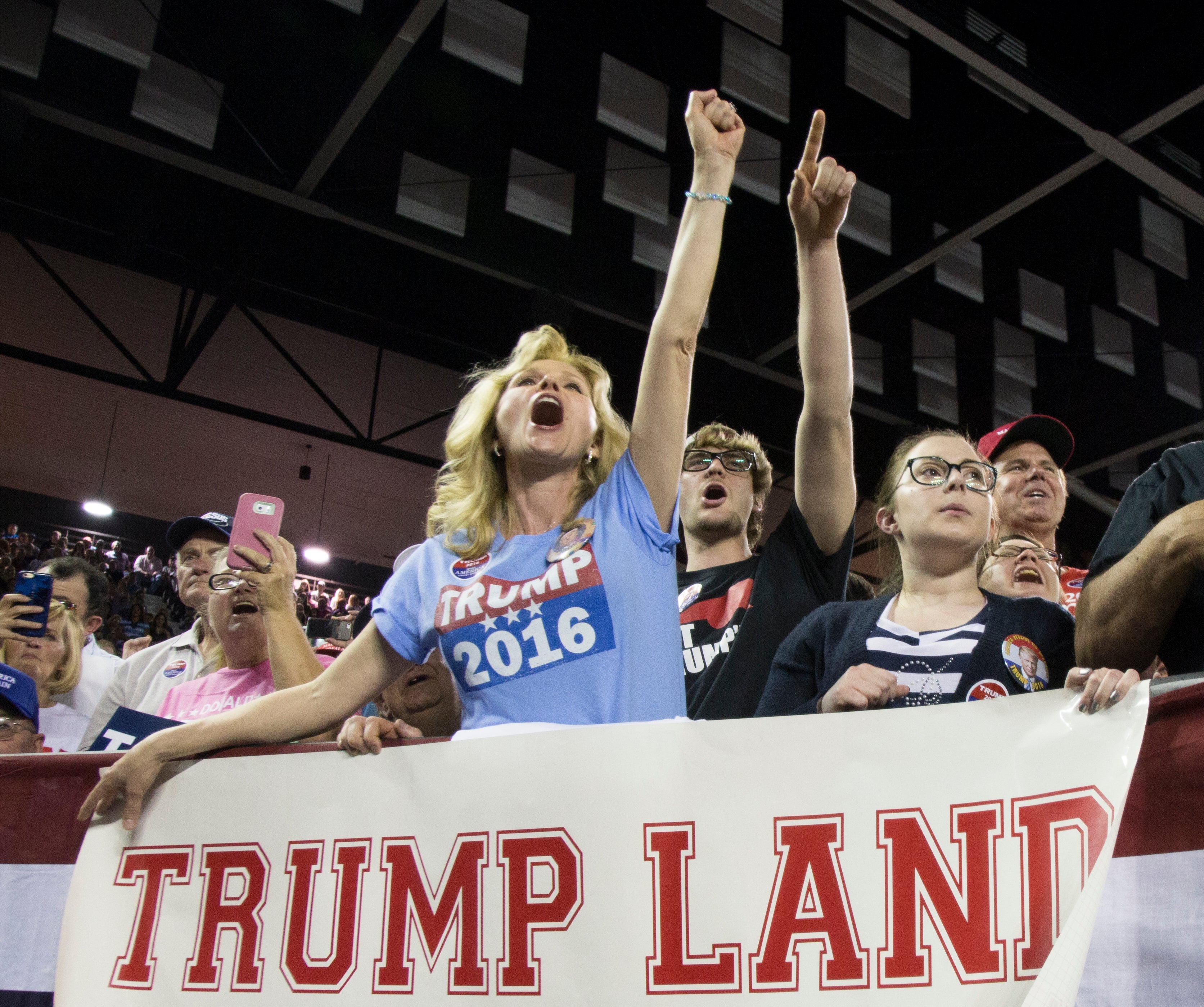 Some Emory University students "in pain" after "Trump 2016" chalked on campus
The specter of a Donald Trump presidency is so disturbing to some college students that they're protesting pro-Trump chalk writings on their campus, according to a report by Emory University's campus newspaper.
The words "Trump 2016" appeared earlier this week scrawled in chalk around the college campus, the Emory Wheel reported Monday. In response, a few dozen students gathered at the school's administration building later that day, holding signs that read "Stop Trump" and "Stop Hate." According to the paper, the activists shouted, "You are not listening! Come speak to us, we are in pain!"
When protesters moved to demonstrate inside the administration hall, school officials issued a swift answer. College president Jim Wagner met with the students, who expressed anxiety that the writings were threats to their safety rather than political speech, considering Georgia's Republican primary was held earlier this month.
"The students shared with me their concern that these messages were meant to intimidate rather than merely to advocate for a particular candidate, having appeared outside of the context of a Georgia election or campus campaign activity," Wagner wrote in a university-wide email Tuesday. "During our conversation, they voiced their genuine concern and pain in the face of this perceived intimidation."
Some of the students, according to the Emory Wheel, complained about the slow response time to their grievances, although university administration officials met with demonstrators on the day the protests took place. One question posed to the university during the protest included: "Why did the swastikas [spray-painted on a Jewish fraternity house in 2014] receive a quick response while these chalkings did not?" Another asked if the university would "decry the support for this fascist, racist candidate" in an official campus statement.
In response, Wagner's Tuesday email said the university "cannot dismiss their expression of feelings and concern as motivated only by political preference or over-sensitivity."
"As an academic community, we must value and encourage the expression of ideas, vigorous debate, speech, dissent, and protest," he said. "It is important that we recognize, listen to, and honor the concerns of these students, as well as faculty and staff who may feel similarly."
In the future, Wagner promised to make "immediate refinements" to the procedures addressing social justice issues on the campus.
The university further ruled the chalk writings a "violation of policy" because of where they had appeared.
In a statement to CBS News, a university spokeswoman said, "Chalkings by students are allowed as a form of expression on the Emory campus but must be limited to certain areas and must not deface campus property---these chalkings did not follow guidelines---that's the issue regarding violation of policy, not the content."
Some conservative students at the campus are launching their own response to the protests.
According to a Washington Post report, the College Republicans and another university group, the Young Americans for Liberty, scheduled a "free speech wall" demonstration for next week.
"I think the response from President Wagner was just kind of embarrassing for the school -- because it's not his job to police who students on campus can and cannot support," Amelia Sims, chair of the College Republicans group, told the Post. "Part of being in college is having experiences where you question your values, question what you believe...It should not be that universities are just echo boxes, so people can't encounter opinions they disagree with."
Thanks for reading CBS NEWS.
Create your free account or log in
for more features.