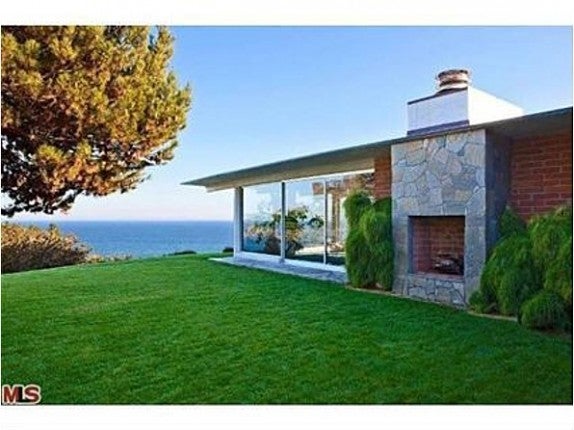 Ellen DeGeneres buys Brad Pitt's Malibu home
Home prices have dropped tremendously for most Main Street Americans since the collapse of the housing market in 2008. Foreclosures have skyrocketed and short sales are more prevalent, bringing home prices down overall and contributing to an oversaturated market. It's not unheard of for a home to sit on the market more than a year before finally selling for well below asking price.
Even so, the luxury real estate market is still booming in many parts of the nation.
Celebrity real estate is one sector of the luxury market that continues to flourish, with Hollywood royalty scooping up mansions that still cost millions. The latest power couple to jump back into the market is Ellen DeGeneres and Portia de Rossi, who recently put their Beverly Hills home - which was featured in Architectural Digest - on the market for $49 million. Back in June, the entire compound was rumored to be listed at $55 million.
Rihanna's Beverly Hills home on the market
Twilight stars' Bel Air mansion up for sale
Oprah's Chicago apartment for rent
Instead of waiting for the Beverly Hills home to sell, the couple is diving head first back into the market by becoming buyers once again. According to Zillow's real estate blog, DeGeneres and de Rossi recently purchased Brad Pitt's 4,000 square foot former home in Malibu. People Magazine reports the couple spent roughly $12 million on the new digs, which Pitt bought for $8.4 million after his divorce from Jennifer Aniston.
The mid-century modern home features four bedrooms, four bathrooms and dark bamboo floors throughout. It's the ideal place for the couple and their pets - it's situated on 1.26 acres and offers access to a sandy beach cove for nice walks with the dogs.
Pitt spent months renovating the home when he first purchased it, and his attention to detail is evident in the finishes. The kitchen is stainless steel and features a walk in refrigerator and freezer, as well as other top-of-the-line appliances. Walls of glass showcase the spectacular shoreline views.
The listing touts approval for a second story designed by renowned architect Chris Sorensen, but we'll have to wait and see if DeGeneres and de Rossi choose to add more rooms. If Ellen and Portia's L.A. home is any indication, they may be planning to add a lot more space to this 4,000 square foot bluff-top palace.
Thanks for reading CBS NEWS.
Create your free account or log in
for more features.