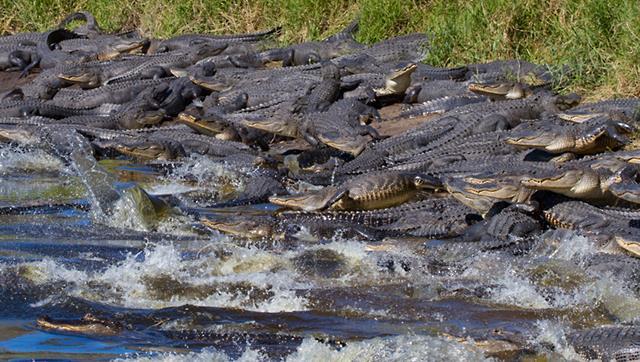 Dozens of alligators flock to 134-foot-deep sinkhole in Florida
It was like a scene out of a horror film, as dozens of alligators gathered around a giant sinkhole lined with vultures as hikers watched -- standing as still as statues -- from a distance.
Only a handful of people were able to make their way through the gates of Myakka River State Park in Sarasota, Florida, this week. A limit of 30 people are allowed to visit each day in order to retain the "wilderness experience," park manager Stephen Giguere told CBS affiliate WTSP in Florida.
It's a hot and sticky hike 2-mile hike to get to "Deep Hole," the 134-foot-deep sinkhole formation that's about one-third of an acre in size, where the alligators like to hang out. The sinkhole is located at the lower lake of Wilderness Park at Myakka River State Park.
"On a typical day in the dry season you can see 50, 150, 200 alligators," Giguere said. "They congregate to this area only deep water left during dry season and a good source of food."
From a distance, the alligators look like logs lined up along the bank, but when you take a closer look, you can see their rough skin and narrow jaws.
"When you grab your binoculars, they're alligators," Fred Vogell, a park visitor from Connecticut, told WTSP. "You'll see some very large ones there."
He's not lying.
Those who have visited the park, like photographer Lee Dalton, have shared their terrifying -- yet breathtaking -- views of the gators.
The photographer, who is from Sussex, England, but was living in Fort Meyers at the time, recently shared photos of "Deep Hole" on his photography Facebook page to show what the sinkhole looked like after a "fish kill" with vultures and alligators back in January.
"I had heard it was a good place for watching alligators, but I was not expecting that many," Dalton told CBS News. "I couldn't believe my eyes when I got there. The sheer number was astounding. I'd never seen anything like it before."
As long as you don't get close to the edge of the water, visitors are in for a safe and memorable experience, Dalton added.
"They were friendly, pretty sedentary, minding their own business," Don Stern, a hiker from New York, described.
They may appear peaceful, but they can run up to 35 miles per hour in "short bursts," Giguere warned.
The park is open 7 days a week, but remember, Giguere said, permits to go inside the wilderness preserve are limited to 30 — so get there early.
Thanks for reading CBS NEWS.
Create your free account or log in
for more features.