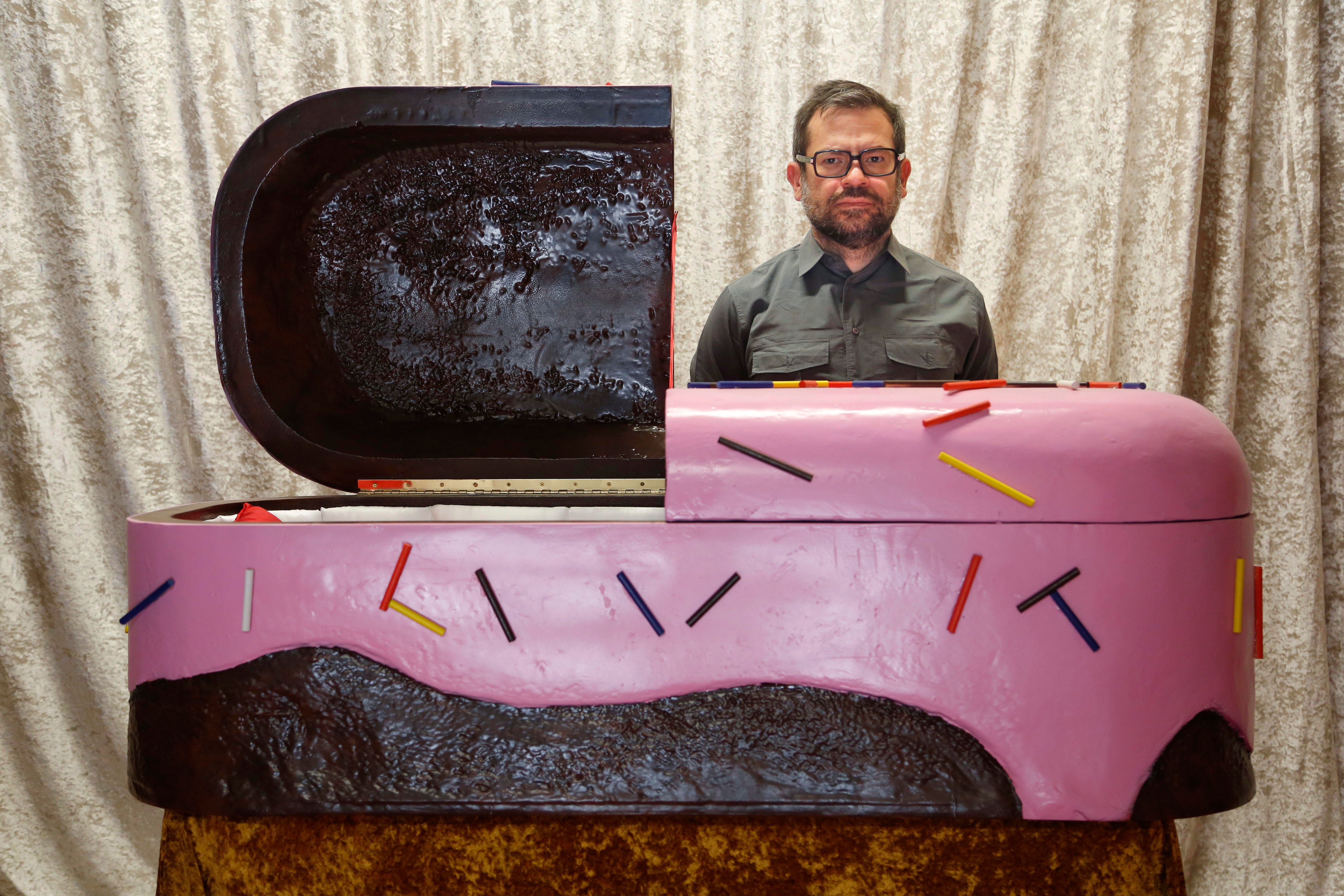 Scary election-year politics come to life in "Doomocracy"
NEW YORK -- Artist Pedro Reyes thinks American politics are pretty darn terrifying, especially this election year, and he wants to scare the wits out of you with his "Doomocracy" exhibition.
Alternately called "The Haunted House of Political Horrors," the satirical, performance-based installation that opened Friday has visitors navigate a series of rooms that deal with scary things like gun violence, climate change and painkillers addiction.
"When I think of Frankenstein, I think of genetic engineering and the food industry," said the artist, whose primary home is in Mexico City. "When I think of vampires, I think of banks and the financial sector, or if you think of zombies, you can think of how people are addicted to prescription drugs."
Spread over three floors of the sprawling Brooklyn Army Terminal, it's timed for both Halloween and the general elections - "a perfect recipe to do something with a haunted house with the most scary things you can find today, which is politics," he said. "Monsters are fantasy, but the scary things we're dealing with for this project are real."
As Reyes began considering how "these metaphors of scary things" could be staged, he appropriated the haunted house format - walking through a maze of horrors - for an "intense theatrical experience" in which groups of 12 people walk from room to room encountering short skits performed by actors and audience members cast in roles.
The experience starts in front of a monumental effigy Reyes created of the Statue of Liberty as a Trojan Horse, representing "this idea of how war has been normalized ... in the name of freedom."
Visitors are then whisked in a minivan to another building to begin a tour of 14 darkened rooms.
One room is a commentary on the diabetes epidemic and the food industry. It simulates a funeral parlor dominated by a coffin in the shape of a pink-frosted Twinkie while a man plays junk-food jingles on an electric organ. The undertaker explains to prospective customers - the audience - the new trend in fashioning coffins in the shape of people's favorite sugary foods.
In another room, the setting is a corporate boardroom where a bailout unfolds; the audience votes on whether to get a big bonus or save the company.
The project provides a "space for catharsis for all the things that you fear every day," Reyes said.
Katie Hollander, executive director of Creative Time, which is presenting the project, explained how it came about.
"As the political climate continues to heat up and became in some ways more and more absurd we felt it was a project that needed to be realized," she said. "People are really struggling to understand the complexities and absurdities of this particular election and feel that our candidates and elected officials aren't necessarily tackling the big issues of our time."
In a fake polling place, audience members fill out referendum ballots. In the next room, they're in for a bit of a shock (which won't be disclosed here). In fact, during a press preview, some rooms were off-limits in the interest of creating an aura of mystery. When asked if any skits involved actors in the role of Hillary Clinton and Donald Trump, Reyes would say only that visitors were in for a surprise at the end.
"Doomocracy" runs on Fridays, Saturdays and Sundays from 6 p.m. to midnight through Nov. 6. Advance ticket purchase is necessary for the two-hour experience.
Thanks for reading CBS NEWS.
Create your free account or log in
for more features.