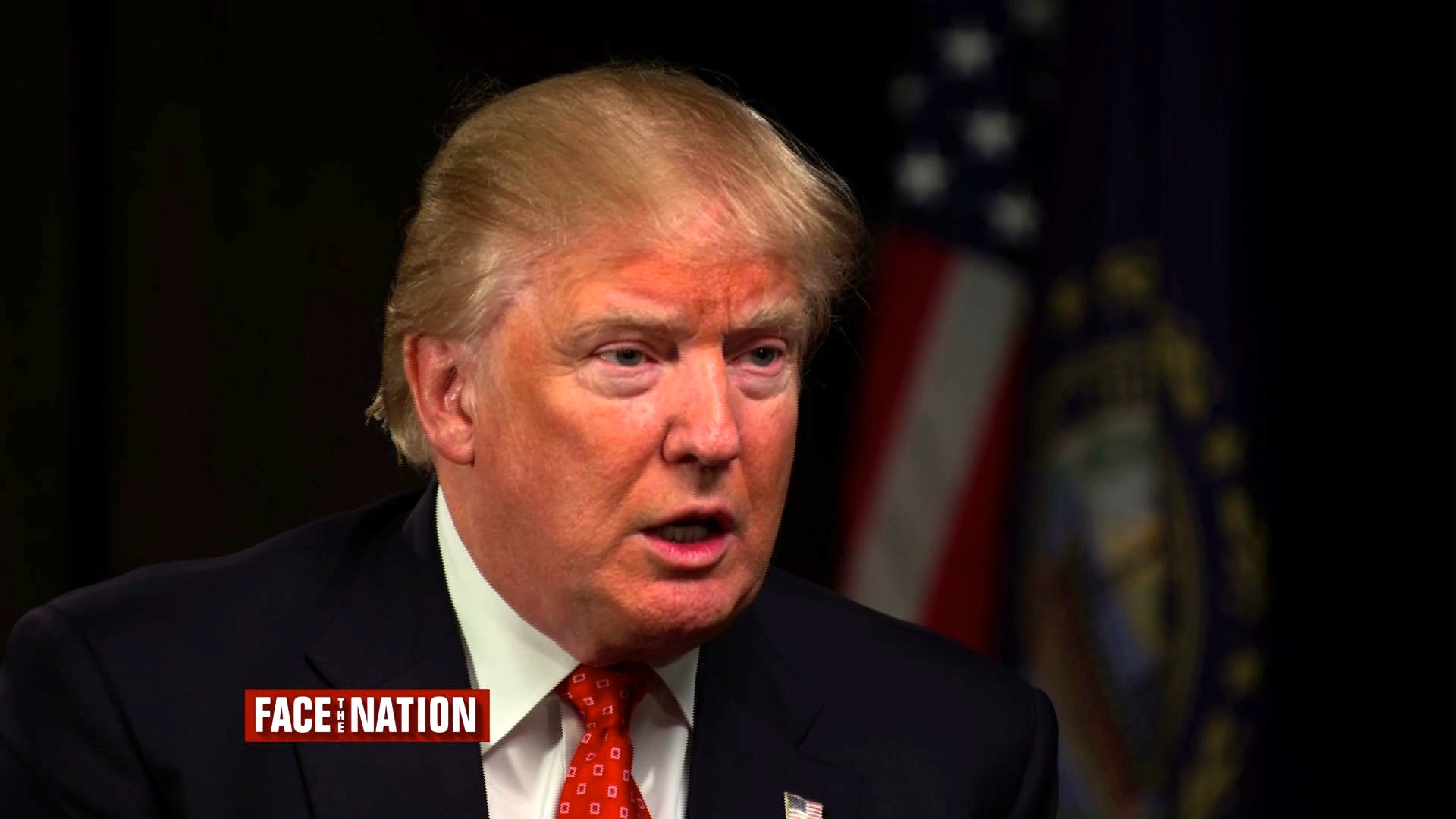 Donald Trump: No regrets about missing GOP debate
Republican presidential frontrunner Donald Trump said Friday that he has no regrets about skipping Thursday night's GOP primary debate to hold a fundraiser for veterans groups instead.
"We gave a tremendous performance with lots of different people for the veterans," Trump told "Face the Nation" moderator John Dickerson in an interview taped for this Sunday's broadcast. "And we raised...six million dollars. And we had less than a day to do it...And on top of that, we got great coverage. Because the debate was not as exciting as what we did."
Dickerson recalled an exchange during the 2012 Republican primary, when Trump accused the GOP candidates in that cycle of lacking courage after they declined to participate in a Newsmax-sponsored debate that he was supposed to moderate. Dickerson asked Trump, "Why can't that be said about you?"
"Here's the difference," Trump replied. "I was treated very unfairly by Fox...They weren't treated badly. I mean, I was treated very, very badly by Fox. They issued a statement that was an inappropriate statement. Now, what happened is, since then, they've been very nice. And they tried very much to get me to do the debate. By that time, the event, my counter-event had taken off."
"I mean, it was a press release," Dickerson countered. "You were offended...aren't you being a little too politically correct?"
"You know what I did? I went out, and I raised $6 million for vets," Trump responded. "That's more important, frankly, than doing a debate. Because I've done, already, six debates. Supposedly, I've won all six, according to every single poll...I'm just saying, when do these debates stop? I have another one coming up, I guess, in another week. So you have debates all the time."
Dickerson also asked Trump about his fundraiser for veterans' groups, and the accusations from some groups that he was using veterans as a political prop to avoid the debate. Paul Rieckhoff, the founder of Iraq and Afghanistan Veterans for America, declared on Twitter that he would reject any money from the fundraiser, if offered. "We need strong policies from candidates, not to be used for political stunts," he said.
Another group, progressive-leaning VoteVets.org, put out a statement labeling Trump a "loser" who was using veterans to "protect" himself from Fox News' Megyn Kelly, the co-moderator of Thursday's debate with whom Trump has publicly feuded.
"I haven't seen that," Trump said of the criticism from some veterans' groups. "They were so happy last night. We had tremendous numbers of vets there. You saw the crowds outside, thousands of people standing outside....And boy, the vets really loved it. I hadn't heard that. Why would they be against raising money?"
"The idea is you were offended by Fox, wanted to not be in the debate," Dickerson explained. "And then you concocted the veterans thing kind of as an afterthought."
"Honestly, I haven't heard about this," Trump insisted. "In fact, you know, if you tell me that, I can tell you that the vet groups that we dealt with are so happy. And they're going to be splitting up $6 million. That's pretty good."
Trump's campaign said the money collected Thursday night would be distributed to 22 veterans organizations, but the Wounded Warrior Project, to which Trump has previously donated, was not on the list.
When Dickerson asked him what that was the case, Trump cited a recent CBS News report that found that only 60 percent of the money received by the Wounded Warrior Project is actually spent on veterans, while some comparable organizations spend more than 90 percent of their funding on veterans.
"We saw some bad stories about them...I think, on CBS, actually," Trump said. "And I think I want to give it a little pause, until we find out whether or not that stuff is correct. So we look very carefully. I always do. I look very carefully as to expenses and what things are costing and how they allocate their money. And I like to see nice, low numbers in terms of expense. Those numbers were pretty high."
To see more of our interview with Trump, make sure you tune in on Sunday. Check your local listings for airtimes.
Thanks for reading CBS NEWS.
Create your free account or log in
for more features.