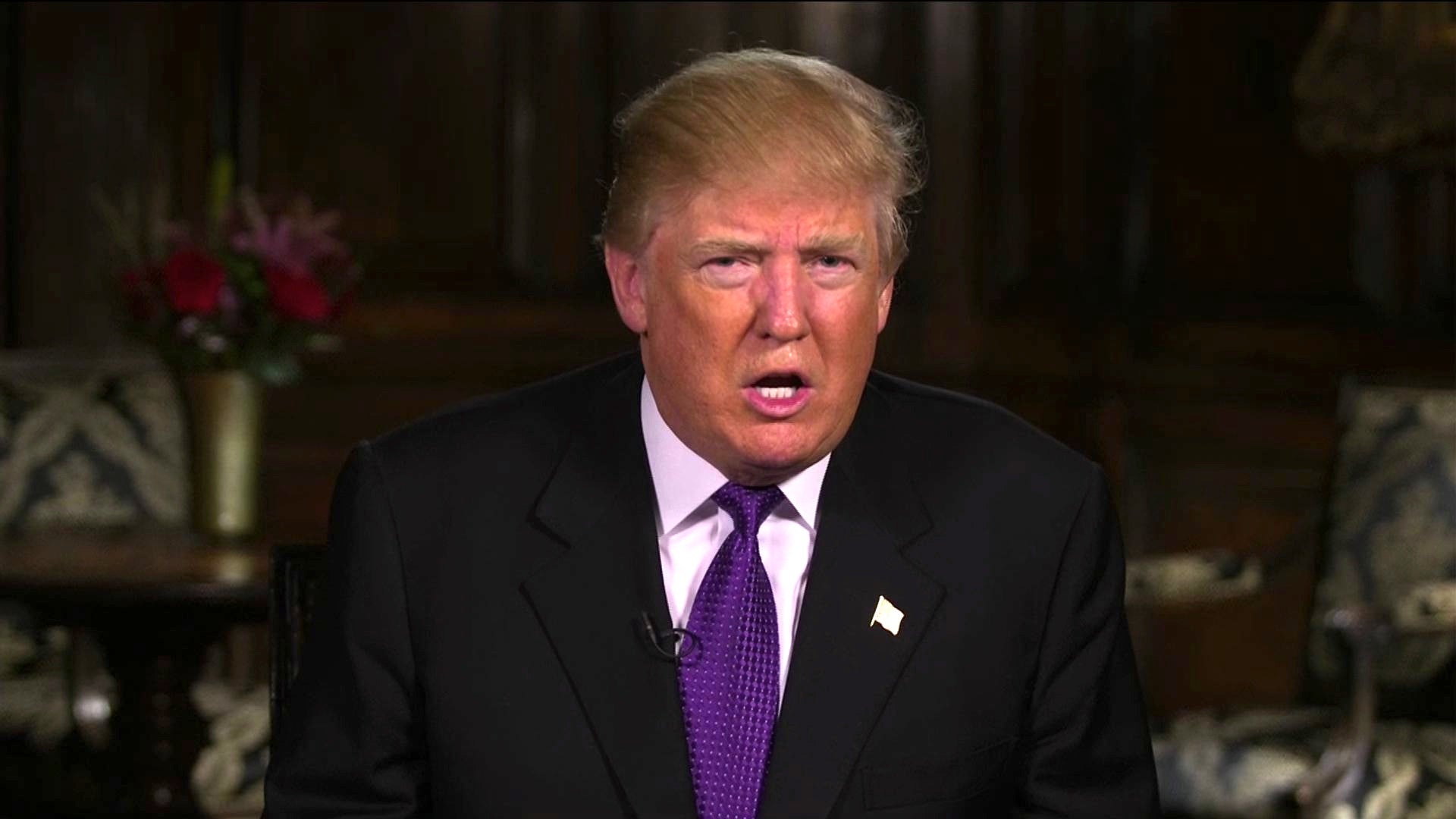 Donald Trump: "I never questioned" Ted Cruz's faith
Donald Trump has criticized Pope Francis for questioning his own faith, but defended his own questions about fellow GOP candidate Ted Cruz's faith as legitimate.
Last week, Pope Francis suggested Trump was "not Christian" for his comments about building a wall on the U.S.-Mexico border. At the time, Trump said, "No leader, especially a religious leader, should have the right to question another man's religion or faith."
But Trump has been similarly critical of Cruz's faith.
Asked by moderator John Dickerson how he squares those two positions, Trump said he never questioned Cruz's faith.
"No, I never questioned Ted's--anything having to do with his religion," Trump said. "I just said you can't lie and hold up a Bible and you can't do that, you just can't do that, it's not appropriate."
The business mogul continued by saying Cruz was telling lies about him and he was just pushing back--adding that fellow Republican candidate Marco Rubio also called Cruz a liar.
"And Marco Rubio, actually, said that he lied. And I've never seen a politician say to another politician that he lied," Trump said. "I guess it happens. But Marco actually gave me cover, because he actually said the same thing and he said it during the debate, that he was lying."
"I just said you can't say things which are lies and, you know, claim Christianity," he continued. "You just can't do it, I don't think it's good."
As for the Pope's comments about him last week, did they help Trump to his victory in Saturday night's South Carolina primary? The frontrunner says he thinks they were a net neutral.
"I don't think it was negative, but it could have been a tremendous negative," he said, adding that he was in a "state of shock" when he saw that Pope Francis had talked about him. "But it turned out to be probably neutral, I don't think it was a positive."
Asked whether the Republican race is now his to lose after victories in New Hampshire and South Carolina, Trump said he's ahead but that it's still a competitive race with some "very good people."
"Look, I'm dealing with very, very talented people, smart people, good people and you know, I think they'll be competing," he said. "...I don't want to say it's mine. Certainly I'm leading, there's no question about that, but we've got a long way to go."
He added that he's headed this week to Nevada, which holds its Republican caucuses Tuesday.
"I have a lot of property out there and a lot of great employees and I think I should do well in Nevada," he said.
Trump also talked foreign policy, defending his range of knowledge on the topic and citing his early opposition to the Iraq war as proof.
"Well, I think I have great knowledge of foreign policy, frankly, and despite what some people said, I was always against the War in Iraq and a lot of people weren't and, you know, they just got on that bandwagon recently because it was a disaster," he said. "And I think I have great knowledge for the military and I have better vision for Syria than a lot of the so-called 'great military geniuses' that are saying how to fight the War with Syria."
When pushed to explain why his early opposition on Iraq seemed more "muted" than he's describing it now, Trump said he was less vocal about it then because he wasn't a politician at the time.
"You have to understand, first of all, I wasn't a politician, I had not even thought of being a politician. So nobody even talked to me about the war," Trump said. "Nobody said, 'Should we do the war or should we not?' It's not like now where every day you're being asked questions about things."
He added that invading Iraq is "probably perhaps the worst mistake we've ever made," and that he was "against it and I was against it early."
Thanks for reading CBS NEWS.
Create your free account or log in
for more features.