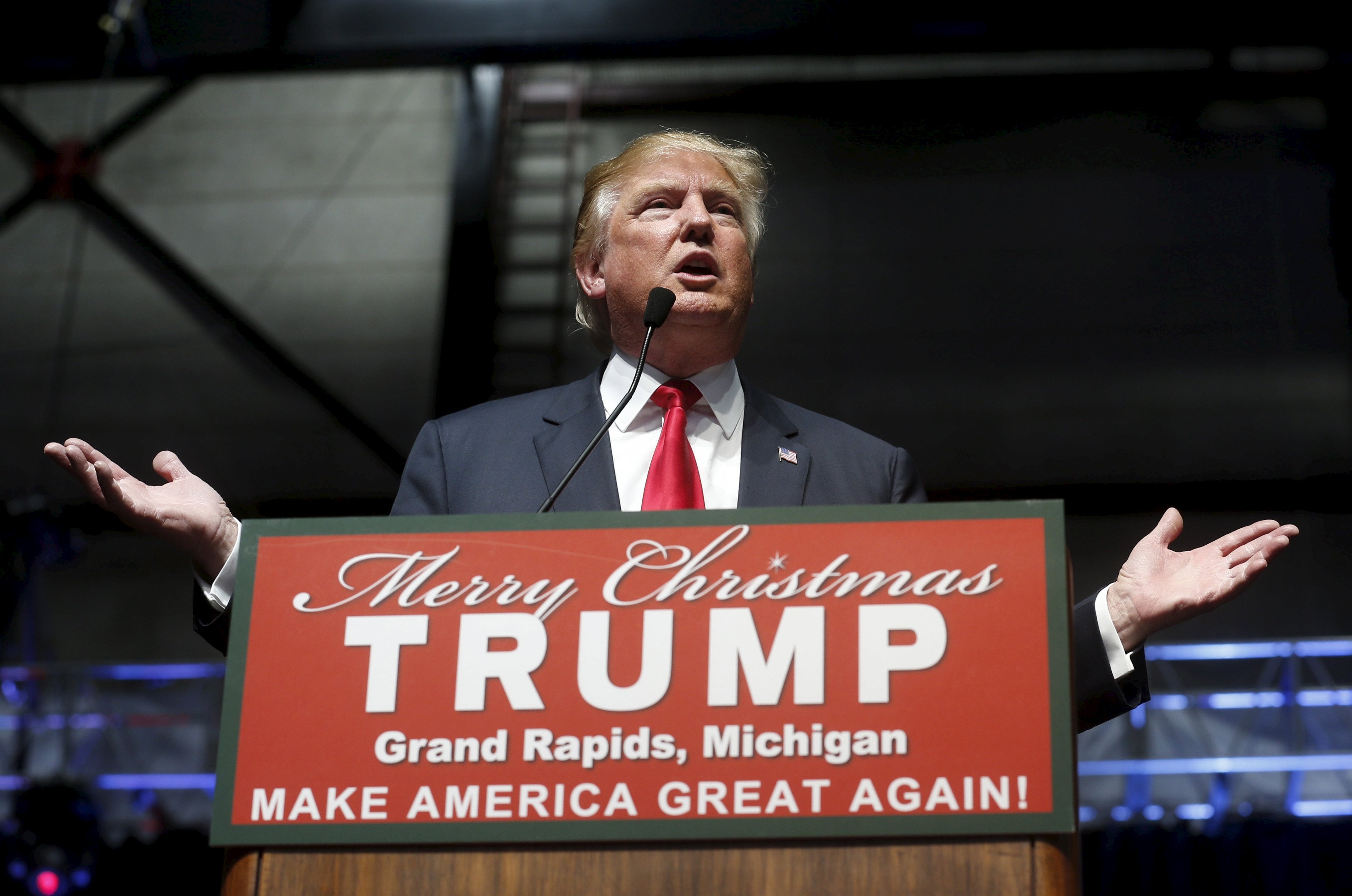 Donald Trump defends use of "schl****d" against Hillary Clinton
Editor's note: Asterisks were added to comply with CBS News standards and do not appear in Donald Trump's tweets
Republican presidential candidate Donald Trump fiercely defended his use of the word "schl****d," calling it an "often used word in politics" in a series of posts on Twitter.
Trump had used the word at a rally on Monday in Grand Rapids, Michigan, describing Hillary Clinton's defeat by then-Senator Barack Obama in the 2008 primaries. It was part of a series of insults that Trump hurled at Clinton, now the Democratic frontrunner in this election cycle. Trump also called her bathroom break during the last Democratic debate, "disgusting."
"Even a race to Obama, she was gonna beat Obama," Trump said. "I don't know who would be worse, I don't know, how could it be worse? But she was going to beat, she was favored to win and she got sch****ed, she lost, I mean she lost."
Critics pounced immediately, calling Trump's use of "schl****d" vulgar and sexist. Clinton's communications director, Jennifer Palmieri, tweeted, "We are not responding to Trump but everyone who understands the humiliation this degrading language inflicts on all women should."
Trump sent a barrage of tweets to push back against the narrative that he had used an inappropriate word against Clinton. The posts featured classic Trump bluster, accusing the media of being "dishonest" and saying that he only meant that Clinton got "beaten badly."
"When I said that Hillary Clinton got schl****d by Obama, it meant got beaten badly. The media knows this. Often used word in politics!"
-- Donald J. Trump (@realDonaldTrump) December 23, 2015
"For those on TV defending my use of the word 'schl****d,' bc #MSM is giving it false meaning-tell them it means beaten badly. Dishonest #MSM"
"NPR's @NealConan said "schl****d" to WaPo re: 1984 Mondale/Ferraro campaign: 'That ticket went on to get sch****ed at the polls.' #Hypocrisy"
"Once again, #MSM is dishonest. 'Sch****ed' is not vulgar. When I said Hillary got 'schl****d' that meant beaten badly."
The notion that the word is an "often used word in politics" is not entirely true.
But Trump himself has used the term before. In 2011, in an interview with the Washington Post, he said, "I watched a popular Republican woman [Jane Corwin] not only lose but get schl****d by a Democrat [Kathy Hochul] nobody ever heard of for the congressional seat and that was because, simply, because of the Paul Ryan plan." Trump was referencing a special election for a congressional seat in New York's 26th district.
A Nexis search stretching back to 1975 from before Monday's rally found a total of three results for "schl****d" - two of them referencing male genitalia.
The other one, which Trump points to, is a 2011 interview with NPR host Neal Conan, talking to Washington Post reporter Chris Cillizza, after the death of former vice presidential nominee, Geraldine Ferraro, who was paired with Walter Mondale on the 1984 ticket.
Conan said, "And Chris Cillizza, that ticket went on to get schl****d at the polls, but that's a historic moment."
The Daily Mail did some very deep digging - and found an article from 1967 in City College's undergraduate newspaper in which the losing candidate for student government, Ellen Turkish said, "We got schl****d."
Another Nexis search of the word used as a noun, going back to 1975 does turn up hundreds of results - but almost universally reference a man's private parts and none of them are mentioned in any sort of political context.
This firestorm is just the latest in unique headlines for a recent presidential frontrunner. Trump's GOP rivals tried to steer clear. During an interview on Tuesday with Fox News, Former Florida governor Jeb Bush implied that Clinton was playing the victim card.
"When Donald Trump disparaged her using vulgar language, she will claim the victim card because of his disparagement," Bush said. "And I think what we need to do is to run against her because she has a failed foreign policy and because she doesn't have a record of accomplishment."
Thanks for reading CBS NEWS.
Create your free account or log in
for more features.