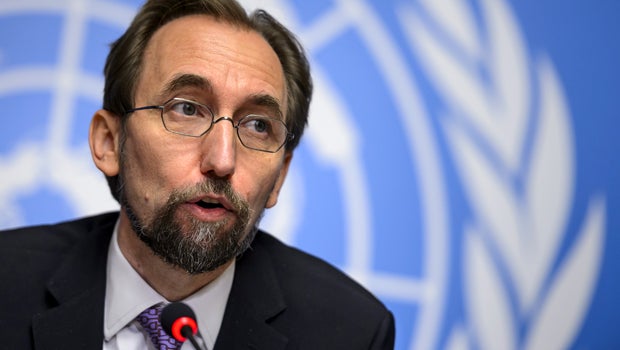 U.N. human rights chief: Trump would be "dangerous" president
GENEVA -- U.S. presidential candidate Donald Trump would be "dangerous from an international point of view" if he is elected, the U.N. human rights chief said Wednesday.
Zeid Ra'ad al-Hussein says some comments by the Republican nominee are "deeply unsettling and disturbing to me," particularly on torture and about "vulnerable communities."
Zeid, a Jordanian prince, also told reporters he doesn't plan to tone down his recent remarks decrying dangers posed by "populists and demagogues."
Last month, Zeid said the rhetoric coming from Trump and other far-right populist leaders who have gained power recently in Europe served only to bolster extremist groups like ISIS.
"Make no mistake, I certainly do not equate the actions of nationalist demagogues with those of Daesh, which are monstrous, sickening; Daesh must be brought to justice," Zeid said, using the Arabic-language acronym for ISIS. "But in its mode of communication, its use of half-truths and oversimplification, the propaganda of Daesh uses tactics similar to those of the populists."
"And both sides of this equation benefit from each other -- indeed would not expand in influence without each others' actions," Zeid added.
Russia's ambassador to the United Nations has said Zeid, the U.N. High Commissioner for Human Rights, shouldn't criticize foreign heads of state and government.
On the U.S. election, Zeid said: "If Donald Trump is elected, on the basis of what he has said already and unless that changes, I think it's without any doubt that he would be dangerous from an international point of view."
"Clearly I am not keen or intent on interfering in any political campaign within any particular country, but where the comments point to a potential - depending on the results of the election - for an increase in, for instance, the use of torture, which is prohibited under the Convention against Torture, or the focus on vulnerable communities in a way that suggests that they may well be deprived of their rights, their human rights, then I think it is incumbent to say so," Zeid said.
Thanks for reading CBS NEWS.
Create your free account or log in
for more features.