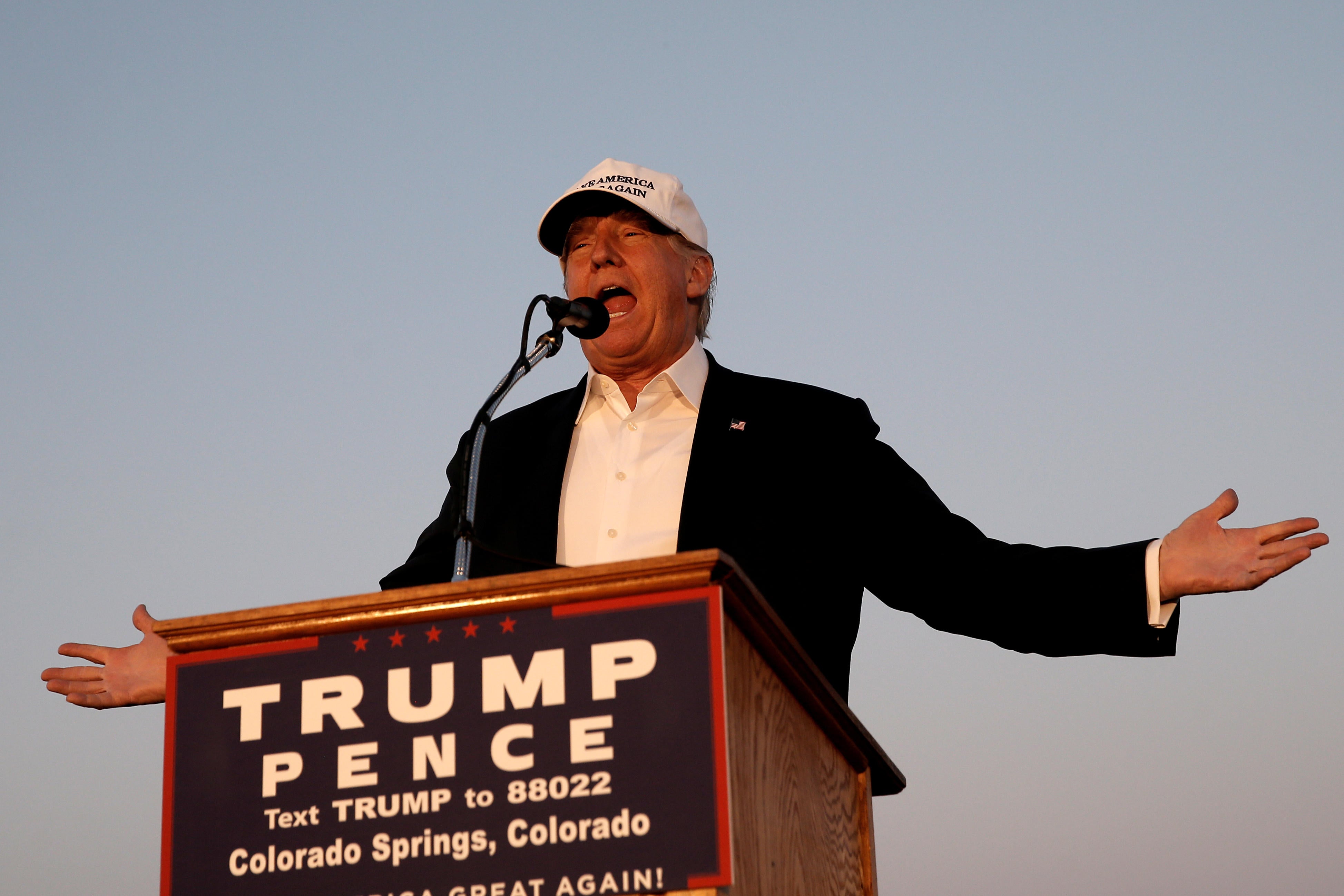 Donald Trump: "A bomb went off in New York"
COLORADO SPRINGS, Colorado - Donald Trump's plane landed in typical showman-like fashion at a hangar here that was filled with hundreds of his supporters, many of whom had stood there for hours, now actively craning necks and snapping away, trying to get a glimpse of the billionaire coming off plane. The soundtrack to the movie "Air Force One" played. And played. It looped for 13 minutes before Trump emerged and spoke into the microphone.
He started his speech, as he often does, marveling at his crowd size.
"Thank you everybody," Trump said. "Wow. This is great, in a hangar yet, right, in a hangar. Boy oh boy. It's a movement like they haven't seen before."
But then Trump continued, revealing why he delayed in exiting the plane for 13 minutes.
"I must tell you that just before I got off the plane, a bomb went off in New York and nobody knows exactly what's going on," Trump said.
Some in the crowd audibly gasped. Trump gave no further information. In large part, Trump was right. Nobody knew exactly what was going on. But it didn't stop Trump from telling a crowded airport hangar that a bomb had gone off – though at the time he had no confirmation. At that time, the only reports that were circulating were filled with speculation. Neither the NYPD or the New York City Fire Department (FDNY) had confirmed that there was a bomb, only that they were responding to reports of an explosion in the Chelsea area of Manhattan.
The Trump campaign did not respond to a request for comment on whether Trump had been told that a bomb had exploded in Manhattan or who briefed him on the explosions that occurred.
Hours later, New York City Mayor Bill De Blasio said in a news conference that the city believed that the explosion was "an intentional act."
Trump's opponent, Hillary Clinton also referred to the explosion in Chelsea as a "bombing," telling reporters late Saturday night, "I've been briefed about the bombings in New York and New Jersey." But Clinton's comments came after De Blasio had characterized the explosion as "an intentional act" and after she had spoken with the mayor's office. However, she added, "I think it's always wiser to wait until you have information before making conclusions." And Clinton said she'd "have more to say about it when we actually know some facts."
It wasn't the first time Trump has speculated before the totality of facts had been revealed.
In the immediate aftermath of the Nice terror attacks in France​ in July, Trump called into Fox News to immediately to make the link to Islamic terror, before it was confirmed that this was the case.
In an initial phone interview with then-Fox anchor Greta Van Susteren, Trump, responded to a question about whether President Obama should be on the phone with European leaders.
Van Susteren said, "But we have the situation, for instance, in Orlando​. That was homegrown terrorism, essentially. So not people trying to come into the country. And we don't know if this is terrorism in France - whether it's someone who is a French citizen or someplace else."
Trump responded, "Well you do and second generation turns out to be very bad for whatever reason. But second generation and again who knows the new one in France. Maybe it's not, but you probably have a pretty good gut instinct."
At this point, the motive – and whether this was even terrorism was not clear. Soon after, Trump called into Fox News again, this time, with Bill O'Reilly, linking again to Islamic terrorism, before this was confirmed.
"I have been saying it for a long time. And it's out of control," Trump said. "And we don't call it what – we have a president that doesn't want to call it is. And you know, you look at World Trade Center. You look at San Bernardino. You look at Paris. 130 people killed and so many injured in Paris from that attack. And you look at Orlando. It's out of control."
In March, when EgyptAir Flight 804 crashed, Trump tweeted, "Looks like yet another terrorist attack. Airplane departed from Paris. When will we get tough, smart and vigilant? Great hate and sickness!"
At that point, officials cautioned that it wasn't clear that the crash was a result of terrorism.
In June, soon after the mass shooting at a nightclub in Orlando, Trump tweeted:
At the time Trump tweeted this, it was not confirmed that this was the case.
CBS News' Kylie Atwood contributed to this story
Thanks for reading CBS NEWS.
Create your free account or log in
for more features.