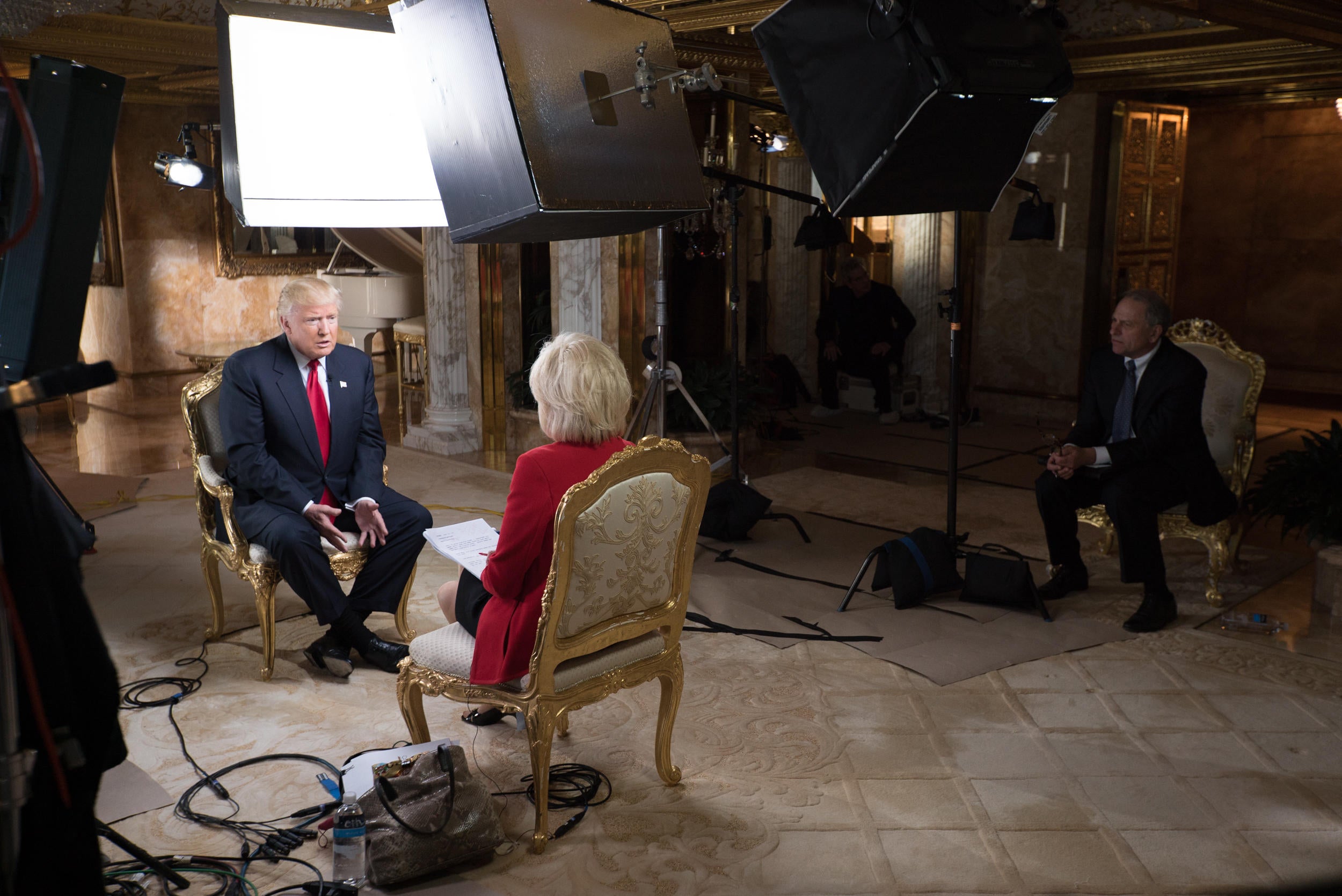 In "60 Minutes" interview, Donald Trump weighs Twitter use as president
Donald Trump will appear in his first extensive post-election interview Sunday on "60 Minutes" at 7 p.m. ET/PT
After frequently deploying his controversial Twitter account over the last year to wage his White House campaign, President-elect Donald Trump is now promising to be "very restrained" with his use of the social media platform while in the Oval Office.
"60 Minutes" correspondent Lesley Stahl, in an interview to air Sunday on CBS, asked Trump whether he would continue utilizing Twitter as president. Trump replied with this: "I'm going to be very restrained, if I use it at all, I'm going to be very restrained."
"I find it tremendous," he said of the social media platform, which he credited for winning the White House race. "It's a modern form of communication. There should be nothing we should be ashamed of."
Trump, who now has over 14 million Twitter followers, added: "It's where it's at...I do believe this, I really believe that the fact that I have such power in terms of numbers with Facebook, Twitter, Instagram, et cetera -- I think it helped me win all of these races where they're spending much more money than I spent."
He dismissed his opponents' use of their campaign cash to advertise in more traditional ways, saying that "social media has more power than the money they spent, and I think maybe to a certain extent, I proved that."
Trump, who estimates that 28 million people follow him on his Facebook, Twitter, and Instagram accounts, also touted the benefits of social media as an effective tool to fight back against news outlets.
"It's a great form of communication. Now do I say I'll give it up entirely?" he told Stahl. "I'm not saying I love it, but it does get the word out. When you give me a bad story or when you give me an inaccurate story or when somebody other than you and another -- a network, or whatever, 'cause of course, CBS would never do a thing like that right? I have a method of fighting back."
During his time on the campaign trail, Trump has drawn heat for several controversies stemming from his infamous tweetstorms. One of the most notorious of these was a 3 a.m. Twitter attack targeting former Miss Universe Alicia Machado, a vocal critic of Trump's for his fat-shaming comments to her following her 1996 pageant win. "Wow, Crooked Hillary was duped and used by my worst Miss U.," Trump tweeted. "Hillary floated her as an 'angel' without checking her past, which is terrible!"
For Trump's team, his use of Twitter was deemed so damaging to his presidential campaign that his aides wrested control of his account away from him, just days before voters cast ballots in the general election.
Since being declared the victor in Tuesday's election, Trump's Twitter account has largely stuck to sending out anodyne messages of thanks for his supporters.
But on Thursday, after anti-Trump protesters took to the streets demonstrating against his impending presidency, Trump tweeted out some harsh criticisms for the crowds.
Thanks for reading CBS NEWS.
Create your free account or log in
for more features.