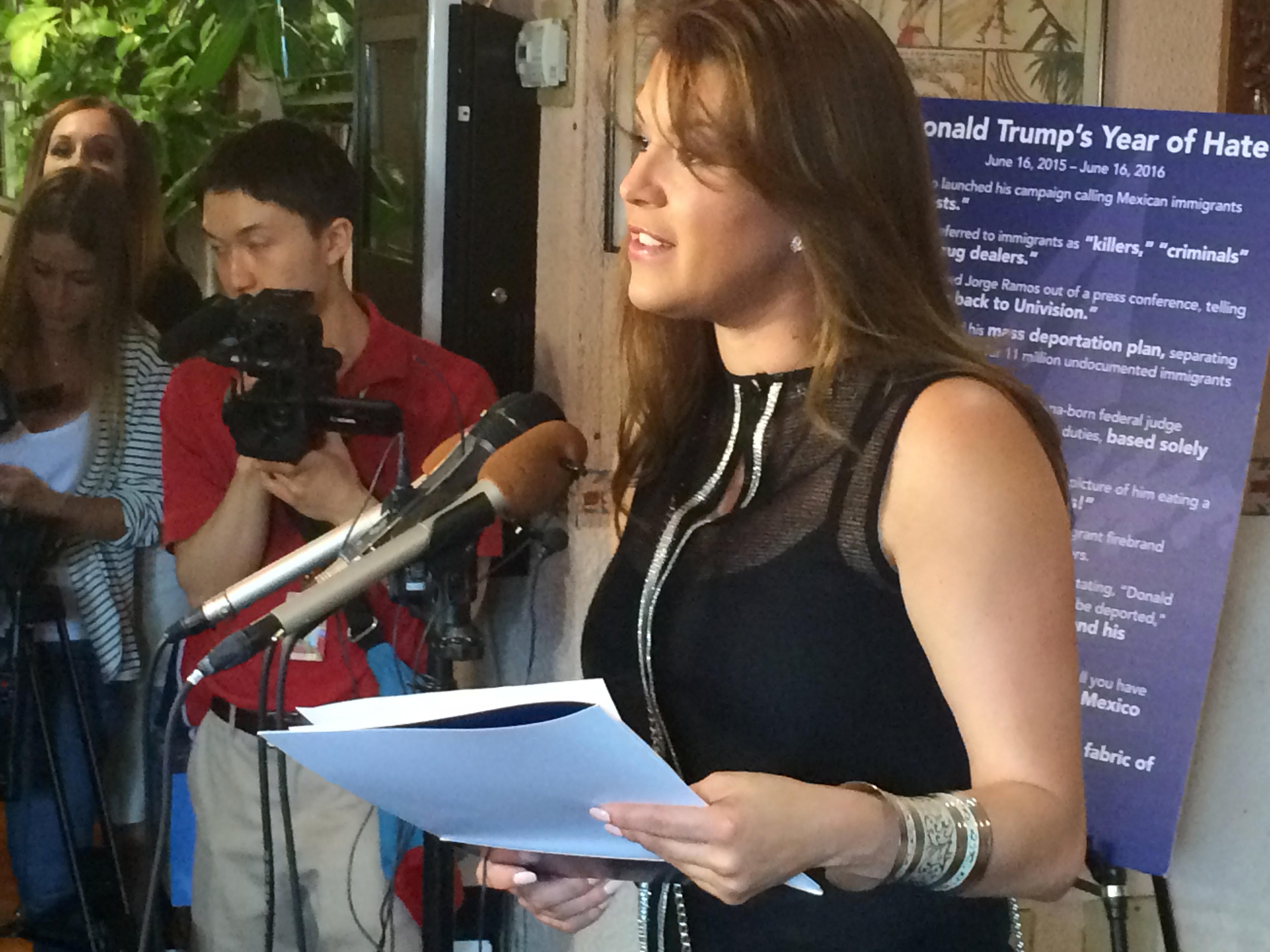 Alicia Machado, Hillary Clinton respond to Trump's Twitter insults
Alicia Machado responded Friday to Donald Trump's early morning twitter attacks against her, in which he referred to her as "disgusting," "a con," and urged people to "check out [her] sex tape and past."
The 1996 Miss Universe, who gained some weight after winning the crown and was subsequently referred to as "Miss Piggy" by Trump, had a Spanish-language response she posted to Instagram.
In the post, Machado ripped into Trump and his campaign team for "generating attacks, insults, and trying to revive defamations and false accusations about my life."
It's all "with the purpose of intimidating me," the former Miss Universe wrote in Spanish. "The attacks that have emerged are cheap slander and lies generated with bad intentions."
Machado reiterated her commitment to Democratic presidential nominee Hillary Clinton, who brought her story into the national spotlight during Monday night's first presidential debate.
"I will continue standing, sharing my story, my absolute support for Mrs. Clinton on behalf of all women, my sisters, aunts, grandmothers, cousins, friends and the female community," Machado said. She further promised to take "positive steps for the Latin community" and work as an "activist toward woman rights and for the respect we deserve."
Clinton and her campaign went on a fiery Twitter attack, too, Friday, pointing out that the Republican nominee's tweetstorm against Machado and his attitudes towards women were just more evidence that he was "unhinged" and "dangerous for a president."
Clinton also tied Trump's past treatment of women at work to his presidential platform:
Clinton spoke with Machado Friday for about five minutes, according to campaign spokesperson Nick Merrill. The Democratic nominee thanked Machado for her courage and all she had done.
"Of course, I've supported you for a really long time," Machado said, according to a readout of the call. "I will continue to stand up to these attacks against me."
The former Miss Universe also called Clinton an "inspiration" to young women across America.
During a talk with reporters Friday, Clinton's communications director Jennifer Palmieri also pushed back on one of the unfounded charges Trump put forth in his early morning Twitter tear.
Trump had posited that "Crooked Hillary" helped Machado "become a U.S. citizen so she could use her in the debate." (The former Miss Universe became an American citizen in August.)
But Palmieri had an emphatic response to a question about whether Clinton had helped Machado gain citizenship: "No. No. No. No."
CBS News' Hannah Fraser-Chanpong contributed to this report.
Thanks for reading CBS NEWS.
Create your free account or log in
for more features.